Stand up for the facts!
Our only agenda is to publish the truth so you can be an informed participant in democracy.
We need your help.
I would like to contribute
If Your Time is short
On May 10, House Republicans investigating the Biden family's business dealings shared select bank records. The records show that Biden family members received more than $10 million from foreign companies during and after President Joe Biden's earlier vice presidency.

Claims that the findings prove the president himself was implicated in a bribery or corruption scandal are wrong and overstate what is supported by evidence.

Hunter Biden's business with a Chinese energy company and a Romanian businessman who was charged with corruption have been public knowledge for years. The bank records House Republicans shared provided some new details.
After House Republicans released bank records from their investigation into Biden family business dealings, the phrases "Biden crime family" and "Biden family corruption" dominated conservative banter online.
Conservative political commentator Tomi Lahren said she would be referring to the Bidens as "the Biden scamily" going forward. U.S. Rep. Marjorie Taylor Greene, R-Georgia, wrote on Twitter that "Bank records trace $10 MILLION funneled to Biden Crime Family, their business associates and their companies."
Conservative radio show host Dan Bongino claimed on Twitter that the Republicans' findings made it an indisputable fact that "Biden was running a shakedown operation." 
The available information does not prove Biden himself knew about his family members' business deals or benefited from the payments.
The released bank records  show that businesses connected to the Biden family received more than $10 million from foreign companies, both during and after President Joe Biden's vice presidency. Republicans have been investigating the Biden family's business dealings for evidence of wrongdoing or conflicts of interest. 
Discussing their findings with reporters, Republicans appeared to choose their words carefully — saying things like, "This could be the most corrupt scheme in American politics" and "We're pretty confident that the president was very knowledgeable of what his family was doing" — that fell short of a smoking gun.
What's confirmed and supported by facts, and what remains unsubstantiated? Here's what we learned about the continuing investigation.
What are the Republicans investigating? 
House Republicans launched multiple investigations after securing their narrow majority, including one examining the Biden family's domestic and international business practices.
The House Committee on Oversight and Accountability says the investigation is meant to provide transparency and, if needed, could lead the committee to recommend new laws. Such changes might include requiring senior elected officials' family members to publicly disclose foreign transactions. Another could call for quicker review of suspicious bank activity reports if they are linked to family members of a president or vice president. If the committee's subpoenas face legal challenges, it must show in court that its investigation has legislative goals.
The Justice Department has separately been investigating Hunter Biden's taxes and foreign business work since 2018. In April, Hunter Biden's legal team met with Justice Department prosecutors to discuss the criminal investigation and potential charges, including tax evasion and a felony gun charge related to a firearm purchase, NBC News reported.
What did the Oversight Committee find? 
On May 10, House Oversight Committee chair Rep. James Comer, R-Ky., told reporters that during Biden's vice presidency, other Biden family members "capitalized on Joe Biden's public office" and risked U.S. national security. The committee released a 36-page memo outlining its findings. 
The committee subpoenaed four banks and received thousands of records, the memo said. Based on those records, the committee said Biden family members, associates and their companies received more than $10 million in payments from people or companies with foreign ties, during and after Biden's vice presidency.
A selection of the released bank records show that, from 2015 to 2017, Biden family members received money from a foreign company connected to Gabriel Popoviciu, The New York Times reported. Popoviciu is a Romanian businessman who was convicted in Romania on criminal corruption charges. 
Hunter Biden's connection to Popoviciu has been public since before Biden was elected president. Government ethics experts in 2019 expressed concerns that Popoviciu tried to use Hunter Biden years earlier to avoid criminal prosecution — even as then-Vice President Joe Biden urged Romania to crack down on corruption. But no evidence has come to light showing Hunter Biden and Popoviciu's business relationship violated laws.
The bank records also provided details about Biden family members' business transactions with links to China. The transactions and Hunter Biden's connection to a Chinese energy company, CEFC, have been known for some time. The memo provided new detail, including a copy of a bank transaction from Aug. 4, 2017, when CEFC wired $100,000 to Hunter Biden's professional corporation.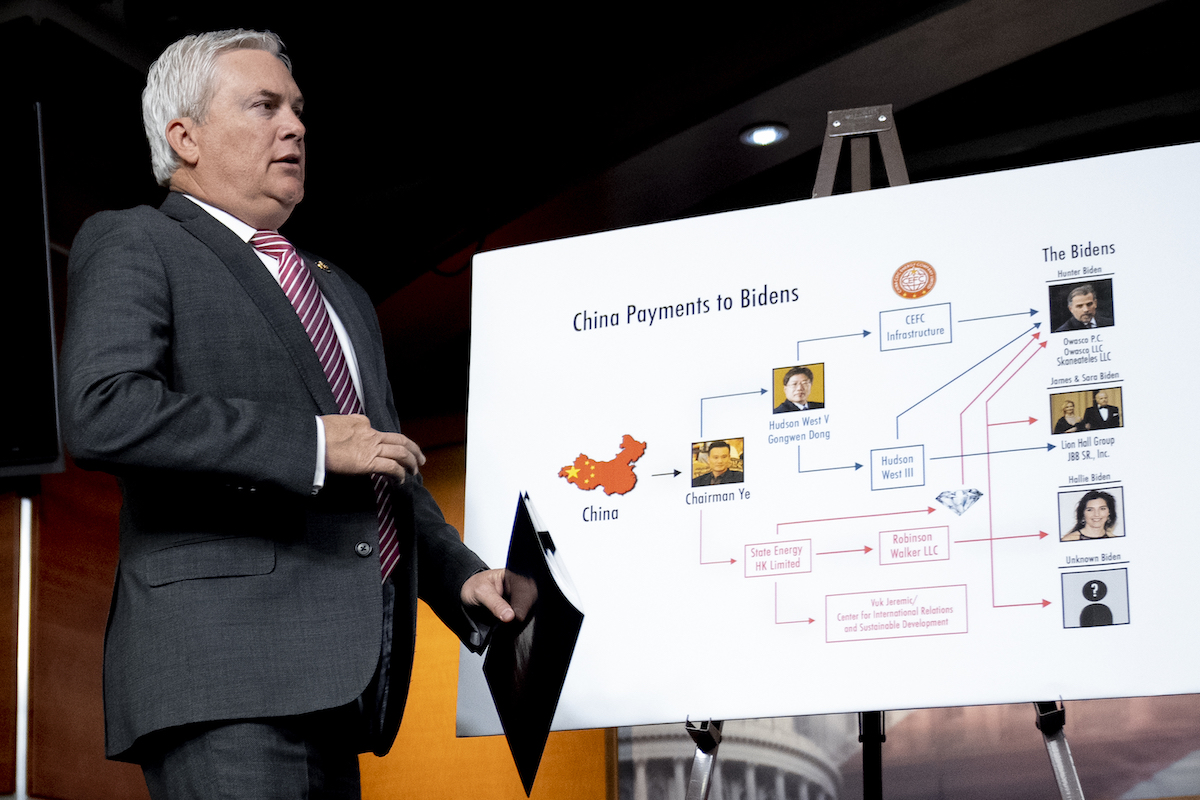 A poster titled "China Payments to Bidens" is visible as House Committee on Oversight and Accountability Chairman Rep. James Comer Jr., R-Ky., arrives for a news conference on their investigation into the Biden family on May 10, 2023. (AP)
In 2022, a Washington Post investigation into Hunter Biden's connection with CEFC "did not find evidence that Joe Biden personally benefited from or knew details about the transactions with CEFC, which took place after he had left the vice presidency and before he announced his intentions to run for the White House in 2020." 
Comer on May 14 told Fox News' Maria Bartiromo that his office had lost touch with an informant in the investigation who had information into what Comer called "a quid pro quo with a foreign country in exchange for foreign aid." 
A Comer spokesperson clarified the next day that the missing informant Comer had spoken of did not have information about a foreign bribery scheme but could talk about the "Biden family's influence peddling schemes."
Ian Sams, White House spokesperson for oversight and investigations, told PolitiFact that Comer's investigation lacks legitimacy. 
"He has hidden information from the public to selectively leak and promote his own hand-picked narratives as part of his overall effort to lob personal attacks at the President and his family," Sams said. 
Previously, Biden has falsely denied claims that his family members received money from China. A spokesperson said later that he'd been generally rebutting claims that his administration was corrupted by Chinese money, according to a New York Times report.
What's still unproven?
Claims that the Oversight Committee implicated President Biden in a bribery or corruption scandal overstate what is supported by evidence.
When Comer was asked whether the committee could prove Biden's direct involvement in the payments and business dealings, Comer said that he didn't think anyone would believe that nine members of the Biden family receiving money was coincidental.
But the May 10 memo did not provide evidence that Biden took any official actions because of his family's business decisions. None of the payments detailed in the memo were to the president himself. Additionally, the memo did not show that Biden knew about the payments at the time.
During the news conference, Comer was asked how he could discount the idea that Hunter Biden might have simply used his father's name to get money without involvement from President Biden. He replied that it would be "hard for me to believe" that Hunter Biden's charisma alone would convince people to wire millions of dollars to Biden family members.
"We believe that there was a return on the investment," Comer said, without citing evidence. He said the committee will continue to look for evidence the president was involved with his family's business practices. He provided no specific examples of Joe Biden's policies or decisions the committee believed were influenced by his family's business practices.
Oversight Committee members repeatedly suggested that the existence of numerous Biden family-linked accounts and limited liability companies signaled wrongdoing.
The memo, however, did not provide evidence that Hunter Biden or other Biden family members violated the law. 
Such payments and business practices could be subject to ethical scrutiny. Experts have told PolitiFact that it's not uncommon for Chinese businesses with links to the Chinese government, for example, to court prominent Americans or their family members. 
Comer pointed out that Biden's family is not the first to face accusations of family members making money off of the family name. He mentioned President Jimmy Carter's brother Billy Carter, who records showed received a loan of more than $200,000 from Libya before he registered as a foreign agent representing Libya. Comer also mentioned President Donald Trump's son-in-law Jared Kushner's business practices. Wealth funds linked to Saudi Arabia, the United Arab Emirates and Qatar invested hundreds of millions in Kushner's private equity firm after the Trump presidency, according to reporting by The New York Times. (Comer dropped a House committee investigation into Kushner's dealings, the Times also reported.)
"This has been a pattern for a long time," Comer said. "Republicans and Democrats have both complained about presidents' families receiving money."
RELATED: Fact-checking claims about Hunter Biden, Joe Biden, and China
RELATED: Tony Bobulinski, Hunter Biden and China: an explainer
RELATED: Trump's Ukraine call, a whistleblower and the Bidens: What we know, what we don't
The New York Times, House Republican Report Finds No Evidence of Wrongdoing by President Biden, May 10, 2023
CNN, House Republicans allege Biden family members received millions in payments from foreign entities in new bank records report, May 10, 2023
NBC News, House Republicans escalate attacks on Biden family, alleging business with foreign nationals, May 10, 2023 
The New York Times, Hunter Biden's Tangled Tale Comes Front and Center, Jan. 11, 2023
Politico, House GOP's under-the-radar Hunter Biden problem: DOJ got there first, Feb. 8, 2023
House Committee on Oversight and Accountability, ​​Comer Reveals New Evidence in Biden Family's Influence Peddling Schemes, May 10, 2023
House Committee on Oversight and Accountability, Second Bank Records Memorandum from the Oversight Committee's Investigation into the Biden Family's Influence Peddling and Business Schemes, May 10, 2023
House Committee on Oversight and Accountability, New Evidence Resulting from the Oversight Committee's Investigation into the Biden Family's Influence Peddling and Business Schemes, March 16, 2023
The Wall Street Journal, Republicans Seek New Momentum for Biden Family Investigations, May 10, 2023
Politico, House GOP's Biden investigations sputter out of the gate, April 4, 2023
YouTube, Press Conference on Biden Family's Business Schemes, May 10, 2023
PBS NewsHour, Republicans are using financial records to investigate Hunter Biden. Here's how, May 10, 2023
Politico, Biden Inc., August 2, 2019
CNN, Here are 5 big investigations House Republicans are planning to launch, Nov. 18, 2022
NPR, House Republicans are launching their first investigations into Democrats, Feb. 1, 2023
CNN, House Republicans vow to investigate Biden and his family's business dealings, Nov. 17, 2022
Thomson Reuters, What is a suspicious activity report? accessed May 11, 2023
NPR, More details emerge in federal investigation into Hunter Biden, April 9, 2022
CNN, Exclusive: Hunter Biden lawyers meet with Justice Department, April 26, 2023
BBC, House Republicans release probe into Biden family finances, May 11, 2023
Axios, House GOP jabs again at Hunter Biden and family, May 10, 2023
NBC News, Hunter Biden's legal work in Romania raises new questions about his overseas dealings, Oct. 24, 2019
The New York Times, Trump's Demands for Investigations of Opponents Draw Intensifying Criticism, May 20, 2019
New York Magazine, ​​Rudy and Hunter Biden Both Worked for the Same Romanian Kleptocrat, Oc.t 24, 2019
Politico, Comer releases Biden family probe update without showing link to president, May 10, 2023
CBS News, House GOP panel says members of Biden family got $10 million from foreign entities as Democrats note no sign of Joe Biden's involvement, May 11, 2023
Emailed statement from Ian Sams, White House spokesperson for oversight and investigations, May 12, 2023
The Washington Post, Inside Hunter Biden's multimillion-dollar deals with a Chinese energy company, March 30, 2022
Tweet by Rep. Marjorie Taylor Greene, May 10, 2023
Tweet by Kimberly Guilfoyle, May 11, 2023
Benny Johnson Facebook post, May 10, 2023
PolitiFact, Tony Bobulinski, Hunter Biden and China: an explainer, Oct. 29, 2020
The New York Times, Giuliani Is Drawing Attention to Hunter Biden's Work in Romania. But There's a Problem, Oct. 25, 2019
The Supreme Court, Popoviciu (Respondent) v Curtea De Apel Bucharest (Romania) (Appellant), accessed May 15, 2023
The Guardian, Giuliani says firm defending corrupt Romanian-American is paying him, Aug. 29, 2018
The New York Times, Billy Carter Sends Back $1,000 on Libyan Loan, Feb. 12, 1981
NPR, ​​On This Day In 1980: Senate Votes To Investigate Billy Carter, July 24, 2009
NBC News, House Oversight Committee asks former Serbian official for an interview and any documents related to Hunter Biden, Feb. 21, 2023
The New York Times, Comer, Republicans' Investigative Chief, Embraces Role of Biden Antagonist, March 21, 2023
The New York Times, Kushner Firm Got Hundreds of Millions From 2 Persian Gulf Nations, March 30, 2023
Fox Business, 'THAT'S NOT TRUE': Biden denies China-linked payments to family members, March 20, 2023 
The Hill, Comer agrees it could be politically unsustainable to investigate Kushner, March 21, 2023
Fox News, Sunday Morning Futures w/ Maria Bartiromo - Sunday, May 14, May 14, 2023
The New York Times, House Panel Examining Jared Kushner Over Saudi Investment in New Firm, June 2, 2022
Time Magazine, Comer Clarifies Claim That House Republicans Lost Track of Biden Informant, May 15, 2023
Browse the Truth-O-Meter
More by Madison Czopek