Stand up for the facts!
Our only agenda is to publish the truth so you can be an informed participant in democracy.
We need your help.
I would like to contribute
Ramaswamy's GOP debate rivals tied his business to China, Hunter Biden. What's behind the attacks?
If Your Time is short
In 2017, Ramaswamy announced a business venture that involved a private equity firm linked to the Chinese Communist Party.

A Sept. 26 Washington Post opinion article by conservative writer Marc A. Thiessen explored Ramaswamy's business in China. Thiessen described CITIC Private Equity, a business that partnered with a Ramaswamy-owned company to launch an operation in China, as "a state-owned Chinese investment firm."

PolitiFact could not corroborate — and, outside of the opinion article, found no other evidence of — this business connection linking Ramaswamy to Hunter Biden. The article suggested Ramaswamy is tied to a Chinese businessman who was accused of paying Hunter Biden $5 million. Neither Ramaswamy's link to that businessperson, nor the $5 million payment to Biden have been fully proved.
Republican presidential candidate Vivek Ramaswamy has talked tough on China during his campaign, saying he would ban most U.S. companies from doing business there.
But several of his political challengers at the Sept. 27 presidential primary debate accused Ramaswamy of making deals with Chinese companies.
Sen. Tim Scott, R-S.C., said the 38-year-old entrepreneur was "just in business with the Chinese Communist Party, and the same people that funded Hunter Biden, millions of dollars, was a partner of (his) as well."
Former South Carolina Gov. Nikki Haley also singled out Ramaswamy: "You were in business with the Chinese that gave Hunter Biden $5 million. We can't trust you."
"This is nonsense," Ramaswamy responded to Scott.

As with many claims about Hunter Biden, President Joe Biden's son, whose foreign business dealings have drawn Republican scrutiny, the claims are rooted in unproved allegations that Biden's business deals in China signaled influence peddling or corruption. 
In a nutshell: The wife of a possible Chinese business associate of Ramaswamy's has been linked to another Chinese businessman who, according to someone else, paid Hunter Biden $5 million. 
Ramaswamy's senior adviser Tricia McLaughlin dismissed the alleged Hunter Biden connection as "the seven degrees of Kevin Bacon." 
We reached out to Scott and Haley for their evidence. Here's what we know.
Ramaswamy's business deals
These claims involve three biopharmaceutical companies.
In 2014, Ramaswamy founded Roivant Sciences, a company that sought to quicken the development and sales of new medications.
In 2017, Roivant Sciences partnered with CITIC Private Equity, a Chinese private equity firm, and created Sinovant Sciences. The new company aimed to develop and sell new medications in China. 
In 2019, Roivant Sciences and Sinovant Sciences announced the launch of Cytovant Sciences, another biopharmaceutical company. Cytovant Sciences focused on developing cell therapy in Asia, according to a press release. 
Spokespeople for Scott and Haley pointed PolitiFact to a Washington Post opinion article by conservative writer Marc A. Thiessen headlined, "Vivek Ramaswamy has a China problem — and a Hunter Biden problem." The column explored Ramaswamy's business in China and described CITIC Private Equity as "a state-owned Chinese investment firm." (That description is similar to other news stories we read about CITIC's chops among the Chinese elite.)
McLaughlin said Ramaswamy has firsthand experience doing business in China that informed his current policy positions. Ramaswamy "had a subsidiary in China, before the company eventually wound down its operations there as the risks of doing business in China became apparent," she said.
"There's a reason why Vivek is the only candidate to offer a vision for declaring independence from our chief adversary," McLaughlin said.
In February, a Roivant Sciences spokesperson told The New Republic that Sinovant Sciences and Cytovant Sciences were "no longer operating," and Roivant Sciences was not active in China. Roivant declined to give a statement to PolitiFact.
McLaughlin said Ramaswamy committed not to do business in China when he launched the asset management company Strive in 2022. Ramaswamy announced his plan to run for president in February 2023.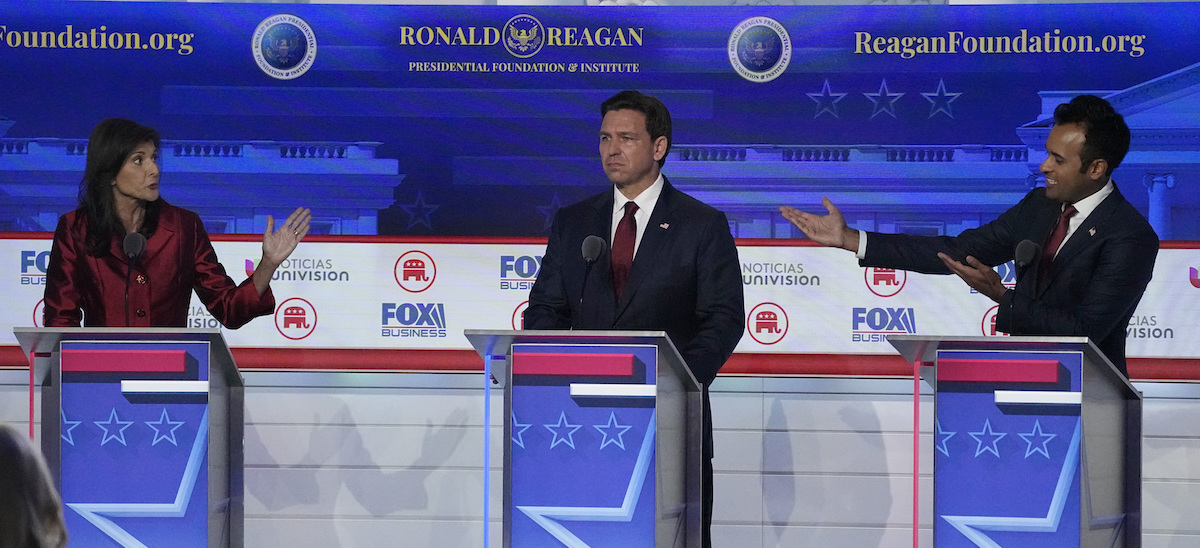 Ex-U.N. Ambassador Nikki Haley, businessman Vivek Ramaswamy, and Florida Gov. Ron DeSantis argue Sept. 27, 2023, during a Republican presidential primary debate at the Ronald Reagan Presidential Library in Simi Valley, Calif. (AP)
A connection to Hunter Biden? 
Thiessen's column outlined a connection from CITIC Private Equity to Hunter Biden. It requires a game of connect-the-dots:
Ramifications of doing business in China
Shang-Jin Wei, the N.T. Wang professor of Chinese business and economy at Columbia Business School, said that although he couldn't speak to Ramaswamy's specific situation, he was not surprised that a U.S. business would "do business in China, with a local business partner with connections." China is the world's second-largest economy and largest trading nation, he said. 
"President Trump's company was trying to develop business in China for the same reason," Wei said. "Most S&P 500 companies do business in or with China."
The Chinese Communist Party is not involved in every business transaction in China, but the party is likely involved in substantial deals or business that involves national security or other high-priority sectors, said Oded Shenkar, the chair in global business management and a management and human resources professor at Ohio State University's Fisher College of Business.
PolitiFact researcher Caryn Baird contributed to this report.

Update, Oct. 4, 2023: This story has been updated to note that Hunter Biden's attorney in June disputed an account that his client was with President Joe Biden on July 30, 2017.

 
Email interview with Shang-Jin Wei, the N.T. Wang professor of Chinese business and economy at Columbia Business School, Oct. 2, 2023
Interview with Oded Shenkar, Chair in global business management and professor of management and human resources at the Fisher College of Business at The Ohio State University, Oct. 2, 2023
Emailed statement from a spokesperson for Sen. Tim Scott's campaign, Sept. 27, 2023
Emailed statement from a spokesperson for former Gov. Nikki Haley's campaign, Sept. 27, 2023
Statement form Tricia McLaughlin, Vivek Ramaswamy senior adviser, Sept. 27-28, 2023 
The Washington Post, Vivek Ramaswamy has a China problem — and a Hunter Biden problem, Sept. 26, 2023
The Washington Post, Who is Vivek Ramaswamy, on center stage at Republican debate? Aug. 23, 2023
Reuters, Exclusive: China's Primavera, CITIC PE to raise dollar funds worth $5 billion - sources, Oct. 23, 2017
Reuters, China Life exec to head CITIC private equity -sources, Oct. 21, 2008
Reuters, China's CPE reaches first-close of $3 billion new private equity fund -source, April 16, 2021
The New York Times, Citic Securities, a Pillar of Finance in China, Is in Beijing's Cross Hairs, Sept. 17, 2015
Fox News, Ramaswamy campaign defends former CEO's 'awakening' on China after 2018 partnership with CCP-backed firm, Sept. 25, 2023
The New York Times, Panama Papers Tie More of China's Elite to Secret Accounts, April 6, 2016
PolitiFact, Hunter Biden's criminal case: What IRS whistleblowers said about Joe Biden, DOJ, June 27, 2023
Google cache of Webb-Site, a database of people and organizations in Hong Kong, accessed Sept. 28, 2023
International Consortium of Investigative Journalists, Leaked Files Offer Many Clues To Offshore Dealings by Top Chinese, April 6, 2016
The New York Post, Chinese elite have paid some $31 million to Hunter and the Bidens, Jan. 27, 2022
The New York Times, Garland Pushes Back at G.O.P. Claims of Bias in Hunter Biden Investigation, June 23, 2023
Cultural Atlas, Chinese culture naming, accessed Sept. 29, 2023
PolitiFact, Fact-checking claims about Hunter Biden, Joe Biden, and China, Oct. 19, 2020
Court Listener, Case 1:16-cr-00371-RA Document 842 Filed 01/23/20, accessed Sept. 29, 2023
Asia Media Centre, A basic guide to Chinese names, Jan. 25, 2022
PR Newswire, Sinovant Sciences, Company Focused on the Development of Innovative Medicines in China, Unveiled at Event in Beijing, July 17, 2018
The New Republic, GOP Presidential Candidate Vivek Ramaswamy, Who Used to Do Business With China, Wants to Ban Business With China, Feb. 22, 2023
The Washington Free Beacon, Hunter Biden Offered D.C. Access to Chinese Company in Exchange for Investments, Sept. 18, 2020
TodayChina, There are many stories behind the Biden family's Chinese backers, Dec. 17, 2020
Yale School of Management, Greater China Board of Advisors, accessed Sept. 28, 2023
PR Newswire, CITICPE Co-Wins Best Global Private Equity Fund Gold Award at 2018 Private Equity Exchange & Awards, Nov. 27, 2018
PR Newswire, CITICPE Partners with Yale University on Second "Corporate Executives Program" to Educate Portfolio Companies about Global Best Practices, May 24, 2018
The Wall Street Journal, A Family Affair, Nov. 29, 2011
The Washington Post, Rep. Gallagher letter to Secretary DeVos on Georgetown China program, Dec. 8, 2020
Google search for "Jia Liqing" on Harvest Global Investments website, Sept. 28, 2023
Google search for "Liqing" on Harvest Global Investments website, Sept. 28, 2023
The Wall Street Journal, China's 'Princelings' and the PE, Feb. 1, 2010
The Wall Street Journal, CITIC Sets Up $1.32 Billion Private-Equity Fund, Jan. 28, 2010
Fox News, Hunter Biden-linked account received $5 million days after threatening messages: 'Sitting here with my father,' June 23, 2023
Roivant Sciences, About us, accessed Sept. 28, 2023
Gary Shapley, testimony to the House Committee on Ways and Means, May 26, 2023
CBS News, Who are the Hunter Biden IRS whistleblowers? Joseph Ziegler, Gary Shapley testify at investigation hearings, July 19, 2023
United States Attorney's Office, John Galanis Sentenced To 10 Years In Prison For His Participation In A Scheme To Defraud A Native American Tribe And Various Investors, March 8, 2019
Forbes, The Long Reach Of John Peter Galanis, Sept. 18, 2000
The New York Times, I.R.S. Agent Told Congress of Hunter Biden Invoking His Father in Business Deal, June 22, 2023
PR Newswire, Roivant and Sinovant Launch Cytovant Sciences in Partnership with Medigene to Develop Cellular Therapies in Asia, April 4, 2019
Newsweek, Vivek Ramaswamy's Business Ties to China Explained, Sept. 28, 2023
Financial Times, Vivek Ramaswamy's FDA 'corruption' claims disavowed by Roivant, Sept. 3, 2023
BioSpace, Roivant and Sinovant Launch Cytovant in $1 Billion-Plus Deal With MediGene, April 4, 2019
South China Morning Post, Princeling manager to exit citic securities, June 13, 2012
Bloomberg profile, Zhao Xuejun "Henry," accessed Sept. 28, 2023
Harvest Global Investments, accessed Sept. 28, 2023
American Enterprise Institute, WTH Is Going on with Hunter Biden? June 29, 2023
BBC, Vivek Ramaswamy: Eight things Republican presidential candidate believes, Sept. 28, 2023
Vivek Ramaswamy's website, Declare Independence from Communist China, accessed Sept. 28, 2023
Fox News, Vivek Ramaswamy: As president, I would 'ban' most companies from doing business with China, June 5, 2023
The New York Times, How Vivek Ramaswamy Made the Fortune Fueling His Presidential Run, June 27, 2023
AVCJ, Lefei Liu resigns as chairman of CITIC Private Equity, June 13, 2012
CPE's Crunchbase profile, Sept. 29, 2023
The New York Times, Joe Biden Announces 2020 Run for President, After Months of Hesitation, April 25, 2019
The New York Times, Beijing Journal; For Chinese Spies, the Enemies Are Everywhere, Oct. 18, 1991
Business Wire, Strive Asset Management Launches Emerging Markets Ex-China ETF (NYSE: STXE) Amid Growing U.S.-China Tension, Feb. 2, 2023
Business Wire, Strive Asset Management Exceeds Half a Billion in AUM, 3 Months After Launch, Nov. 15, 2022
Investment News, Strive Asset Management fills leadership vacuum created by CEO's run for president, May 4, 2023
CNN, Vivek Ramaswamy announces GOP bid for president in 2024, Feb. 21, 2023
Business Wire, Depoliticizing Corporate America: Strive Asset Management Launches To Advance Excellence Capitalism Over 'Stakeholder Capitalism,' May 9, 2022 
NPR, The History Of 'Six Degrees Of Kevin Bacon,' Sept. 14, 2012
Browse the Truth-O-Meter
More by Madison Czopek