Stand up for the facts!
Our only agenda is to publish the truth so you can be an informed participant in democracy.
We need your help.
I would like to contribute
"I told the Congress 'thanks, but no thanks,' on that Bridge to Nowhere."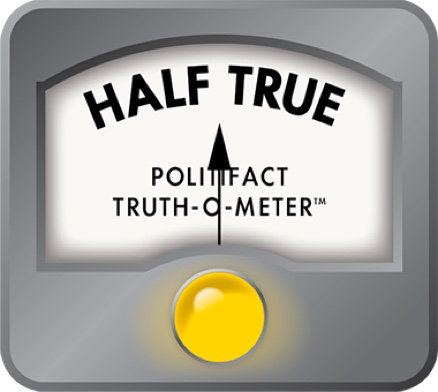 She killed it, but it was nearly dead
In a speech to the Republican National Convention on Sept. 3, 2008, Gov. Sarah Palin portrayed herself as a reformer who had cut waste in government. "I told Congress, 'Thanks, but no thanks,' on that Bridge to Nowhere," Palin said, echoing comments she made five days earlier when she was named John McCain's running mate.
She was talking about a nearly $400-million Alaska bridge project that became the subject of national ridicule and a symbol of federal pork-barrel spending.
The bridge was to connect the city of Ketchikan (population 8,200) to Gravina, an island with just 50 residents but also an airport, and only accessible by a five-minute ferry ride.
The project came into national prominence when a government watchdog group tagged it as an extreme example of wasteful pork-barrel spending. Its national notoriety was cemented with a Parade magazine cover story that ran Nov. 6, 2005, under the headline, "Are Your Tax Dollars Being Wasted?"
The project also raised bitter debate in Congress, and several attempts were made to yank funding for the project. In the fall of 2005, Congress removed the language specifically directing the money to the bridge, but it kept the money in place and left it up to Alaska to decide which transportation projects the state would like to spend it on.
By the time Palin pulled the plug on the Gravina bridge project in September 2007, much of the federal funding for the bridge had already been diverted to other transportation projects. The bridge would cost $398-million, Palin said then, and Alaska was $329-million short.
"Ketchikan desires a better way to reach the airport, but the $398-million bridge is not the answer," Palin said. "Despite the work of our congressional delegation, we are about $329-million short of full funding for the bridge project, and it's clear that Congress has little interest in spending any more money on a bridge between Ketchikan and Gravina Island."
Lois Epstein, director of the Alaska Transportation Priorities Project, which opposed funding for the Gravina bridge, said while it's true that Palin formally put an end to the project, "It wasn't really a bold move when she did it."
Although the project had local support in Ketchikan, Epstein said, it was not a popular project around the state. And had Palin decided to continue forward with the bridge project, she said, it would have required either a lot more federal funding - which there clearly was no support for - or for the state to pick up the bulk of the tab at the expense of other more urgent road projects.
Keith Ashdown, a spokesman for Taxpayers for Common Sense, the government watchdog that first drew attention to the project, believes Palin has "hyperinflated her role" in killing the project.
"She put the final stake in the project," Ashdown said. "But there was already tremendous momentum for the project to be scrapped. She gets credit for saying that they were not to go forward with the bridge, but it was at death's door."
(We'll also note that Palin wasn't always a foe of the Bridge to Nowhere. In our Flip-O-Meter ruling, we conclude that her decision to kill the bridge was a Full Flop from the position she had taken while running for governor.)
Today, when Palin says "I told Congress, 'Thanks, but no thanks,' on that Bridge to Nowhere," it implies Congress said, "Here's a check for that bridge" and she responded, "No thanks, that's wasteful spending; here's your money back."
That's not what happened. Fact is, Alaska took the bridge money, and then just spent it on other projects. Palin did make the final call to kill plans for the bridge, but by the time she did it was no longer a politically viable project. We rule Palin's claim is Half True.
New York Times, "Alaskan Bridge Projects Resist Earmarks Purge," by William Yardley, March 6, 2007
Parade Magazine, "Are Your Tax Dollars Being Wasted?" by David Wallechinsky, Nov. 6, 2005
State of Alaska, Office of the Governor, "Press Release: Gravina Access Project Redirected," Sept. 21, 2007
CNN, "'Bridge to nowhere' abandoned," Sept. 22, 2007
ABC News, "The End of the Bridge to Nowhere," by John Cochran, Sept. 21, 2007
Congressional Quarterly, "Earmarks for Bridges Likely to be Deleted But Alaska to retain the Funds Anyway" by Kathryn A. Wolfe, Nov. 16, 2005
Interview with Keith Ashdown of Taxpayers for Common Sense, Aug. 29, 2008
Interview with Lois Epstein, director of the Alaska Transportation Priorities Project, Aug. 29, 2008
Browse the Truth-O-Meter
More by Robert Farley
Support independent fact-checking.
Become a member!
In a world of wild talk and fake news, help us stand up for the facts.