Stand up for facts and support PolitiFact.
Now is your chance to go on the record as supporting trusted, factual information by joining PolitiFact's Truth Squad. Contributions or gifts to PolitiFact, which is part of the 501(c)(3) nonprofit Poynter Institute, are tax deductible.
I would like to contribute
The Obama administration offered "$900 million to Hamas, a recognized terrorist organization, to rebuild Gaza."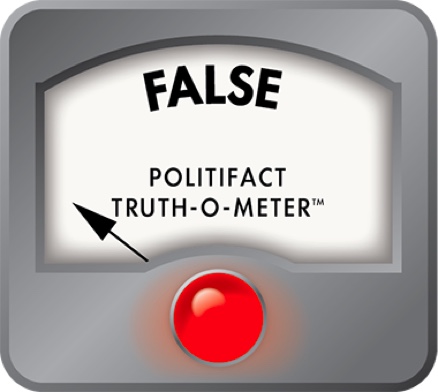 Republican National Committee claims Obama administration offered $900 million to Hamas to rebuild Gaza
The Republican National Committee recently put out a questionnaire called the "2009 Obama Agenda Survey" in which it asks Republicans to rate their agreement or disagreement with a number of so-called Obama administration positions.
But it looks to us more like a push poll, a political technique in which the questions are written in a way that aims to convince the respondent of a particular political position. In other words, they are political statements masquerading as questions.
We decided to fact-check two "questions" from the survey, and you'll see what we mean.
One is an allegation that the Obama administration has ordered a new initiative that requires FBI agents to read Miranda Rights to high-value terrorist detainees captured on the battlefield. We deal with that one in another Truth-O-Meter ruling .
Here, we address the GOP question, "Do you support the Obama administration's decision to offer $900 million to Hamas, a recognized terrorist organization, to rebuild Gaza?"
As you can see, built into the "question" is a statement of fact, that the Obama administration offered $900 million to Hamas to rebuild Gaza.
During a trip to Egypt in early March 2009, Secretary of State Hillary Clinton announced that the United States intends to provide $900 million for humanitarian, economic and security assistance for the Palestinian Authority and the Palestinian people.
Here's how that money would be split: $200 million to the Palestinian Authority to address part of its 2009 budget shortfall; $400 million "to help the Palestinian Authority solidify economic and institutional reforms in the West Bank"; and $300 million in humanitarian aid for Gaza following January's 22-day violent conflict between Israel and the Islamic militant group Hamas. The humanitarian aid to Gaza would be distributed primarily through U.N. agencies and nongovernmental organizations. The strategy, according to State Department officials, was to specifically make sure the money did not go to Hamas.
In testimony before the Senate Appropriations Committee on April 30, Clinton assured that disbursement of the money "will be implemented with stringent requirements to prevent aid from being diverted into the wrong hands."
Translation: Hamas.
Some have argued, however, that the aid, while not going directly to Hamas, would still benefit them.
"Whatever officials in Washington might intend, the Obama administration's new Gaza aid package is likely to turn out to be a financial boon for Hamas, which wields actual physical control over the places the aid is destined to go," wrote Ilan Berman, vice president for foreign policy at the American Foreign Policy Council, in an April commentary distributed by Tribune Media Services.
Steven A. Cook, a senior fellow at the nonpartisan Council on Foreign Relations and an expert in U.S.-Middle East policy, said there are legitimate concerns about aid ending up in the hands of Hamas. The problem, he said, is that supposed nongovernmental groups that purport not to have ties with Hamas sometimes do.
"We have yet to devise a foolproof system to ensure that money doesn't bleed out," Cook said.
Still, he said, it's a wild distortion to claim that the United States has offered Hamas $900 million. First of all, most of the $900 million is going to the West Bank, not Gaza. And while some of the humanitarian aid disbursed through U.N. and other nongovernmental agencies could "bleed out" to Hamas unintentionally, that's far different from giving money directly to Hamas.
Not only that, but the claim that the money would be used to "rebuild" Gaza after January's 22-day violent conflict between Israel and the Islamic militant group Hamas is also misleading. The money to Gaza is for humanitarian aid — food, medicine, repairing damaged infrastructure, removing rubble, etc. It is specifically not for reconstruction, he said, as Israel was concerned that reconstruction money might be used to build tunnels, weapons factories or the like.
"I'd give this one a D-minus," Cook said of the GOP claim.
We agree that it's possible that even with safeguards, some of the humanitarian money could wind up in the hands of Hamas.
But when you read the GOP survey, you are left with the impression that the U.S. government intends to write a big, fat $900 million check that says "Pay to the order of Hamas." To the contrary, Washington is taking steps to try to specifically make sure none of that money winds up in the hands of Hamas. We also note that only $300 million of the $900 million is even going to Gaza, for humanitarian aid. And the money is specifically not to be used for reconstruction. It is limited to humanitarian aid — food, medicine, that kind of thing. So the GOP is wrong on that point too. We rule the RNC's Hamas claim to be False.
Republican National Committee, 2009 Obama Agenda Survey: Part II, Foreign Policy
New York Times, "U.S. to Give $900 Million in Gaza Aid, Officials Say" by Helene Cooper, Feb. 23, 2009
Fox News, "Lawmakers Worry Whether U.S. Can Keep Gaza Aid Away From Hamas," March 2, 2009
U.S. Department of State, "Opening Remarks on the President's FY 2009 War Supplemental Request, Hillary Rodham Clinton," April 30, 2009
U.S. Department of State, Press release: "United States Assistance to the Palestinians," March 2, 2009
Atlanta Journal Constitution, "Assistance will benefit Hamas, help our enemies" by Ilan Berman
Christian Science Monitor, "At Gaza donor conference, Clinton vows to pursue Middle East peace," by Liam Stack, March 3, 2009
Interview with Steven A. Cook, a senior fellow at the Council on Foreign Relations, July 10, 2009
Browse the Truth-O-Meter
More by Robert Farley
Support independent fact-checking.
Become a member!
In a world of wild talk and fake news, help us stand up for the facts.