Stand up for the facts!
Our only agenda is to publish the truth so you can be an informed participant in democracy.
We need your help.
I would like to contribute
In the case of a catastrophic event, the Atlanta-area offices of the Centers for Disease Control and Prevention will self-destruct.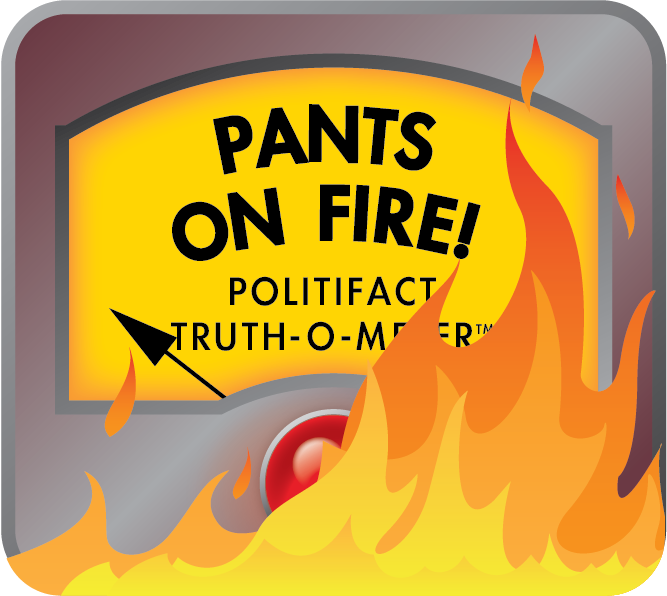 Hit zombie series shows CDC blowing up after generators fail
OK, OK, enough of that political stuff.

The winter holidays approach. State politicians are hibernating. Now PolitiFact Georgia' staff can investigate what's really important. 

Is there a doomsday plan for Atlanta's Centers for Disease Control and Prevention?

"Huh?" you ask. And "Why?"

Because of AMC's hit series "The Walking Dead." Flesh-eating zombies take over Atlanta, and in Sunday's season finale, survivors who take refuge at the CDC find out things are even worse than they thought: The building is locked down and rigged to explode.

When the CDC's generators run out of fuel, a two-stage device more powerful than anything known to mankind short of a nuclear bomb will blow it to kingdom come.

"It sets the air on fire," fictional CDC scientist Dr. Edwin Jenner said. "No pain. An end to sorrow, grief, regret. Everything."

Thirty minutes later, KAAABOOOOM!!!! No more CDC.

Really?

Don't laugh. PolitiFact Georgia readers and more than a few Atlanta Journal-Constitution staffers asked PolitiFact to check whether the CDC has an endgame plan.

"The Walking Dead" follows survivors of a plague that turns people into zombies. In the show's post-apocalypse Atlanta, the undead lurch down Marietta Street and through the countryside hungry for human innards.

The Cobb Energy Performing Arts Centre stands in as the CDC's stunt double.

"The Walking Dead" is by far the most popular show shot in Atlanta, according to ajc.com's Radio & TV Talk blog. It averaged 5 million viewers during the fall season, which is 2 million more than second-place Bravo's "The Real Housewives of Atlanta."

This makes it the most popular drama in basic-cable history among the coveted 18- to 49-year-old demographic.

And when a show this popular turns a major DeKalb County employer into a smoldering pit of rubble, AJC PolitiFact Georgia readers take notice.

We called the CDC. Officials there said the agency was not consulted during production of the show.

While the agency does have safeguards in case generators fail, a subnuclear blast is not one of them, spokeswoman Karen Hunter said.

"We do have systems in place, but none of them involve explosives," Hunter said. 

The CDC has safeguards for a variety of emergencies, but they don't specifically address the possibility of the end of humanity. 

"We do not have a doomsday scenario at the CDC," Hunter said.

If for some reason the CDC were unable to operate from its main campus, designated employees would travel to another location and work from there, Hunter said.

Backup generators have failed at least twice in recent years. In June 2007, lightning knocked out power at the CDC's $214 million infectious disease building -- including the agency's six high-tech labs designed to contain Ebola, smallpox, avian influenza and other killer bugs.

In July 2008, a bird shorted out a Georgia Power transformer, cutting off power to part of the CDC's main campus.

Critics worried the generator failures showed the lab was unsafe. The Government Accountability Office investigated.

While "The Walking Dead's" CDC seemed to use fire as a kind of disinfectant, the real CDC typically uses other cleaning methods. 

In the second-to-last episode, Jenner accidentally spills a caustic chemical as he works in a lab, which automatically decontaminates by setting itself on fire.

In reality, CDC scientists disinfect spills with some very uncinematic household products, said Tom Skinner, another CDC spokesman. 

"Lysol and bleach," Skinner said. Materials used to clean the spill are burned, but not by a self-immolating lab. They use incinerators.

Scientists work with dangerous pathogens in rooms with negative airflow to prevent germs from leaking outside. Air entering and leaving those rooms is scrubbed with filters. Scientists wear protective suits.

While we are disappointed to find that real life is not nearly as cinematic as fiction, we walk away from our effort heartened. 

We are pleased to reassure the CDC's neighbors that they do not need to install flame-proof siding. The CDC said none of its emergency plans involve blowing up its campus.

Plus, the AJC reported two cases in which the CDC emergency generator failures did not coincide with subnuclear explosions. 

We rule "The Walking Dead" claim Pants On Fire. And by the way, we can't wait for Season 2.
AMC, "The Walking Dead," Episode 6, Season 1, aired Dec. 5, 2010

AMC, "The Walking Dead" Episode 5, Season 1, aired Nov. 28, 2010

AMC.com, "The Walking Dead" website, accessed Dec. 7, 2010

Interview, Karen Hunter, spokeswoman, Centers for Disease Control and Prevention, Dec. 7, 2010

Interview, Tom Skinner, spokesman, Centers for Disease control and Prevention, Dec. 10, 2010

The Atlanta Journal-Constitution, "Outage at CDC lab adds to concerns," July 19, 2008

The Atlanta Journal-Constitution, "CDC lab's backup power fails during storm," July 7, 2007

Radio & TV Talk blog, ajc.com, "
'Walking Dead' finale breaks rating records with 6 million viewers, 4 mil 18-49," Dec. 6, 2010
Browse the Truth-O-Meter
More by Willoughby Mariano
Support independent fact-checking.
Become a member!
In a world of wild talk and fake news, help us stand up for the facts.