Stand up for the facts!
Our only agenda is to publish the truth so you can be an informed participant in democracy.
We need your help.
I would like to contribute
On whether the state should ramp up borrowing to build roads.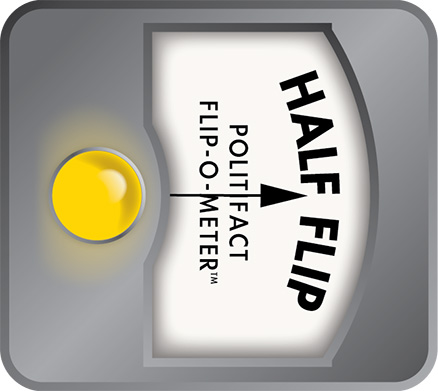 Del. Ward Armstrong does half-flip on borrowing for roads
Drive back with us to 2007 on the rickety road of state transportation plans.

We stop on April 4 when the General Assembly, after months of angry debate, passed a bill that empowered unelected authorities to impose regional taxes to build roads in Northern Virginia and Hampton Roads, established a $1,050 fine for going 20 miles over the speed limit, and authorized $3 billion in state borrowing to improve transportation.

The legislation passed the House 85-15. It was a delicate compromise between Democrats who insisted Virginia dedicate new revenues to transportation and Republicans who opposed any statewide tax increase.

Newly-installed Minority Leader Ward Armstrong, D-Henry, was among a number of House Democrats who voted for the final bill. He had opposed earlier versions but voted 'aye' in the end  because he said the legislation was "the best we could do given the political parameters we all face."

"We felt we had to pass a transportation bill, and this was the only thing before us," Armstrong said.

Now, let's inch forward on the road, carefully navigating two sink holes that all but destroyed the transportation plan. In January, 2008, public protests forced the General Assembly to rescind the $1,050 speeding tickets and a host of other steep driving penalties enacted the previous year. A month later, the state Supreme Court ruled the legislature cannot delegate taxing authority to unelected bodies, crashing hopes for road improvements in congested Northern Virginia and Hampton Roads.

We're back, now, where we started. It's December, 2010. The only tangible lane still open from the 2007 transportation bill is authorization for the state to borrow up to $3.18 billion over 10 years to improve roads. The loans would be paid back by earmarking a third of the state's tax receipts on insurance premiums. That portion, which now comes to $132 million a year, was formerly used for general services such as education, health care and public safety.

Gov. Bob McDonnell, a Republican, wants to compress the $3 billion borrowing period to as little as five years, saying transportation needs are urgent and interest rates are the lowest in decades.

Armstrong is strongly criticizing the proposal. "A mere month after an election when the voters said we must stop deficit spending, Bob McDonnell has announced a multi-billion dollar deficit spending plan to fund transportation," Armstrong said in a Dec. 9 news release. "...Unfortunately, the governor's lack of leadership has resulted in a plan that amounts to a back door tax increase on our children."

McDonnell's office is accusing Armstrong of flip flopping, saying the Democrat doesn't want to issue bonds to build roads that he "voted for and applauded just three short years ago."

"All that's changed since then is the governor is now a Republican," the administration wrote in "talking points" distributed to GOP lawmakers earlier this month. "...That's just the definition of partisan politics and it would be laughable if it wasn't so irresponsible."

Armstrong, who is exploring a run for statewide office, has amped his rhetoric this year. But we have a hard time concluding he's made a u-turn on borrowing to build roads. Although McDonnell is correct that Armstrong voted for the 2007 bill, it's a stretch to say the minority leader "applauded" the bill.

This year as in 2007, Armstrong is saying the state should dedicate a new, reliable revenue stream to fund transportation but has stopped short of suggesting a specific source -- such as an increased gas tax.

As in 2007, Armstrong says he may wind up voting unenthusiastically for the borrowing plan. Here's the hitch: The 2007  bill essentially limited the state to about $318 million a year in road borrowing over a decade; McDonnell would put the cap at about $618 million over five years.

Armstrong says he wants to make sure the source earmarked by the General Assembly in 2007 to repay the road bonds -- one-third of the state's receipts on insurance tax premiums -- can cover the increased immediate debt costs that would come with McDonnell's plan.

If it does, Armstrong said he could support the governor. If it doesn't, Armstrong said he is concerned lawmakers will cover the increased borrowing cost by taking money from vital services.

But Armstrong voted to do just that when he supported the 2007 transportation bill that designated one-third of the tax receipts on insurance premiums to pay back the bonds. The legislation moved that money from the general fund -- used for education, public safety and health -- to a separate transportation budget. So we can't say Armstrong has been consistent.

Nor can we say he's flipped like a leaf in the wind. A check of 2007 newspaper stories showed Armstrong sounded the same alarm about "raiding the general fund" to pay for roads that he's issuing today. And just like in 2007, Armstrong says he's keeping his voting options open.

All things considered, we find it a Half Flip. 
Interview with Ward Armstrong, House Minority leader, Dec. 28, 2010

Press release, House Minority Leader Ward Armstrong Responds to McDonnell Plan to Increase Deficit Spending, Dec. 9, 2010.

The Washington Post, "Talking Points" sent to House and Senate Republicans from the Governor's Office, Dec. 15, 2010

The Roanoke Times, various news articles, Jan. 20, 2007; April 5, 2007; July 14, 2007.

Interview with Robert Vaughn, staff director of Virginia House Appropriations Committee, Dec. 28, 2010.

Interview with Sen. Charles Colgan, chairman of Virginia Senate Finance Committee, Dec. 28, 2010.
Browse the Truth-O-Meter
More by Warren Fiske
Support independent fact-checking.
Become a member!
In a world of wild talk and fake news, help us stand up for the facts.