Stand up for the facts!
Our only agenda is to publish the truth so you can be an informed participant in democracy.
We need your help.
I would like to contribute
Says she has "quadrupled agents to secure our border."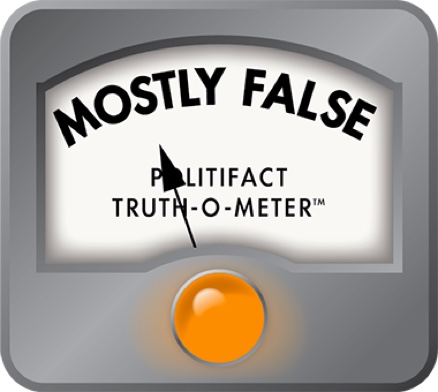 Hutchison says she quadrupled Border Patrol agents
A TV ad for U.S. Sen. Kay Bailey Hutchison describes her as a conservative as tough as Texas, who "doesn't just talk tough, but delivers." 

The ad cites her work against a state income tax, opposing the economic stimulus package and says she has "quadrupled agents to secure our border," among other claims.

Although she is correct that the number of agents has quadrupled since she became a senator in 1993 — from 3,600 to more than 18,000 now — much of the increase was prompted by requests from President George W. Bush, who honored his 2004 promise to double Border Patrol agents from 9,000.

And Hutchison is only one of 100 senators. We wondered how much credit she can accurately take for all that growth in Border Patrol manpower. 

Hutchinson's TV ad flashes tiny print from a 2006 San Antonio Express-News editorial endorsing the incumbent senator for another term: "Her influence has been instrumental in securing funding for 1,500 new Border Patrol agents." But that refers to a 2005 boost in funding, not the cumulative increase that took place over time.

It's true that Hutchison has pushed for funding and consistently voted to increase Border Patrol since her first year on the Hill, notably joining Congress to pass an immigration bill in 1996 that authorized the addition of 5,000 agents over five years. She's been active on the issue, even if some of her bills didn't pass. In 1995, she introduced the Immigration Reform Control Act that would have added 6,000 patrol agents, but it never made it out of the Judiciary Committee. Nor did the Border Law Enforcement Relief Act of 2008 that she co-sponsored to increase funding for agencies addressing border-related crime.

In 2001, she voted for a bill that snagged $180 million for law enforcement on the U.S.- Mexico border, fulfilling Hutchison's requests to hire 570 full-time Border Patrol agents and fund new facilities across Texas for fiscal year 2002. 

But anyone who votes for an immigration bill — and almost all of the measures include a Border Patrol component — can claim credit for bolstering the patrol force, says Dr. Nestor Rodriguez, a sociology professor at the University of Texas. (The bill Hutchison voted on in 2001 passed 98-1.)

We spoke with several experts about which senators have championed legislation to beef up the Border Patrol, and nobody volunteered Hutchison's name. The experts noted that the measures were widely supported on both sides of the aisle — not proving controversial.
"The general consensus on Capitol Hill is that we were, and are, understaffed," said T.J. Donner, president of the National Border Patrol Council, a labor union that represents more than 17,000 border agents and staff. Donner said Bush deserves the credit for stregthening the border patrol. 

Hutchison has advocated increasing border agents, but she didn't personally quadruple anything. In many cases, the increases were pushed by President Bush and she was one of many who supported them. We find her claim Barely True.
Editor's note: This statement was rated Barely True when it was published. On July 27, 2011, we changed the name for the rating to Mostly False.
Kay Bailey Hutchison's campaign Web site, Texans for Kay Releases New TV Ad, "Texas Tough," Dec. 2, 2009

Kay Bailey Hutchinson's senator page, Biography, accessed Dec. 17, 2009

Department of Homeland Security, Fact Sheet: U.S. Department of Homeland Security Announces Six Percent Increase in Fiscal Year 2007 Budget Request, Feb. 6, 2006

Department of Homeland Security, Budget in Brief, FY2007

Dallas Morning News, Bush budget includes immigration, border spending, by Suzanne Gamboa, Feb. 7, 2006

San Antonio Express-News, Editorial: Hutchison has earned another Senate term, Oct. 21, 2006

TRAC Immigration, Border Patrol Expands, but Growth Rate After 9/11 Much Less Than Before, Accessed Dec. 16. 2009

The New York Times, Lawmakers agree to spend $1.2 billion on tightening border, Sept. 26, 2006

The Washington Post, Congress Finishes Major Legislation; Focus is borders, not benefits, by William Branigin, Oct. 1, 1996

Migration News, INS: Border Control, Sanctions, June 1999

Washington Times, NFL rejects Border Patrol ad, Dec. 13, 2009

Texans for Kay, Kay Bailey Hutchison: A Proven Leader on Border Security, Accessed Dec. 16

Project Vote Smart, Public Statements for Senator Kay Bailey Hutchison , Accessed Dec. 16, 2009

The Library of Congress, S.999, Accessed Dec. 17, 2009

The Library of Congress, S.3293, Accessed Dec. 17, 2009

The Library of Congress, H.R.2500, Accessed Dec. 17, 2009

GovTrack, Senate Record: National Intelligence Reform Act of 2004, Sept. 28, 2004

Interview with T.J. Bonner, president of the National Border Patrol Council, Dec. 17, 2009

Interview with Timothy J. Dunn, sociology professor at Salisbury University, Dec. 17, 2009
Browse the Truth-O-Meter
More by Ciara O'Rourke
Support independent fact-checking.
Become a member!
In a world of wild talk and fake news, help us stand up for the facts.