Stand up for the facts!
Our only agenda is to publish the truth so you can be an informed participant in democracy.
We need your help.
I would like to contribute
"We are picking up oil with shovels and paper and plastic bags."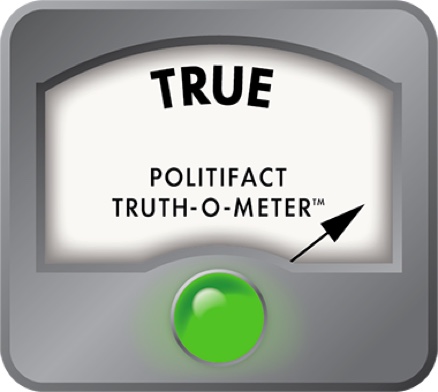 Marco Rubio critical of oil spill clean up
Everything from human hair to industrial vacuums has been used in the effort to soak up the globs of oil floating along the Gulf coast. But when it comes to getting rid of the tar balls washing up on the Florida Panhandle's pristine beaches, Marco Rubio, the Republican candidate for U.S. Senate, has some misgivings about the clean-up efforts.

"We are talking about the richest and most powerful country in the world, and we are picking up oil with shovels and paper and plastic bags," Rubio said June 26, 2010, during an interview on the show "Fox and Friends."

He added: "You would think that at this point every skimmer on the planet earth would be working off the coast of Florida, Louisiana, Mississippi, etc., and they are not. They are not out there."

Rubio has not backed down from his initial support of off shore drilling, "so long as it can be done safely," said campaign spokesman Alex Burgos. During a May 5th press availability in Washington D.C, Rubio noted: "I've not heard anyone say you cannot safely drill for oil because there are thousands of rigs drilling even as we speak that are not leaking, that are not causing this ecological disaster."

As tar balls, tar patties, tar mats, and any other conceivable name for the patches of rusty brown and black oil, continue to wash up on the Panhandle's white sand beaches, we decided to take a closer look at Rubio's statement on "Fox and Friends." More specifically, his claim that only "shovels and paper and plastic bags" were being used in the effort. If hair and rubber tires are being used in the on-water efforts, surely there are other ways the gunk is being removed from the beaches?

(By the way, we bring first-hand experience to this one. This PolitiFact Florida reporter is just back from weeks of reporting in the Panhandle, in between fact-checking duties. We walked the beaches in 100-degree heat with BP clean-up crews and saw first-hand the painstaking work of sifting through the sand to pick up gooey tar balls.)

When we turned to Rubio's campaign, Burgos told us to look no further than this June 29 photo from the Pensacola News Journal to prove Rubio's claim. Sure enough, the picture, like hundreds of others taken along the Gulf Coast, shows plenty of plastic bags and shovels in sight. Paper bags, not so much.

BP has said it plans to hire nearly 6,850  local beach clean-up workers along the Panhandle, to perform work like scooping up tar ball-mixed sand into "into 6-millimeter-thick plastic bags known as drum liners that they fill up to 20 pounds and then seal off with duct tape," as detailed in a June 22 Miami Herald article. Those bags are eventually sent to Alabama to be incinerated or sent to a landfill in Campbellton, FL, on the Georgia border.

The majority of clean-up efforts rely on manual labor, with workers wearing protective gear like thick rubber gloves and plastic cover-up suits. BP is largely steering away from using large machinery on the beach for several reasons. Bulldozers, for example, are not able to distinguish between oil debris and eggs laid by endangered sea turtles and shore birds. BP officials also say thick tar clogs mechanical rakes.
The machinery that is being used is largely out on the water, in the form of skimming vessels, that scoop up the thick mats of oil that have formed on the surface of the water. There are currently five state-leased skimming vessels working off the Florida panhandle, but elected officials and Panhandle residents alike have complained, as Rubio does, that more skimmers should have been deployed by BP and the federal government right after the oil rig explosion to keep oil from creeping toward the shoreline in the first place.

So while Rubio may have been slightly off when saying paper bags were used in the clean-up effort, there's plenty of plastic bags and shovels being used to haul off the tar balls. We find his claim True.
Fox News Cable Network, Fox and Friends Interview, June 26, 2010
Pensacola News Journal, Photo- More Oil on Beaches, June 29, 2010
The Miami Herald, Oil spill puts unemployed to work on the clean up crew, June 22, 2010
The Miami Herald, Oil spill shaping Florida's U.S. Senate campaign, July 2, 2010
The Miami Herald, "BP weighing hundreds of oil options," June 10, 2010, acquired through Herald archives.
The Miami Herald, "Oil drilling becomes issue in U.S. Senate Race," May 6, 2010, acquired through Herald archives.
E-mail Interview, Alex Burgos, campaign spokesman for Marco Rubio, July 7, 2010
Florida Department of Environmental Protection, Deepwater Horizon Situation Report, July 7, 2010

Browse the Truth-O-Meter
More by Laura Figueroa
Support independent fact-checking.
Become a member!
In a world of wild talk and fake news, help us stand up for the facts.