Stand up for the facts!
Our only agenda is to publish the truth so you can be an informed participant in democracy.
We need your help.
I would like to contribute
"A record number of Hispanics were elected to the U.S House of Representatives..."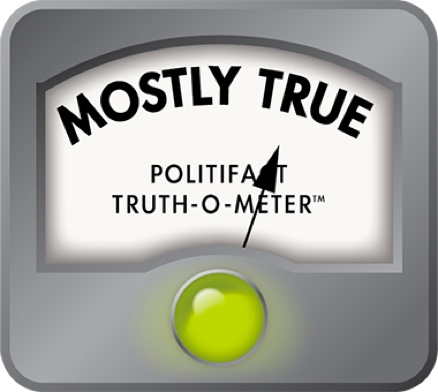 Jeb Bush says record number of Hispanics elected to U.S. House of Representatives
The 2010 midterm elections saw the rise of the Tea Party, the resurgence of the Republican Party in Congress, and a number of Hispanic candidates elected to prominent positions.

There was Marco Rubio, a Cuban-American elected to the United States Senate; Brian Sandoval, the first Hispanic governor of Nevada; and Susana Martinez of New Mexico, the first Hispanic woman in the country to be elected as governor.

The successes of Hispanic candidates in the midterm elections is a point noted by former Florida Gov. Jeb Bush in an opinion article he penned for The Miami Herald  on Jan. 9, 2011. In the article, Bush, a Republican, warns that conservatives "get unacceptably low support among Hispanic voters nationally" and urges the "center-right movement … to engage the Hispanic community."

"The unprecedented success of Hispanic center-right candidates in this past election is a clear sign that now is the time to recommit to a serious outreach effort," Bush writes. "Among these newly-elected Hispanic leaders, there were many notable records and firsts. Marco Rubio was overwhelmingly elected to the U.S. Senate despite starting his campaign as a heavy underdog to more-seasoned candidates. A record number of Hispanics were elected to the U.S House of Representatives, including Republicans Raúl Labrador of Idaho, David Rivera of Florida, Bill Flores and Francisco Canseco from Texas, and Jaime Herrera of Washington."

He wrote the piece in advance of the Hispanic Leadership Network Conference, which he helped organize. The conference, scheduled for Jan. 13 and 14, 2011, in Coral Gables, is aimed at engaging "members of the Hispanic community on center-right principles."

We decided to check the accuracy of Bush's claim that a record number of Hispanics had been elected to the U.S. House this past election.

First, we turned to Bush for clarification.

His press secretary, Jaryn Emhoff, said Bush's references to "center-right" was intended to refer to Hispanic Republicans.

"An earlier sentence sets the stage when it says, 'The unprecedented success of Hispanic center-right candidates…'," Emhoff explained.

To check the validity of Bush's claim, we turned to the National Association of Latino Elected Officials (NALEO), which keeps track of the progress made by Hispanic-Latino candidates from the local to the national level.

"There was a record number of Hispanic Republicans elected, but not a record number of Hispanics in general," said Patricia Guadalupe, spokesperson for the NALEO Educational Fund.

"There were two Latinos who lost their seats to non-Latinos, and in other seats you had one Latino replacing another," Guadalupe said.

There are currently 24 Hispanic members of the U.S. House, which matches the record set in 2009 by the incoming class of the 111th Congress.

However, the most notable shift between the two classes is the gain made by Republicans. In 2009, there were 21 Democrats and three Republicans; now, those figures now stand at 17 Democrats and seven Republicans.

During the November 2010 elections, the seven Hispanic Republicans elected to the U.S House were:

• Bill Flores, Texas -- Flores, a political newcomer was able to defeat longtime Rep. Chet Edwards, a Democrat. Flores' win made him the first Republican Latino to represent Texas's 17th congressional district.

• Francisco Canseco, Texas -- Canseco, a businessman, defeated Democratic Rep. Ciro Rodriguez, (also Hispanic), for the state's District 23 congressional seat.

• Jaime Herrera, Washington -- Herrera became the first Hispanic to represent the state in Congress by defeating businessman Danny Heck.

• Raul Labrador, Idaho -- By defeating Democratic incumbent Walter Minnick, Labrador became the state's first Latino congressman.

• David Rivera, Florida -- Rivera won against Democratic challenger Joe Garcia for the Florida District 25 seat vacated by Rep. Mario Diaz-Balart.

• Mario Diaz-Balart, Florida -- Already a congressman representing District 25, Diaz-Balart opted to run for the District 21 seat being vacated by his brother, Lincoln Diaz-Balart.

• Ileana Ros-Lehtinen, Florida -- The country's first Hispanic woman elected to Congress retained her seat in a heavily Hispanic and Republican district after running against a lesser-known Democratic candidate, Rolando A. Banciella.

For a complete list of all the Hispanic members of the House elected in 2010, click here.

The number of Hispanics in Congress has been rising steadily. Consider that in 1998, there were 18 Hispanic members in the House and no senators. Fast forward to 2011: There are 24 Hispanics in the House and two Cuban-American senators, Rubio and Sen. Bob Menendez, a Democrat from New Jersey.

Although the number of Hispanics in the House is the same now as it was after the 2008 election, Bush is correct in recognizing the growth in the past decade. However, he would have been more precise if he'd said that a record number of Hispanic Republicans were elected to the U.S. House, rather than leaving it to the reader's assumption that he was referring to the GOP. We rate his claim Mostly True.
The Miami Herald, "Bush:Conservative movement must commit to a long-term outreach strategy," Jan. 9, 2011

McClatchy News, "Hispanic candidates win big Tuesday, most in GOP,'' November 3, 2010, acquired through Nexis.com

NALEO Educational Fund, "Record Number of Latino Republicans to Join New Congress," Nov. 3, 2010

NALEO Educational Fund, "List of Latino Congressmembers," provided Jan 13, 2010

Telephone interview, Patricia Guadalupe, spokeswoman NALEO Educational Fund, Jan. 12, 2010

E-mail interview, Jaryn Emhoff, press secretary, Foundation for Florida's Future, Jan. 13, 2010

The Huffington Post, "Blake Farenthold Beats Solomon Ortiz: Democratic Congressman From Texas Concedes," Nov. 23, 2010

Congressional Hispanic Caucus website, viewed Jan. 12, 2010

The New York Times, State 2010 Election Results, viewed Jan. 13, 2010
Browse the Truth-O-Meter
More by Laura Figueroa
Support independent fact-checking.
Become a member!
In a world of wild talk and fake news, help us stand up for the facts.