Get PolitiFact in your inbox.
"Gov. Crist has never wavered in his support of the Second Amendment, the right to bear arms."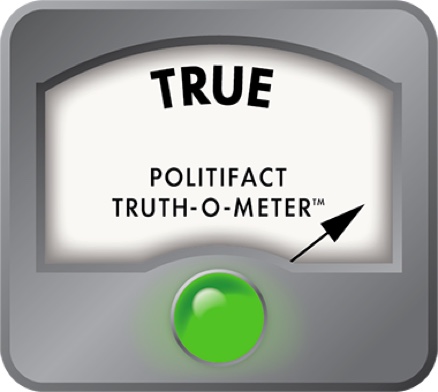 Crist stands firm on gun rights
Charlie Crist and "never wavered" are words that don't seem to naturally fit together these days. He vetoed anti-abortion legislation in June 2010 after painting himself as fiercely pro-life. He buddied up to Sarah Palin during a "Drill, Baby, Drill" event in 2008, then called for a special legislative session to ban oil drilling in July 2010. Most famously, he abandoned the Republican party after pegging himself as a both a Jeb Bush and Ronald Reagan Republican throughout his political career.

Yet Crist, who has been known to attribute his political flexibility to his desire to serve "the people," claims there is one issue where voters can trust him to never waffle.

"Gov. Crist has never wavered in his support of the Second Amendment, the right to bear arms," reads the Crist for U.S. Senate campaign website.

Given Crist's serial elasticity, we wondered if this could be true. Does the so-called People's Governor actually have steady convictions about, well, something?

Crist, a St. Petersburg lawyer who was first elected to public office in 1992, quickly earned a reputation as a pro-gun candidate. In his steady rise through Florida's political strata, he continued to cultivate that image, consistently siding with gun owners.

In one of his first high-profile gun battles, Crist blasted then Gov. Lawton Chiles' last-minute effort to require criminal background checks and a waiting period for purchases made at gun shows in 1998.

"Unfortunately we're in a state that's No. 1 in violent crime in America,'' said Crist, then a state Senator. "And for us to make moves that would disarm our law-abiding citizens would be inappropriate."

The proposed legislation died in committee.

As Attorney General, Crist nominated former NRA President Marion P. Hammer to the state's Women's Hall of Fame. She was inducted in December 2004.

In his 2006 primary against Republican rival Tom Gallagher, who supported some gun-control restrictions, Crist put out an ad that called Gallagher "anti-gun." The ad concluded, "Charlie Crist: endorsed by the NRA."

After he won, Crist continued to highlight his Second Amendment views to trump Jim Davis, his Democratic opponent in the general election.

As governor, he appointed NRA favorites Chief Justice Charles T. Canady and Justice Ricky Polston to the Florida Supreme Court. He signed into law legislation that allowed 500,000 concealed weapons permit-holders to bring their guns to work -- as long as the weapons remained in their vehicles.
He vetoed a move by lawmakers to take $6 million out of the trust fund that pays for licensing gun owners and processing concealed weapons permits. The national Citizens Committee for the Right to Keep and Bear Arms rewarded his efforts by bestowing him the title of "Gun Rights Defender of the Month" in July 2009.

Crist then signed a bill that granted protected status to Florida's concealed weapons permit trust fund, shielding it from future raids by a cash-strapped Legislature, in a ceremony in April 2010, during which he wrapped his arms around Hammer, now the NRA's lobbyist, for a public embrace.

Most recently, Crist's campaign celebrated the Second Amendment in a Twitter message. "Pleased w the US Supreme Court's decision today reaffirming our 2nd Amendment rights," he tweeted on June 28, hours after the court ruled the Second Amendment gives all Americans a right to keep and bear arms for self-defense that trumps state and local laws.

In fact, PolitiFact had a hard time finding any instance where Crist refused to back gun rights. We scanned roughly 1,000 news articles that mentioned Crist and the words "bear arms," "Second Amendment," and "gun restrictions."

The only hints we found that Crist wasn't entirely beholden to unrestricted gun rights could barely be described as so much as a flutter of indecision.

In 1993, Crist told the St. Petersburg Times he was considering supporting several proposed bills that would impose tougher penalties on youths who use guns while committing a crime. "I believe very strongly in the right to bear arms, but I don't see a need for kids to bear arms," except for hunting or target shooting with supervision, said Crist, newly elected to the state Senate. The NRA gave some of the proposed bills its blessing.

In another instance, Crist bucked the NRA when he appointed Justice James Perry, a self-professed gun advocate who never convinced the NRA of his loyalty, to the Florida Supreme Court in 2009. But gun leaders say the appointment was an unnoteworthy misfire. They did not hold it against Crist.

"He has always throughout his career been a strong advocate for the Second Amendment and the rights of law-abiding gun owners and sportsmen, never voted against us, always voted with us as governor," Hammer said. "He signed every piece of legislation gun owners asked him to sign and vetoed every piece of legislation negatively impacting gun owners and sportsman that gun owners asked him to veto. He has an outstanding record of support."

Hammer said Crist earned an "A" rating as a political newcomer, the highest grade bestowed to a rookie candidate by the NRA, and subsequently received an "A+" in future years based on his voting record.

"You can't get an 'A+' unless you have a strong history on our issues," Hammer said.

Joe Waldron, director of the Citizens Committee to Keep and Bear Arms, also said that Crist's support for gun rights has remained steadfast.

However, a budding effort to cast doubt on Crist's pro-gun record has begun to emerge.

Crist recently indicated he would confirm President Barack Obama's Supreme Court nominee, Elena Kagan, if elected to the U.S. Senate, drawing mixed responses.

Hammer said she continues to trust Crist. Neither Hammer or the NRA has endorsed a candidate in the Senate race yet.

"I was told he had a made a comment about Kagan before he knew her record and before he knew of our opposition," she said. "We would not be pleased with anyone who would vote to confirm Elena Kagan. We have made that very clear."
The Florida Republican Party used the statement in another round of attacks against its former leader.

"Floridians believe in the Second Amendment, and we need a United States senator who will defend that right when given the responsibility of confirming justices who could influence the rulings of the Supreme Court for generations," Chairman John Thrasher said in a June 2010 press release. "The reality here is about more than politics. If activist judges like Elena Kagan gain control of the Supreme Court, our individual right to bear arms for personal protection could cease to exist in this country. Does Charlie Crist still think she'd do a great job?"

Republican spokesman Katie Betta elaborated in an email interview: "Our main point with this release was to highlight the fact that when the Governor was trying to win the Republican Primary, he opposed the confirmation on Justice Sotomayor because of her record on the Second Amendment, now he said he thinks Kagan will do a great job, despite the fact that she has such a controversial record on the Second Amendment. His position is ever-changing in that it changes based on his political needs, rather than based on principles."

To be sure, Crist is no Charlton Heston. He isn't even a Palin, for that matter. He doesn't stalk across the state clutching a rifle or claim to kill his own dinner.

But his standing with the NRA is bulletproof, at least for the time being.

We rate this True.

 
Charlie Crist, campaign website, accessed July 5, 2010.
PolitiFact, "Charlie Crist correct that Rubio supported gun restrictions," February 26, 2010.
St. Petersburg Times, "Legislature: It's okay to bring a gun to work," April 10, 2010.
St. Petersburg Times, "Economy blamed for increase in concealed weapon permits in Florida," February 19, 2009.
National Rifle Association, "Former NRA President Selected as Finalist For Florida Women's Hall of Fame."
St. Petersburg Times, "For Charlie Crist, a hug that helps, not hurts," April 8, 2010.
Miami Herald, "NRA has gotten most of what it wanted in Florida Legislature," March 19, 2010.
Orlando Sentinel, "Crist Signs Concealed Weapons Bill," April 15, 2008.
Orlando Sentinel, "Crist - and his veto pen- still have friends in Florida politics," May 1, 2010.
Palm Beach Post, "Crist signs bring your gun to work bill," April 15, 2008.
St. Petersburg Times, "A strong appeal," April 8, 2007.
St. Petersburg Times, "Guns-at-work bill defeated," April 19, 2007.
Sun-Sentinel, "Chiles' Last Call: Help Children, Control Guns," March 4, 1998.
Miami Herald, "Crist ad blasts Gallagher, labels him as 'Taxing Tom' and 'liberal,'" August 26, 2006.
St. Petersburg Times, "Separating youths and firearms," October 31, 1993.
Orlando Sentinel, "Governor candidates take off the gloves," October 27, 2006.
Republican Party of Florida, "Will Charlie Crist Still Support Elena Kagan?" June 28, 2010.
Twitter, Charlie Crist profile, June 28, 2010.
Email interview, Katherine Gordon Betta, Republican Party of Florida spokeswoman, July 13, 2010.
Telephone interview, Marion Hammer, NRA lobbyist, July 14, 2010.
Telephone interview, Joe Waldron, director for the Citizens Committee for the Right to Keep and Bear Arms, July 14, 2010.
Citizens Committee for the Right to Keep and Bear Arms, Charlie Crist press release, July 1, 2009.
St. Petersburg Times, "Charlie Crist unleashed: A wide-ranging interview with the newly independent one," May 14, 2010.
St. Petersburg Times, "Crist can't recall why he opposed Sotomayor," May 21, 2010.
NRA email, Alert: Critical Help Needed On Appointment of Florida Supreme Court Judges, August 20, 2008.
Browse the Truth-O-Meter
More by Cristina Silva
Support independent fact-checking.
Become a member!
In a world of wild talk and fake news, help us stand up for the facts.