Get PolitiFact in your inbox.
Says Houston's 18th congressional district has been "gentrified" and is home to "more Anglos than African Americans."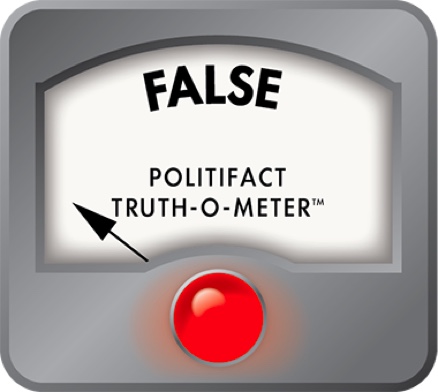 Faulk says center-city Houston congressional district has more Anglos than blacks
John Faulk, the Republican challenging 8th-term U.S. Rep. Sheila Jackson Lee of Houston, recently hinted that changing demographics give him a leg up in his campaign to unseat the African American Democrat.

Saying he has a "secret weapon," the semi-retired accountant told delegates to the Republican state convention June 12 that his foe's district has been "gentrified" and has "more Anglos than African Americans."
Really?
Jackson Lee represents the 18th congressional district, which takes in center-city Houston and a partial ring of outlying neighborhoods.
To our initial inquiry, Faulk cited the U.S. Census Bureau's American Community Survey for 2008, posted online, which says about 42 percent of the district's residents that year were white and 38 percent were black. The bureau's chart doesn't use the Anglo descriptive Faulk employed at the convention.
Following Faulk's lead, we looked into the district's past racial mix. In 2000, according to that year's census, the district was home then to 263,371 residents identified as black and 240,745 residents recorded as white.
So from 2000 to 2008, it looks like there was a swing toward more white than black residents.
Enough said? Maybe not.
Jackson Lee's campaign didn't respond. But Ed Martin, an Austin Democratic consultant, pointed out that according to the '08 census survey, 41.5 percent of the district's residents were Hispanic, a reflection, Martin nudged, on the estimate of white residents including many Hispanic residents. That is, the three largest population groups broke down to 38 percent black, 26 percent Hispanic white and 16 percent non-Hispanic white.
"African American voters control the district," Martin said.

Could Faulk's sense of district demographics reflect recent election surprises? It looks like Democrats continue to dominate. In 2002, the first statewide election after the district was redrawn based on 2000 census results, all but one Democrat running statewide drew more than 72 percent of the district's vote, according to the Texas Legislative Council. In 2008, the most recent statewide election, Democratic candidates -- from the president down the ballot to the Texas Court of Criminal Appeals -- drew 75 percent or more of the vote.
Next, we asked Lloyd Potter, the state demographer and director of the Institute for Demograhic and Socioeconomic Research at the University of Texas-San Antonio, to weigh the population analyses by Faulk and Martin.
Potter said both are correct.
Come again?
Potter said that white-versus-black is just one way to gauge a population's makeup. At his suggestion, we delved into the bureau's '08 estimates for the district by clicking on a "show more" hyperlink leading more information about the district's Hispanics. Six in 10 are identified as white; a relatively small percentage are of multiracial heritage such as black or Native-American. Add non-Hispanic whites to Hispanic whites, and the estimated white total (285,634) outnumbers blacks by 12 percent. But remove Hispanic whites from the white total, and the 255,856 black non-Hispanics outnumber the 109,461 white non-Hispanics by 135 percent.
Faulk didn't respond to our efforts to visit afresh; we don't know if he shook the numbers this way.

We asked Potter if any voter analysis of a congressional district would be expected to weigh the district's share of Hispanic residents. Sure, he replied -- especially in Texas, where the growing share of Latinos can affect elections.
And while Potter said it's still correct to say the overall share of white residents exceeded the share of black residents according to the 2008 census estimate, he added that "some people might be misled . . .because they don't understand that (the estimate of) whites includes Hispanics."
We'd wager it's safe to lump most Texans (including us, until now) in that camp.
Finally, we probed Faulk's statement the district has undergone gentrification, which according to Merriam-Webster's online dictionary means "renewal and rebuilding accompanying the influx of middle-class or affluent people into deteriorating areas that often displaces poorer residents." For the 18th district, we presumed, such an influx would be accompanied by significant increases in income over the decade.
There's been no surge, census research suggests. The 2000 census concluded the district's median household income was $31,291 in 1999. Adjusted for inflation, that amount would have been about $40,000 in 2008. But the 2008 census survey pegged the district's median household income for that year at $37,133--effectively less than what it had been nine years earlier. In 1999, about 20 percent of district families lived below the federal poverty level, according to the 2000 census. In 2008, 21 percent of families lived below that level, according to the 2008 census survey.
All told, Faulk quoted a portion of the '08 census survey that could lead someone to conclude the district's whites outnumber blacks, signaling a boon for any GOP candidate given that minority voters usually favor Democrats. But that conclusion overlooks the fact that Hispanics -- who are also minority voters -- comprise the majority of white residents.

Also, the census data yielded no evidence, such as higher incomes, of significant gentrification.
Faulk's statement is False.
E-mail and interview, John Faulk, Republican nominee, U.S. House, Houston, June 18, 2010
E-mail, response to PolitiFact Texas, Ed Martin, Democratic consultant, June 21, 2010
The Inflation Calculator, accessed June 28, 2010
Merriam-Webster's Online Dictionary, gentrification definition, accessed June 28, 2010
Interview and e-mail, Lloyd Potter, state demographer, University of Texas-San Antonio, June 22 and 23, 2010
Texas Legislative Council, statewide election results, 18th congressional district, November 2002 and statewide election results, 18th congressional district, November 2008
U.S. Census Bureau, 2006-2008 American Community Survey, "Fast Facts for Congress, 18th Congressional District, Texas," and more detailed demographics by race and ethnicity and detailed tables, 2000 U.S. Census, 18th congressional district of Texas, and "Profile of Selected Economic Characteristics, 18th Congressional District, Texas," 2000 U.S. Census, accessed June 21 and 28, 2010
Browse the Truth-O-Meter
More by W. Gardner Selby
Support independent fact-checking.
Become a member!
In a world of wild talk and fake news, help us stand up for the facts.