Get PolitiFact in your inbox.
Harry Reid "voted to use taxpayer dollars to pay for Viagra for convicted child molesters and sex offenders."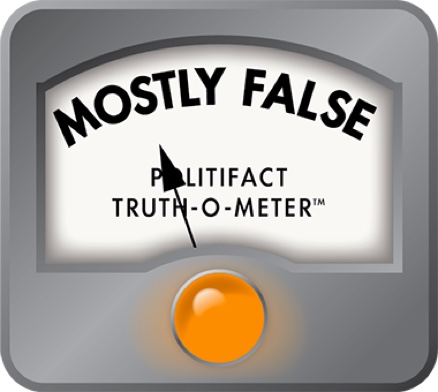 Sharron Angle attacks Harry Reid over giving sex offenders taxpayer-subsidized Viagra
Judging by her newest television ad, Sharron Angle, the Republican candidate for U.S. Senate from Nevada, is banking on the idea that even Sin City voters have limits on acceptable behavior.
In an ad released Oct. 7, 2010, Angle accuses Harry Reid of voting to use taxpayer dollars to pay for Viagra for convicted child molesters and sex offenders.
The ad begins by attacking Reid on immigration, repeating a charge from one of Angle's earlier ads that Reid voted "to give illegal aliens special tax breaks and Social Security benefits." When the initial ad came out, we rated those claims False and Barely True, respectively.
In this article, we'll focus on the Viagra claim. The narrator says, "Here's the kicker: Reid actually voted to use taxpayer dollars to pay for Viagra for convicted child molesters and sex offenders. What else could you ever need to know about Harry Reid?"
Our friends at PolitiFact Texas analyzed a similar -- but not identical -- claim in June, so we'll rely in part on their reporting.
The charge stems from the health care law passed by Congress earlier this year. By 2014, states must create exchanges in which individuals can buy insurance from a choice of four plans that must meet minimum standards, although premiums, out-of-pocket costs and benefits may differ. To limit costs for indigent residents, premiums and costs such as deductibles and co-payments will be subsidized for people with incomes between 133 to 400 percent of the federal poverty level, which in 2009 ranged from $29,327 to $88,200 for a family of four. For instance, people with incomes at or below 150 percent of the federal poverty level will only be responsible for one-third of their out-of-pocket costs; the federal government will pay the rest.
Last spring, Sen. Tom Coburn, an Oklahoma Republican opposed to the Democratic-sponsored health care plan, requested a report by the Congressional Research Service -- the nonpartisan research arm of Congress -- that examined the Viagra question. CRS concluded that the law does "not appear to prohibit... coverage for drugs prescribed to treat [erectile dysfunction] for a non-incarcerated beneficiary who was previously convicted of rape, child molestation or another sex offense." Nor, the memo states, would those individuals "appear to be excluded from enrolling in a qualified health plan offered through an American Health Benefit Exchange in their state solely because of that conviction."
The number of people potentially affected isn't trivial. According to the National Center for Missing and Exploited Children, about 704,700 sex offenders are registered in the United States, including the District of Columbia and U.S. territories.
Coburn offered an amendment to the health care bill that would "reduce the cost of providing federally funded prescription drugs by eliminating fraudulent payments and prohibiting coverage of Viagra for child molesters and rapists and for drugs intended to induce abortion."
By the time the Senate took up the amendment on March 24, 2010, the margin for passing the bill was extremely narrow, and the bill's sponsors knew that any changes, no matter how small, could effectively kill the bill. So they fought Coburn's amendment for procedural reasons, hoping to save the bill as a whole and knowing that they would almost certainly be called to account for their "no" vote during the 2010 campaign. Sen. Max Baucus, D-Mont., encouraged his colleagues to reject the amendment, arguing, "This is a serious bill. This is a serious debate. The amendment offered by the senator from Oklahoma makes a mockery of the Senate, the debate and the American people... It is a crass political stunt aimed at making 30-second commercials, not public policy."
Ultimately, the amendment failed, 57-42, with Reid among those voting against it. The health care law eventually was signed into law, and Baucus was quite right that it would show up in 30-second commercials.
So how accurate is Angle's charge? The ad implies that Reid actively wanted to give subsidized Viagra to sex offenders, but that isn't the case. First, what Reid actually did was vote against an amendment that would have stopped using taxpayer dollars for that purpose. Second, Senate Democrats made it clear at the time that they were not voting on the merits of the amendment, but rather to salvage their bigger legislative priority, the health care bill itself. Finally, Reid didn't actively bring up this issue; it was proposed by a senator opposed to the broader health care bill.
We should also mention that the use of taxpayer dollars for sex-offender Viagra was -- and is -- a hypothetical. While CRS concluded that there was nothing in the current law to stop it from happening, the earliest it could start is in 2014 -- so there's ample time for lawmakers or federal officials to write laws or regulations to stop it before then.
Finally, whatever taxpayer subsidies for sex offenders may materialize after 2014 would not go to all sex offenders; it would go to the subset of sex offenders who get their health care through the exchanges and who also qualify for subsidies.
The ad is correct that Reid voted against a prohibition on taxpayer-subsidized Viagra for sex offenders. But the ad leaves out a lot of important context that, if it had been included, would have given a different impression. We rate the ad Barely True.
Editor's note: This statement was rated Barely True when it was published. On July 27, 2011, we changed the name for the rating to Mostly False.
Sharron Angle for Senate, "Big Clue" (television ad), Oct. 7, 2010
U.S. Senate, roll call vote on the motion to table Coburn amendment no. 3556, March 24, 2010
Text of Coburn Amendment no. 3556
Memo from the Congressional Research Service to Sen. Tom Coburn, Re: coverage under a qualified health plan for drugs prescribed to treat erectile dysfunction in the case of a convicted rapist, child molester or sex offender, April 2, 2010
Memo from the Congressional Research Service to Sen. Tom Coburn, Re: News articles on federal coverage of erectile dysfunction drugs for sex offenders, April 2, 2010
PolitiFact Texas, "GOP chair says the health care law provides free Viagra for convicted rapists and sex offenders," June 1, 2010
PolitiFact, "Sharron Angle calls Harry Reid "the best friend an illegal alien ever had," Sept. 17, 2010
PolitiFact, "Sharron Angle says Harry Reid wants to give illegals Social Security benefits," Sept. 17, 2010
FactCheck.org, "Benton's Bogus Viagra Ad," May 11, 2010
Roll Call, "CRS: Health law may allow Viagra coverage for sex offenders," April 7, 2010
Kaiser Family Foundation, Summary of coverage provisions in the Patient Protection and Affordable Care Act and the Health Care and Education Reconciliation Act of 2010, modified March 23, 2010
Kaiser Family Foundation, Explaining health care reform: questions about health insurance exchanges, April 2010
Politico, "Dems reject amendment to ban Viagra for sex offenders," March 24, 2010
National Center for Missing and Exploited Children, Registered sex offenders in the United States per 100,000 population, Dec. 8, 2009
Browse the Truth-O-Meter
More by Louis Jacobson
Support independent fact-checking.
Become a member!
In a world of wild talk and fake news, help us stand up for the facts.