Get PolitiFact in your inbox.
Says Nick Kahl made it harder for many families to cover basic health care expenses.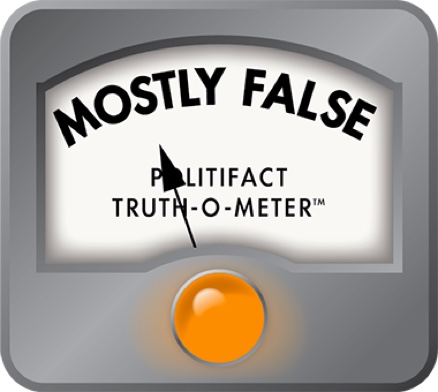 Republicans try to turn health care tax -- and children -- against Democrats
Just a couple weeks back, House Democrats were picking on one Republican incumbent for sponsoring a bill that would have ended a 1 percent tax on health insurance premiums -- and, as a result, cut off the funding stream used to insure 80,000 Oregon children.

Now Republicans are trying to turn the tables and use that 1 percent tax -- and children -- against Democrats.

In a recent mailer, Republican candidate Matt Wand in Oregon's 49th District tells voters that his Democratic opponent was making it harder for children to get insured.

Wand's mailer -- and a similar one sent by Mark Johnson in the 52nd District -- features a young, wide-eyed boy and the words "His illness just got a little harder to pay for."

The mailers go on to say that (depending on the district) either Nick Kahl (49th) or Suzanne Van Orman (52nd) "supported a new tax on health care, making it harder for many families to cover basic heath care expenses."

Since we had so much fun checking out the initial health care ad, we figured why not look into this one.

First things first: According to legislative records, Kahl, along with Van Orman, did indeed vote for House Bill 2116. That  bill instituted a "health insurance premium assessment." For those of you who like government speak in plain talk (we sure do) that's the 1 percent tax on health insurance premiums levied against insurance companies but ultimately passed onto consumers.

As Johnson sees it, that means less money in Oregonians' pockets, and therefore less for paying medical bills. "I don't think there's any way to deny that employees ... will have fewer dollars to take home," he said.

But this 1 percent tax -- and its impact on families -- is begging for some context.

In terms of insurance premium increases, a 1 percent bump may not exactly be welcome, but, according to the state, it's a small part of what typically are higher annual rate increases.

Not all of the increases for 2010 have been submitted, but so far they range from 8 to 17 percent, according to the Insurance Division of the Oregon Department of Consumer and Business Services.  In 2008, some Oregonians saw increases of nearly 30 percent.

Again, a 1 percent increase isn't negligible, but given these numbers, it doesn't account for most of the increases Oregon families see.

"Not every consumer can afford to pay the increase," Wand says. "How many additional children have become uninsured as a result of the increases in premiums?"

But there's one last thing to consider in this debate: the cost of the uninsured.

That 1 percent tax went toward eventually insuring 80,000 children. Now, it might not seem as though insuring those kids has any sort of effect on anybody other than those kids, but there are some indications that say otherwise.

Yet another health care report, this one by John McConnell of Oregon Health & Science University and Neal Wallace of Portland State University, says the cost of caring for the uninsured -- which often takes place in hospital emergency rooms -- accounts for 6 to 9 percent of the average health insurance premium.

Numbers about how much children contribute to that total are hard to come by, but a Henry J. Kaiser Family Foundation study from 2004 looked at numbers from 1998 through 2000 and estimated that, overall, there was about $40.7 billion in uncompensated health care spending during those years. Of that, $5.4 billion came from uncompensated care for children. Those figures are in 2004 dollars.

Because of this indirect cost, Democrats could -- and do -- argue that insuring these 80,000 children will, over time, lead to a slowdown of premium increases. Of course, as Wand points out, that's no help to families today.

Now, for the ruling. While it's true that the new 1 percent tax is being passed onto consumers, it's also true that this tax is helping insure 80,000 children. What's more, the 1 percent is small  compared with average premium increases, and there's an argument to be made that insuring these children will eventually lower the cost for everybody.

There's a grain of truth in the Republicans' claim that their opponents are "making it harder for many families" to cover basic health care expenses, but it's missing so much context that we rate this claim Barely True.
Editor's note: This statement was rated Barely True when it was published. On July 27, 2011, we changed the name for the rating to Mostly False.
E-mail from Cheryl Martinis, spokeswoman for Oregon Insurance Division, Oct. 27, 2010

Oregon State Public Interest Research Group, report on 2008 insurance premium increases, report released in 2009

Phone interview with Mark Johnson, Oct. 26, 2010

John McConnell and Neal Wallace, "Oregon's Cost-Shift: The Effect of Public Insurance Coverage on Uncompensated Care"

The Henry J. Kaiser Family Foundation, "The Cost of Care for the Uninsured," May 10, 2004
Browse the Truth-O-Meter
More by Ian K. Kullgren
Support independent fact-checking.
Become a member!
In a world of wild talk and fake news, help us stand up for the facts.