Stand up for the facts!
Our only agenda is to publish the truth so you can be an informed participant in democracy.
We need your help.
I would like to contribute
"While many of his colleagues turned down a $2,500 pay raise ... (Jeff) Plale pocketed the extra money."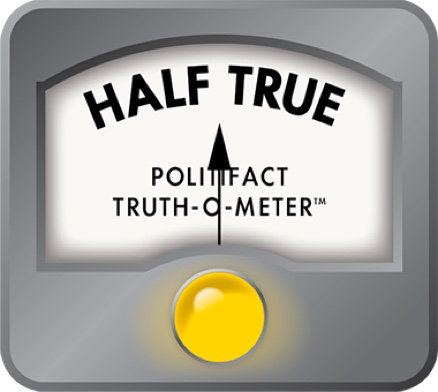 Wisconsin state Sen. Jeff Plale "pocketed" a $2,500 a year raise when others turned it down
Voters in a Milwaukee-area state Senate contest can be forgiven if they are confusing campaign literature with liquor advertising. Citing a laundry-list of complaints, the Progressive Wisconsin Political Fund has been labeling Democratic incumbent Jeff Plale an "Absolute Conservative."

Plale is facing Milwaukee County Supervisor Chris Larson in the Sept. 14 primary. The district is heavily Democratic, but ideologically split. That led to the outside groups joining the fray.

On the anti-Plale side, the Progressive Wisconsin Political Fund has mailed a dozen or more pieces, with many using a replica of the Absolut vodka bottle. Plale, of South Milwaukee, says he is puzzled by the vodka bottle image. "I don't even like vodka," he said.

Less confusing is the message in a piece labeled "Welcome to Plale's Playhouse," featuring a cartoonish version of Plale standing in a tree house under a sign: "Typical Politicians Only!" Citing several issues, the piece argues that Plale puts his own interests before taxpayers.

It includes this claim:

"Last year, while many of his colleagues turned down a $2,500 pay raise because Wisconsin faced a deficit and our families faced tough economic times, Senator Plale pocketed the extra money."

As a source, the fund cites a Feb. 9, 2009 item from the St. Paul Pioneer Press, which itself is a reprint of a Wisconsin State Journal editorial from the day before.

So did Plale take the money and run?

Members of the state Assembly and Senate are paid $49,943. They received a $2,530 (5.06 percent) annual pay raise, which took effect in January 2009 and lasts for the current two-year legislative term. The raise amounts to about $210 a month.

State lawmakers automatically got the increase to their salary -- a boost set by an administrative panel and approved by a bipartisan committee from both chambers. So there is no way to turn down the salary increase itself.

"I have to pay them their full salary," said Robert Marchant, Senate chief clerk and administrator.

The raises come at a time when state employees -- but not state lawmakers -- are required to take 16 unpaid furlough days, eight in the fiscal year that started July 2009 and eight in the fiscal year that started July 2010. And with lots of private-sector employees taking recession-driven pay cuts, many state lawmakers have made a point of giving their raises back.

In the Senate, 31 of the 38 members have returned the money in one form or another, according to Marchant. There are several ways to do this, from taking unpaid furlough days to simply writing a check and depositing it back in the state coffers. Others have given the money to charity, though there is no system for tracking that.

Plale said he is taking 16 unpaid furlough days to "give back" his raise.

"That comes close to washing that out," Plale said. "How can I ask my staff to take 16 unpaid work days and not do it myself?"

Will it even out in the end?

According to Marchant, Plale in July 2009 began docking his monthly paycheck by $91.20. Over the course of two years, that will be the equivalent of 16 days of salary. From July of 2009 to Sept. 1, 2010, Plale had returned $1,276.90.

Over the full two-year period, that would amount to $2,189, or 43 percent of the full raise.

So what about the original claim, that Plale pocketed the money?

Plale's salary did go up, there was no way to stop that. He did not start giving the money back right away, as a few lawmakers did. Once other state employees were required to take furloughs, Plale imposed the same standard on himself -- long before the direct mail piece was sent. But that approach won't account for the full raise, only about 43 percent of it.

We rate the claim Half True.
Citizens for a Progressive Wisconsin Political Fund direct mail piece

Interview, Eric Hogensen, Citizens for a Progressive Wisconsin, Sept. 9, 2010

Interview, state Sen. Jeff Plale (D-South Milwaukee), Sept. 9, 2010

Interview, Robert Marchant, Wisconsin Senate chief clerk and chief operating officer, interviews Aug. 27 and Sept. 1, 2010

Wisconsin State Journal, editorial, Feb. 8, 2009

Wisconsin Blue Book, 2009-'10
Browse the Truth-O-Meter
More by James B. Nelson
Support independent fact-checking.
Become a member!
In a world of wild talk and fake news, help us stand up for the facts.