Get PolitiFact in your inbox.
"I'll be running against a career politician."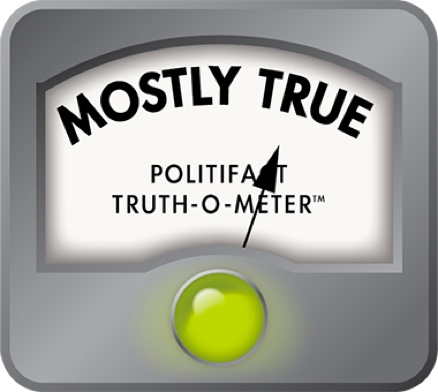 Sen. Ron Johnson claims Russ Feingold is a career politician
A rematch awaits voters this fall in the race for the U.S. Senate seat now held by Republican Ron Johnson.
As with such contests, we'll hear some of the same issues that were raised when the two squared off in 2010. That's when Johnson, a first-time candidate, ousted U.S. Sen. Russ Feingold, a Democrat, who had served three terms in the Senate.
In a Dec. 17, 2015 appearance on "Upfront with Mike Gousha" on WISN-TV, Johnson raised what is certain to be a central theme of his campaign.
"I'll be running against a career politician," he said -- twice -- in the interview.
We asked Johnson campaign spokesman Brian Reisinger to explain the senator's statement. After all, Feingold's been out of office for about five years and passed up opportunities to run for governor in 2014 and, before that, Wisconsin's other Senate seat, which was open in 2012.
"Senator Feingold is obviously a career politician – one who has pursued his profession for decades," Reisinger said in an email. "Anyone who doesn't believe it should do the math and listen to his own words."
Fair enough. Let's take a look at the Feingold file.
Feingold, 62, served 10 years in the Wisconsin state Senate, until 1992 when he was elected to the U.S. Senate. That means he was an elected official for about 64 percent of his adult life.
But what about before he won his first election?
Feingold graduated from the University of Wisconsin-Madison in 1975, then was a Rhodes Scholar at Oxford. He graduated from Harvard Law School in 1979 when he was 26. He then worked at a law firm until he won the state Senate seat, at age 29.
So, at the start of his working life that's about three years when he was not in office or in school.
Then there's the five years following the 2010 loss to Johnson.
Shortly after leaving office, Feingold set up a political action committee, Progressives United Inc., and was paid by that group a total of $59,500 from 2011 to 2013.
Feingold then served from 2013-15 as a U.S. State Department diplomat to the Great Lakes Region of Africa. Not long after leaving that post, he announced in May 2015 that he would challenge Johnson.
So for at least part of the past five years -- some would argue virtually all of it -- Feingold was involved in politics. (He also taught several college courses, at Marquette University, Lawrence University and later Stanford University, and wrote a book.)
In summary: In the 36 years since he finished law school, he was in office for 28 and engaged in political or diplomatic work for another 5. That's about 92 percent of his career spent in politics.
An additional note: Feingold is currently receiving both his state and federal pensions. "Should the people of Wisconsin elect him to the U.S. Senate, he would stop taking his federal pension or take a corresponding reduction in salary," Michael Tyler, his campaign spokesman, told us.
Feingold addressed the "career politician" charge in a 2010 appearance at the Milwaukee Press Club. He said he had chosen public service as a career and was proud of it.
"I make no apologies for it," he said.
We asked Feingold's campaign for their take on the career politician charge this time around.
"While he has a breadth of experience working as an attorney, an author, a teacher, and serving our nation as a diplomat, Russ is proud to have served the people of Wisconsin," Tyler said.
Our rating
Setting the stage for his 2016 election rematch, Johnson said he would face a "career politician" in Feingold.
Other than a short stretches, it's clear the lion's share of Feingold's career has been in politics or government. He's got the pensions to show for it, and makes no apologies for it.
We rate the statement  Mostly True.
Ron Johnson appearance on "Upfront with Mike Gousha," Dec. 17, 2015
Emails, telephone interviews, Brian Reisinger, Sen. Ron Johnson campaign, Jan. 13, 15, 2016
Emails, telephone Michael Tyler, Russ Feingold campaign, Jan. 16, 18, 2016
PolitiFact Wisconsin, "Ron Johnson ad says Sen. Russ Feingold has never held a job outside of politics," Sept. 14, 2010
Milwaukee Journal Sentinel, "Feingold targeting Ron Johnson," Aug. 24, 2010
JSOnline.com, "Feingold campaign wants Johnson ad dropped," Sept. 12, 2010
Browse the Truth-O-Meter
More by James B. Nelson
Support independent fact-checking.
Become a member!
In a world of wild talk and fake news, help us stand up for the facts.