Stand up for the facts!
Our only agenda is to publish the truth so you can be an informed participant in democracy.
We need your help.
I would like to contribute
It's "not true" that since he's been the president, executions in Iran have increased by four times.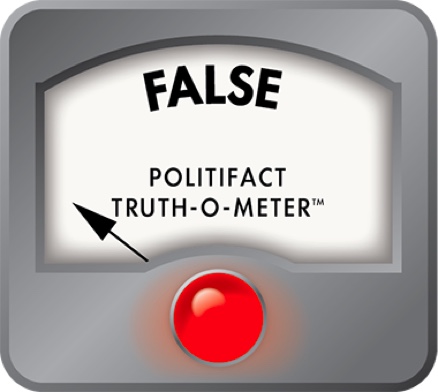 Iranian President Mahmoud Ahmadinejad denies executions are up fourfold
In an interview on ABC's This Week, host Christiane Amanpour asked Iranian president Mahmoud Ahmadinejad if he was aware that "since you've been the President executions in Iran have increased by four times."

"That is not true at all," Ahmadinejad responded. "Not at all. Not at all."

"So you deny that?" Amanpour asked, noting that the statistic came from independent human rights groups.

"How do they know?" Ahmadinejad said. "They haven't come to Iran."

The Iranian government doesn't keep statistics on executions. Or, at least, it doesn't make them public.

But a couple of human rights groups outside Iran keep tallies on executions based largely on official or "semi-official" news accounts in Iran.

Amnesty International, which opposes the death penalty, issues an annual report on executions in Iran and elsewhere around the world.

According to Amnesty International's tally, there were at least 94 people executed in Iran in 2005, including at least eight aged under 18 at the time of the crime. Ahmadinejad became president in August of that year. That same year, 94 percent of all known executions took place in China, Iran, Saudi Arabia and the U.S. (which had 60), the report states.

In contrast, Amnesty International recorded at least 388 executions in Iran in 2009 (the U.S. had 52). The report states, "the death penalty continued to be applied in political cases, in which individuals are commonly accused of 'enmity against God.'" In addition, the report states, a "sharp increase in the rate of executions was registered in the eight-week period between the presidential election on 12 June and the inauguration of Mahmoud Ahmadinejad for a second term as president on 5 August. Many of those executed were convicted in flawed legal proceedings, some after having made televised 'confessions.'"

So that's where Amanpour got her fourfold estimate (94 in 2005 when Ahmadinejad was elected; and 388 in 2009).

Without official government statistics, where does Amnesty International get its data?

"Information about the vast majority of these executions comes from official Iranian sources: newspapers and provincial judiciary websites," said Ann Harrison, a researcher at Amnesty International in London, in an e-mail exchange with PolitiFact. "Very few come from other sources such as local human rights groups or family members of those executed. However, we believe that the true number of executions is likely to be higher, as the authorities do not publish official statistics on their use of the death penalty, and we always later receive reports of other executions, which were not known about at the time."

Amnesty International isn't the only human rights group that keeps tabs on executions in Iran. Since 2001, the Abdorrahman Boroumand Foundation, a group that promotes human rights and democracy in Iran, has scoured 50 to 60 newspapers, websites and blogs on a daily basis looking for information on executions. Most of the sites are "official or semi-official state news agencies and prison websites," said Roya Boroumand, executive director and co-founder of the foundation.

The foundation documented 127 executions in 2004 (the year before Ahmadinejad took office); 65 in 2005; 132 in 2006; 468 in 2007;381 in 2008; and 399 in 2009.

"I can't swear to you that's an exact number," Boroumand said. "This is more or less what's reported."

The foundation keeps detailed and well-sourced databases to substantiate their figures. Boroumand shared a spreadsheet for 2007, as an example. The spreadsheet lists the names of those executed, their crimes (most were for drug trafficking, murder or sex crimes), and the source of the information (such as the state news agency or a police office website).

Boroumand warned not to assume the charges listed are accurate, however, as Iranian authorities do not allow the independent investigation and monitoring of cases in which the death penalty is enforced.

While the totals are not exact, she said, they have used the same method of data collection every year.

Their tally shows executions "have increased several times in recent years," Boroumand said. But they are not the highest number in modern history, by any means. In 1990, for example, there were about 900 executions, she said. But the number of executions dropped off in the late 1990s and early 2000s before increasing again the last several years, she said.

Boroumand attributes the rise to "a more military-oriented government...So they are more arrogant."

The United Nations does not track the exact number of executions in Iran, but an October 2008 report notes that the U.N.'s Human Rights Committee "expressed grave concern over the extremely high number of death sentences, many resulting from trials in which the guarantees of due process of law had not been properly applied."

The report also says the "continuing high incidence of executions remains an ongoing concern, with a sudden surge of executions reported in recent months, which the authorities argue
are part of efforts to combat drug trafficking."

The report notes, for example, that on July 27, 2008, there were reportedly 29 executions, 18 for drug-related offenses.

We asked Gary Sick, a senior research scholar at Columbia's School of International and Public Affairs who served on the National Security Council under Presidents Ford, Carter and Reagan, what he thought of Ahmadinejad's denial of rising executions under his presidency.

"Ahmadinejad doesn't like to be reminded Iran is one of the leading countries in the world in terms of executions," Sick said. "And to avoid the issue, he lies about it."

Again, the Iranian government does not publicly release statistics on executions, but we think the human rights reports provide convincing evidence that executions in Iran have risen dramatically during Ahmadinejad's presidency. The reports are meticulously documented, and are mostly sourced to government websites and government news agencies within Iran that have reported specific cases. And, while even the human rights groups acknowledge their numbers are imprecise (and likely under-reported), the same method for gathering the data has been used for years. That seems the best way, under the circumstances, to establish a trend. And so we rule that Ahmadinejad's denial of an increase in executions during his presidency is False.
ABC News, "This Week" transcript: Clinton and Ahmadinejad, Sept. 19, 2010

Amnesty International, Report: Death penalty developments in 2005, April 19, 2006

Amnesty International, Report: Death penalty developments in 2009, March 30, 2010

Abdorrahman Boroumand Foundation, Reported executions

Abdorrahman Boroumand Foundation, Spreadsheet of executions in Iran in 2007

United Nations, Press release: "Iran: Ban concerned by treatment of women, juvenile executions," plus link to report to the General Assembly on the country's human rights situation, Oct. 20, 2008

Interview with Roya Boroumand, executive director and co-founder Abdorrahman Boroumand Foundation, Sept. 22, 2010

Interview with Gary Sick, a senior research scholar at Columbia's School of International and Public Affairs, Sept. 21, 2010

E-mail interview with Ann Harrison, researcher at Amnesty International, Sept. 21, 2010
Browse the Truth-O-Meter
More by Robert Farley
Support independent fact-checking.
Become a member!
In a world of wild talk and fake news, help us stand up for the facts.