Stand up for facts and support PolitiFact.
Now is your chance to go on the record as supporting trusted, factual information by joining PolitiFact's Truth Squad. Contributions or gifts to PolitiFact, which is part of the 501(c)(3) nonprofit Poynter Institute, are tax deductible.
I would like to contribute
Says Texas gained 21,000 doctors due to tort reform.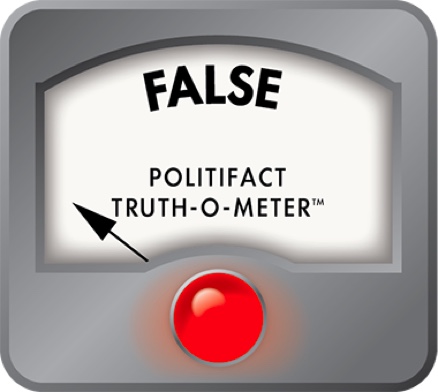 Rick Perry says Texas added 21,000 doctors because of tort reform
Ask any Republican candidate about reducing the cost of health care and part of the answer is likely to include rewriting the rules for medical malpractice.  In 2003, Texas lawmakers passed a package of changes to malpractice law, plus the state added a few more through a referendum known as Proposition 12.

These turned the state into a beacon of hope among tort reformers and Texas Gov. Rick Perry talks proudly of the good the changes have done.

When he was asked about medical malpractice at the Politics and Eggs Breakfast in Bedford, N.H., on Aug. 17, 2011, he had some precise numbers at his fingertips.  "I'll tell you what one of the results was," he said. "This last year, 21,000 more physicians practicing medicine in Texas because they know they can do what they love and not be sued.  Some 30 counties that didn't have an emergency room doc have one today.  Counties along the Rio Grande, where women were having to travel for miles and miles outside of the county to see an ob-gyn, for prenatal care and now they have that care."

For this fact-check, we're examining his claim that that the state gained 21,000 doctors because of tort reform.

First, we found the number is wrong.

Perry's campaign relies on data from the Texas Medical Association, a physician trade group, which counts the number of medical licenses issued in Texas.  The problem is, not everyone with such a license practices in Texas.

The Texas Medical Board issues licenses and tracks whether those doctors actually work in the state.  According to their numbers, between 2003 and 2011, the accurate increase is 12,788.  That's about 8,000 doctors fewer than the governor's claim.

Still, thousands of additional physicians is nothing to sneeze at, and the next question is, can credit be put at the feet of tort reform?  

Not much. By far, the biggest driver is population growth.  From 2002 to 2010, the population of Texas grew by 20 percent.  At the same time, the number of doctors went up 24 percent.  

Jon Opelt, executive director of Texas Alliance for Patient Access, a group that supports tort reform and is funded by health care providers, sent us some analysis he had done that filtered out the population effect. Opelt said the higher rate for doctors -- 24 percent -- translates into an additional 1,608 physicians thanks to tort reform.

At least, that's what he said when we first spoke to him. Later, after we showed him that the growth of doctors increased at a faster rate in the pre-reform years, Opelt sent us new numbers, saying tort reform brought 5,000 more doctors to the state and the ratio of doctors to residents has never been better. (We found those numbers to be a stretch: The upward revision comes from including administrators, teachers and other licensed doctors who don't actually treat patients.)

In any event, from the pro-reform vantage point, the most accurate figure is 5,000 -- a far cry from 21,000.

But the case for Perry's statement gets even shakier when you review numbers prior to the new malpractice rules. It turns out that in the nine years before tort reform, the number of doctors grew twice as fast as the population. So Texas did a pretty good job attracting doctors before the law changed.

Tom Banning, chief executive officer of the Texas Academy of Family Physicians, said that back in the early 1990's the state began passing laws that made it physician-friendly.  Among them, a prompt-pay rule to "to ensure that insurers pay physicians promptly and correctly," Banning said, "which creates a very good environment for practices."

Banning said tort reform was more good news for doctors, a sentiment borne out by opinion surveys from the state's medical association. But he acknowledges that population growth is the biggest force behind the growing ranks of doctors. "It's like the Willie Sutton rule," Banning said, referring to the famous bank robber. "Go where the money is.  From a doctor's standpoint, you go where the patients are."

Especially patients who can pay. Banning and other observers in Texas note that most of the new doctors are clustered in the affluent, fast growing suburbs around the state's biggest cities.

This puts a damper on one of Perry's additional points, that tort reform opens the doors for physicians to practice in the state's most rural counties.  The results here are mixed.  The governor is right about emergency room doctors.  The state has 60 percent more of them then it did in 2003 and tort reform likely played a major role, experts told us.  ER doctors got more protections from tort reform than just about any other medical specialty.

But Perry also boasted that rural counties were getting specialists in obstetrics and gynecology that they never had before.  The reality here is murkier.  A report from the Texas Alliance for Patient Access says 14 counties (of 254 total) gained an ob-gyn. We looked at one community along the Rio Grande, Starr County, and found that yes, four years after tort reform, they got one.  But the situation has flipped back and forth, and as of May 2011, Starr County had no ob-gyn specialist.

Our ruling

There is no question that tort reform drove down medical malpractice insurance premiums and reduced the number of malpractice suits.  And there is no question that most health care providers like the change and say it's a factor that leads them to practice in the state.  But the wholesale transformation that Perry describes is not backed up by the numbers.

Perry said Texas has 21,000 more doctors thanks to tort reform.  That's flat out wrong.  Texas has only about 13,000 more doctors in the state and the historic trends suggest that population growth was the driving factor.  We rate his statement False.
New Hampshire Public Radio, Perry claims doctor boom thanks to tort reform, Aug, 17, 2011

Texas Medical Board, Physician Demographics Data, accessed Aug. 19, 2011

Texas Department of State Health Services, Direct Patient Care Physicians, accessed Aug. 19, 2011

HB 4, Texas Tort Reform Bill, 2003, accessed Aug. 19, 2011

American Medical Association, HB 4 Summary, accessed Aug. 19, 2011

American Tort Reform Association, "How Tort Reform Works",accessed Aug. 19, 2011

Texas Medical Association, "Proposition 12 Produces Healthy Benefits", accessed Aug. 22, 2011

Interview and email correspondence with Jon Opelt, Executive Director, Texas Alliance for Patient Access, Aug. 19-24, 2011

Texas Alliance for Patient Access, "14 Texas Counties Add Obstetricians", accessed Aug. 19, 2011

Texas Alliance for Patient Access, "Losers Turned Gainers in Primary Care", accessed Aug. 19, 2011

Texas Alliance for Patient Access, "86 Texas Counties See Gains in ER Docs", accessed Aug. 24, 2011

Interview with Leigh Hopper, Public Information Officer, Texas Medical Board, Aug. 19, 2011

Interview with Tom Banning, CEO, Texas Academy of Family Physicians, Aug. 24, 2011

Interview with Rebecca Conditt, Executive Director, Texas Rural Health Association, Aug. 24, 2011

Statewide Health Coordinating Council, 2011-2016 State Health Plan, accessed Aug. 24, 2011

Journal of the American Academy of Surgeons, "Malpractice risk and cost are significantly reduced after tort reform", accessed Aug. 22, 2011

Interview with Alex Winsow, Texas Watch, Aug. 22, 2011
Charles Silver, David Hyman, Bernard S. Black, Texas Advocate, The Impact of the 2003 Texas Medical Malpractice Damages Cap on Physician Supply and Insurer Payouts: Separating Facts from Rhetoric, Fall 2008
Browse the Truth-O-Meter
More by Jon Greenberg
Support independent fact-checking.
Become a member!
In a world of wild talk and fake news, help us stand up for the facts.