Stand up for the facts!
Our only agenda is to publish the truth so you can be an informed participant in democracy.
We need your help.
I would like to contribute
Rick Perry "has advocated abandoning Social Security, scuttling Medicaid and ending the federal income tax."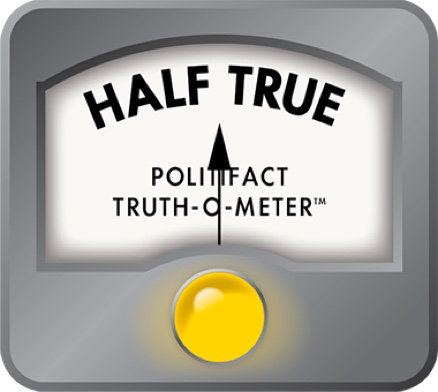 Columnist Margaret Carlson says Perry has advocated abandoning Social Security, scuttling Medicand and ending federal income tax
In an opinion column published Aug. 9, 2011, Margaret Carlson of Bloomberg News says Gov. Rick Perry has said some "far-out things." Among examples: Perry "has advocated abandoning Social Security, scuttling Medicaid and ending the federal income tax."

Talk about shaking up the USA. Is this right?

We did not hear back from Carlson on the basis of her claim.

But we had an idea of where to start our check. "Fed Up!," Perry's 2010 book urging Americans to resist Washington's drift, includes his critiques of Social Security, Medicaid and the federal income tax.

For instance, Perry writes that Social Security is "something we've been forced to accept for more than 70 years now" and calls it a "crumbling monument to the failure" of President Franklin Roosevelt's New Deal. He likens the program, which provides benefits to senior citizens and the disabled, to a Ponzi scheme — a claim we rated False in November 2010, noting that Social Security is accountable to Congress and the American people while a Ponzi scheme is a criminal enterprise.

He also highlights the decision by three Southeast Texas counties in the early 1980s to leave Social Security for a private retirement savings program. In December 2010, we rated Mostly True his claim that employees in the counties fared well as a result.

In a Nov. 4, 2010, interview on CNN's Parker Spitzer, Perry said an option for the country going forward would be to let states decide whether to stay in Social Security or take a different approach to retirement savings.

Part of the exchange between host Eliot Spitzer and Perry:

Spitzer: "So, you want to let people opt out (of Social Security)?"

Perry: "I think, let the states decide if that's what's best for their cities."

Spitzer: "So the states will let people opt out of Social Security."

Perry: "They should, I think it's a discussion…"

Spitzer: "I haven't seen anybody propose that before because that's going to be …"

Perry: "Well, we just laid that on the table so let's talk about it."

Spitzer: "OK, so that's your plan?"

Perry: "That's not my plan, Eliot."

Spitzer: "But, governor, I'm trying to get you, look, you've written a book …"

Perry: "I know, you're trying to get me in a corner and I don't corner very good. What I'm trying to do is have a discussion with the people of this country on an issue …"

So, Perry has advocated a discussion of letting states opt out of Social Security.

In his book, Perry doesn't call for scuttling Medicaid, a state-federal partnership providing health insurance to low-income Americans, though he writes that the 2010 Democratic-passed health care overhaul "only makes matters worse for the existing broken systems of Medicare, Medicaid and" the Children's Health Insurance Program, which insures children of the working poor. Perry adds: "The primary problem with Medicaid right now is that there are too many beneficiaries and not enough doctors or funding," a situation he says will worsen under the health care overhaul because more residents will be eligible for Medicaid.

Perry sounded another anti-Medicaid note in a November 2010 interview with Greta Van Susteren of the Fox News Network, telling her: "I'd like to see the states be given the opportunity to opt out of the Medicaid program that we are looking at today." An Austin American-Statesman news story at the time said that in interviews, Perry had referred to a December 2009 Heritage Foundation memo stating Texas could save $60 billion between 2013 and 2019 by dropping out of Medicaid—even though the federal government was picking up 60 percent of the Texas costs.

That memo says: "On a state-by-state basis, every state except North Dakota would come out ahead financially by leaving Medicaid but continuing long-term care (nursing home) spending with state-only dollars."

In a Dec. 3, 2010, press release from his state office, Perry calls for changes to Medicaid. "The current Medicaid system is financially unsustainable for states and the federal government, as costs increase about 9 percent per year in Texas alone," Perry said. "Without greater flexibility and the elimination of federal strings, Medicaid will strangle state budgets and taxpayers as Obamacare and other programs expand Medicaid rolls."

Perry continues: "Texas, the states and the federal government would be much better served by increasing flexibility and innovation in Medicaid, even block granting funds to the states, so we can tailor Medicaid dollars to best serve the needs of Texas patients, families and taxpayers."

The same month, Perry said a Texas request for a waiver enabling the state to redirect Medicaid hospital funds into a state pool helping some low-income Texans get private insurance "has languished in a file cabinet at the (federal) Centers for Medicare and Medicaid Services for more than two years." We rated his statement Pants on Fire after noting we'd earlier determined the federal government was waiting for Texas to submit a revised proposal.

Stephanie Goodman, spokeswoman for the Texas Health and Human Services Commission, told us this month the Texas waiver request was ultimately shelved by the state in the wake of the 2010 congressional overhaul of health care laws, though this year the commission submitted a limited proposal seeking a waiver to change how some Medicaid payments are made to hospitals. She said the request isn't intended to curtail any Medicaid services.

In his book, Perry lists changes to taxation among steps "we must take to wrest the reins of the federal government from those who have let it run wild for far too long."

Toward restricting "the unlimited source of revenue that the federal government has used to grow beyond its constitutionally prescribed powers," Perry writes: "One option would be to totally scrap the current tax code in favor of a flat tax," simplifying taxation and making it harder to manipulate. Another option, he continues, "would be to repeal the Sixteenth Amendment," which enabled the income tax, and then pursue an alternative model of taxation such as a national sales tax.

Asked to comment, gubernatorial spokeswoman Catherine Frazier said by email that Carlson didn't reflect Perry's views. "Social Security and Medicaid programs are unsustainable in their current form," Frazier said, "and Gov. Perry believes they must be substantially reformed."

Frazier said Perry "has never advocated ending the federal income tax, but has" called it misguided. Her email continues: "The 16th Amendment sadly gave far too much taxing power to Washington, and helped usher in a massive expansion of government and a tax code too complicated and onerous to easily comply with. The way the federal government taxes Americans must be reformed."

Our judgment: Perry would at least study giving states leeway not to continue Social Security. If study led to such an option, and if states went along, this would effectively amount to abandonment. As far as we can tell, though, Perry has not said Social Security should now be abandoned.

Perry has said he wishes states could opt out of Medicaid. If that option were offered and if states agreed, the program would effectively be scuttled. But Perry also has said he favors Medicaid reforms.

Finally, he says taxation could be improved by replacing the federal income tax. While this would end the income tax, Carlson's statement misleads by failing to note that Perry would replace some income-tax revenue with money from a new tax.

We rate Carlson's statement Half True.
Margaret Carlson, opinion column, Bloomberg News, "Rick Perry's Candidacy Crowds Pews on Right: Margaret Carlson," Aug. 9, 2011

Rick Perry, book, "Fed Up! Our Fight to Save America from Washington," Little, Brown and Company, 2010

Telephone interview, Stephanie Goodman, communications director, Texas Health and Human Services Commission, August 24, 2011
Browse the Truth-O-Meter
More by W. Gardner Selby
Support independent fact-checking.
Become a member!
In a world of wild talk and fake news, help us stand up for the facts.