Stand up for the facts!
Our only agenda is to publish the truth so you can be an informed participant in democracy.
We need your help.
I would like to contribute
Says 25 percent of Oregonians oppose the death penalty.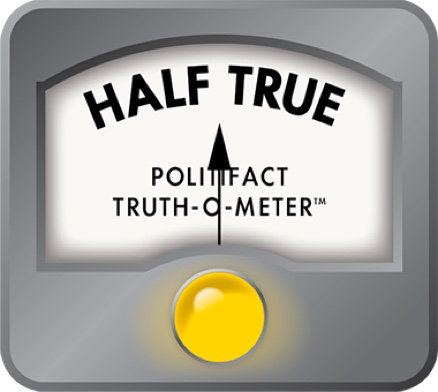 Oregon district attorney puts opposition to capital punishment at 25 percent
Death penalty politics are back in vogue after Gov. John Kitzhaber's recent decision to suspend capital punishment for the remainder of his term.

Carla Axtman a contributor to the Democratic blog Blue Oregon got into the discussion over the governor's executive move by posting a short news excerpt and some quick encouragement: "Well done, Gov."

Naturally, this set off a pretty long debate that pulled in, among others, Clatsop County District Attorney Josh Marquis, a longtime supporter of the death penalty. In one of his responses on the blog, he told opponents that they "were in a minority of about 25 percent."

That caught our attention. Could it be that only a quarter of Americans oppose the death penalty?

Our first stop was Gallup, the polling organization, which has recorded the national appetite for capital punishment for more than seven decades. Gallup's most recent survey, conducted October 2011, asked respondents whether they were "in favor of the death penalty for a person convicted of murder." The response was 61 percent in favor, 35 percent opposed and 4 percent without an opinion.

Generally, the data that Gallup has on hand shows a growing discomfort nationally with the death penalty. In the mid-1960s, opposition eclipsed those in favor, but it soon began to fall until the mid-'90s when opposition hit an all-time low of 16 percent. Since then, the tide has turned again, and opposition has been on a slow climb. Of course, it's still clear the majority of those polled favor capital punishment in some cases.

One other poll from late September 2011, this one done by CNN, showed that 50 percent of respondents favored life in prison as a penalty for murder, while 48 percent favored the death penalty.

We called Marquis to see whether he had any evidence to back up his claim. He had a lot to say.

First, he clarified that he wasn't talking nationally, he was referring to Oregon specifically when he made that 25 percent comment. As for his evidence, he said that back in 2002, there was a group that was considering mounting a campaign to abolish the death penalty in Oregon. But, he said, they backed off after polls showed just 20 to 25 percent opposed.

We pointed out that Gallup showed similar numbers 10 years ago, but since then the number opposed has changed. Marquis was unconvinced. He said the poll's question made the issue appear too black and white. He also felt that the national poll wasn't representative of Oregon.

"Most importantly what about OREGON? You say that the numbers I cited from 2002 are too old but unless someone has documented numbers from OREGON, not nationally, where 15 states do NOT have capital punishment, I don't see how the comparison can be made," he wrote in one of several follow-up e-mails.

In subsequent e-mails, he pointed us to polls in California (where 68 percent supported the death penalty), and Connecticut (where 67 were in support). He then cited a national Angus Reid poll conducted in October that showed support at 70 percent and opposition at 20 percent.

Finally he presented us with this argument: "The last 'poll' of any significance was the 1984 vote in Oregon which was 75% in favor."

There, he is referring to the year in which Oregonians put capital punishment back on the books after abolishing it decades earlier.

Oregonians voted on two related measures in 1984. One exempted the death penalty from the part of the Oregon Constitution that bars cruel and unusual punishment. That measure passed with 55 percent in favor. The second granted a separate sentencing hearing before the trial jury to those convicted of aggravated murder and gave juries the power to sentence convicts to death. That was the vote that passed with 75 percent of the vote.

Still, those votes were taken nearly 17 years ago before DNA evidence in several states cleared a number of convicts on death row and doubts about eyewitness testimony were widely publicized. In addition, officials in some states have flip-fopped, citing the public cost of protracted death penalty appeals.

We talked to Stuart Elway, an independent pollster up in Seattle who works regionally. First we asked him what he thought about the Gallup poll and whether Marquis' criticism seemed fair. He said it's possible that the question, if asked differently, could elicit a slightly changed result -- but only a couple points in either direction. "In a question where public opinion is pretty settled the wording makes less difference than when asking about some tax policy that (a respondent has) never heard about before."

He did, however, agree with Marquis that it wasn't necessarily fair to tie the national polls to Oregon. Attitudes differ regionally and could certain affect the results by 5 to 10 points.

Still, Elway said, the fact that Oregon was trending with the nation in 2002, probably indicates that the trend Gallup has found over the past few decades is somewhat present in Oregon as well.

All that said, the facts are these: There is no recent Oregon-specific polling regarding the death penalty and national polls tend to vary pretty wildly, depending on how the question is asked.

Marquis is basing his statement on numbers from at least a decade ago. The Gallup and CNN polls seem to indicated that the national mood is changing. How true this is for Oregon, we can't say, but neither can Marquis. With PolitiFact, the burden of proof is always on the speaker.

Marquis' statement might have the smallest grain of truth, but it ignores some important details. We give his statement that death penalty opponents are "in a minority of about 25 percent" a Half True.
Tell us what you think by visiting Oregonlive and leaving a comment.
Interview with Josh Marquis, Nov. 29, 2011
E-mails from Josh Marquis, Novemeber and December 2011
Gallup, death penalty polling, Oct. 13, 2011

CNN, "CNN Poll: Number who prefer death penalty on decline," Oct. 12, 2011

Quinnipiac, "Death Penalty Support at New High in Connecticut," March 10, 2011

AngusReid Public Opinion, death penalty polling, Oct. 4, 2011

Los Angeles Times, "Two-thirds of Californians support death penalty, poll finds," Sept. 29, 2011

Oregon.gov, "History of Capital Punishment in Oregon," Dec. 1, 2011

Interview with Stuart Elway, December 5, 2011
Carla Axtman, "Ballsy: Kitzhaber stops all death penalty executions for his term in office," Nov. 22, 2011
Browse the Truth-O-Meter
More by Ian K. Kullgren
Support independent fact-checking.
Become a member!
In a world of wild talk and fake news, help us stand up for the facts.