Stand up for the facts!
Our only agenda is to publish the truth so you can be an informed participant in democracy.
We need your help.
I would like to contribute
Says the Hawaii governor "can't find anything that says (President Barack Obama) was born in Hawaii."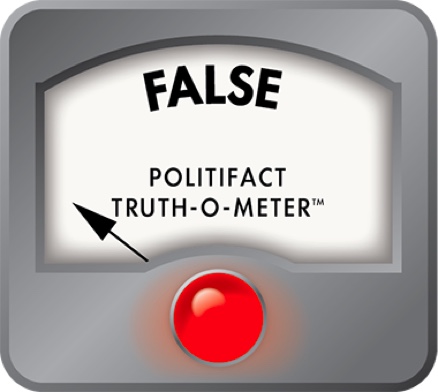 State Rep. Leo Berman says Hawaii governor can't find anything that says Obama was born in Hawaii
CORRECTION, 9:38 a.m.  Feb. 27, 2011: Our initial posted article had an incorrect first reference to the fact-checking entity that reviewed the birth certificate aired by Barack Obama's campaign. That research was done by FactCheck.org. The text is correct below.
State Rep. Leo Berman says that his proposed bill to require presidential candidates to show their birth certificates to the Texas secretary of state reflects doubts about President Barack Obama's birthplace.
"We don't think the president was vetted, and it's just that simple," Berman, R-Tyler, is quoted as saying in a Feb. 14 Politico article about similar proposals pending in some other states. "I read different things that say he was born in Hawaii, and then I read the governor (of Hawaii) can't find anything that says he was born in Hawaii."
A subset of Obama critics, dubbed "birthers," doubt that he is a natural-born U.S. citizen, a requirement to serve as president, and question the validity of his Hawaii birth document. That's an old claim, shot down by PolitiFact National and FactCheck.org, which concluded that that a document aired by Obama's campaign is authentic. We won't revisit that question.
Still, Berman's claim that Hawaii Gov. Neil Abercrombie couldn't vouch for Obama's birth in the Aloha State was a new one to us.
When we asked Berman about it, he replied: "I just listen to the news, I don't write it down. It's been on several news stations that he (Abercrombie) said he was going to resolve this once and for all and when he tried to ... he couldn't find anything."
Berman's public comments have previously put him in "birther" company.
In a Nov. 17 Lubbock Avalanche-Journal news article, Berman said his proposal was necessary "because we have a president whom the American people don't know whether he was born in Kenya or some other place." It's undisputed, as posted on the White House website, that Obama's late father was born in Kenya.
But back to Hawaii: In 2008, in response to questions about Obama's birthplace, his campaign released a copy of his "Certification of Live Birth" from Hawaii and posted it online. The document states that Barack Hussein Obama II was born on at 7:24 p.m. Aug. 4, 1961, in Honolulu to parents Stanley Ann Dunham and Barack Hussein Obama.
Birthers, though, said the posted document was a shortened version of a birth certificate, questioning why the original, "long form" documentation of birth was not released.
According to a Dec. 24 New York Times news article, Abercrombie, who was elected Hawaii's governor in November, was angered by the persistent skepticism that Obama was born in the United States and planned to seek ways to release additional proof that his birthplace was Hawaii. "It's an insult to his mother and to his father, and I knew his mother and father; they were my friends, and I have an emotional interest in that," Abercrombie told the Times.
Next, we searched for the reports that Berman mentioned. Online, we found numerous Web pages with the headline "Hawaii Governor Can't Find Obama's Birth Certificate." Many linked to a Jan. 18 article by the conservative WorldNetDaily.com, a locomotive on the birther train, that was based on comments that Abercrombie made to the Honolulu Star-Advertiser.
The WorldNetDaily story begins: "Abercrombie suggested in an interview published today that a long-form, hospital-generated birth certificate for Barack Obama may not exist within the vital records maintained by the Hawaii Department of Health."
The story continues: "Abercrombie did not report to the newspaper that he or the Hawaii Department of Health had found Obama's long-form, hospital-generated birth certificate. The governor only suggested his investigations to date had identified an unspecified listing or notation of Obama's birth that someone had made in the state archives."
In the Star-Advertiser's Jan. 18 published interview with Abercrombie, the governor was asked about his plan to release more information regarding Obama's birth certificate. He responded that he wants to use information from the state archives about Obama's birth. "This is what our investigation is showing, it actually exists in the archives, written down," Abercrombie said.
We called and e-mailed Abercrombie's office about this and did not hear back.
Meanwhile, we found another report that Abercrombie couldn't find proof that Obama was born in Hawaii. On Minnesota's KQRS-FM radio Jan. 20, Hollywood reporter Mike Evans, claiming to be a longtime friend of Abercrombie's, said the governor had told him that he had searched "everywhere" at Hawaii hospitals and that "there is no Barack Obama birth certificate in Hawaii. Absolutely no proof at all that he was born in Hawaii."
The same day, Evans made the claim on Austin's KLBJ-AM.
Six days later, though, FoxNews.com quoted Evans as saying that he had misspoken. According to FoxNews.com, Evans said that he called Abercrombie's office after reading online reports that the governor couldn't find Obama's birth certificate but that Abercrombie did not return his call. "I haven't talked to Neil since he's been governor," Evans said.
Meanwhile, The Associated Press reported that Abercrombie's office had ended its effort to make public more information about Obama's birth. The story does not say that Abercrombie had failed to find evidence of Obama's birthplace, but that the state's attorney general had told the governor that he can't disclose birth documentation without the person's consent. "There is nothing more that Gov. Abercrombie can do within the law to produce a document," Abercrombie spokeswoman Donalyn Dela Cruz said.
We wondered whether Abercrombie sought Obama's permission to obtain more proof of his birth. The White House wouldn't comment, but Abercrombie told CNN on Dec. 27 that "we haven't had any of those discussions."
Per the authenticity of the document posted online by Obama, our colleagues at PolitiFact National pointed out July 1, 2009, that FactCheck.org, a respected fact-checking unit at the University of Pennsylvania, had traveled to Chicago to examine the document and concluded that it's legitimate.
Janice Okubo, a spokeswoman for the Hawaii Department of Health, told our colleagues that too much was being made of the difference between the so-called "long" and "short" forms. "When you request a birth certificate, the one you get looks exactly like the one posted on his site," she said. "That's the birth certificate."
According to a Nov. 1, 2008, FactCheck.org article, the "long" form is created by the hospital while the "short" form is printed by the state and draws from a database with less information. FactCheck.org also noted that the state's birth record request form does not have an option for requesting a long-form birth certificate.
The Hawaii Health Department maintains a Web page devoted to questions about Obama's "vital records." It says that copies of vital records — which pertain to birth, death, marriage, etc. — can only be obtained by someone with a "direct and tangible interest" in the record. However, the public can view  "index data" based on those records in a department office in Honolulu or request it by mail.
The page says that "the index data regarding President Obama is: Birth Index // Obama II, Barack Hussein // Male."
Rewind: Berman didn't pinpoint where he heard or read that Hawaii's governor couldn't find proof of Obama's birthplace. We combed published reports, finding no proof Abercrombie said that. We rate Berman's statement False.
Texas Legislature Online, House Bill 529 by Leo Berman
Politico, "Birther debate alive across U.S.," Feb. 14, 2011
PolitiFact National, "Obama's birth certificate: Final chapter. This time we mean it!" July 1, 2009
Interview with Rep. Leo Berman, Feb. 14, 2011
Lubbock Avalanche-Journal, "State representatives file birth certificate bill for presidential candidates," Nov. 17, 2010
White House website, Barack Obama biography
New York Times, "Hawaii's Governor Takes on 'Birthers,' " Dec. 24, 2010
WorldNetDaily.com, "Hawaii governor can't find Obama birth certificate," Jan. 18, 2011
Honolulu Star-Advertiser, " 'This is a collaborative endeavor,' " Jan. 18, 2011
FoxNews.com, "Celebrity Journalist: I Never Spoke to Hawaii Gov About Obama Birth Certificate," Jan. 26, 2011
KLBJ-AM, morning news show, Jan. 20, Hour 2, minute 7:45
Associated Press, "Hawaii won't release Obama birth info," Jan. 22, 2011
CNN, transcript, CNN Newsroom, Dec. 27, 2010
FactCheck.org, "Born in the U.S.A.," Nov. 1, 2008
Hawaii Department of Health, Web page regarding Barack Obama's vital records
Browse the Truth-O-Meter
More by Meghan Ashford-Grooms
Support independent fact-checking.
Become a member!
In a world of wild talk and fake news, help us stand up for the facts.