Stand up for the facts!
Misinformation isn't going away just because it's a new year. Support trusted, factual information with a tax deductible contribution to PolitiFact.
I would like to contribute
Proposed federal regulations would affect every street sign in the country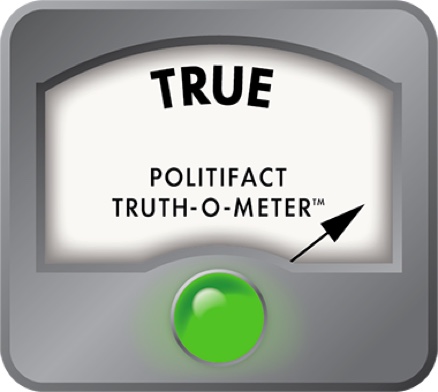 Speaker Bill Howell says proposed federal regulations would affect every street sign
The federal government wants to seize control of the street sign on your corner, warns William Howell, speaker of Virginia's House of Delegates.

"The Federal Highway Administration has a proposed new regulation that would unify every street sign in the country," Howell, R-Stafford, said during a Dec. 21 speech to Tertium Quids, a conservative Virginia group advocating small government.

"Every street sign -- Main Street, Elm Street -- would have to be the same size," Howell said. "The initial letter could be capital, but all the others would have to be in lower case. The city of Milwaukee said, `To comply will cost us $2 million to put in new street signs.'"

In other words, all those signs that say "BROAD STREET" would have to be replaced with ones that say "Broad Street."

Howell brought up the signs to promote his pet cause: Passage of a U.S. constitutional amendment that would give states the collective right to repeal any law or regulation approved by the U.S. Congress. Under the proposed amendment, which Howell will ask the Virginia General Assembly to endorse this winter, a federal act would be nullified if two-thirds of the states passed resolutions demanding so.

"What business is it of the federal government what Milwaukee or Richmond...how they want to design their street signs?" Howell said.

We wondered if the speaker had his facts right.

Howell, who has been trying to build national support for the repeal amendment, said he learned about the regulations from acquaintances.

We went to the Internet and found tons of information.

The Federal Highway Administration, in an effort that began during George W. Bush's presidency, proposed new rules for street sign lettering in 2009. They were included in an 864-page volume of proposed and existing regulations for road signs, markings and traffic lights called the Manual on Uniform Traffic Control Devices.

In addition to retiring signs posted in all caps, the regulations in 2012 would increase the mandated size of sign letters -- from the current four inches to six inches -- on roads with speed limits over 25 miles an hour. In 2018, new standards would require signs to be more reflective to enhance their night visibility.

The goal, according to the highway administration, is to improve traffic safety. Studies show it is harder to read all-cap signs, and those extra micro-seconds spent looking away from the road increase the odds of accidents, especially for older drivers.

Controversy over the regulations began this fall. The New York Post reported it will cost the Big Apple $27.6 million to replace signs. ABC News aired a national report saying it will cost Milwaukee $2 million to change its signs -- the same figure cited by Howell.

The Virginia Department of Transportation is studying the impact of proposed regulations and plans to issue a mid-year report.

In late November, U.S. Transportation Secretary Ray LaHood opened a new round of public comment on the proposals and distanced himself from them. "I believe that this regulation makes no sense," he said. "It does not properly take into account the high costs that local governments would have to bear. States, cities and towns should not be required to spend money that they don't have to replace perfectly good street signs."

Let's review.

Howell says proposed federal regulations would require all street signs to be the same size and use capital and lower-case letters.

He's right about the letters, which is the seed of a growing controversy. He's a bit wrong about the size. The regulations would not require all street signs to be the same size, although they do offer guidelines. But that doesn't detract from his main point, that Washington is considering regulations affecting every street sign.

We find Howell's statement True.
William Howell, speech to Tertiam Quids, Dec. 21, 2010.

Interview, Paul Nardo, chief of staff for Wiiliam Howell, Dec. 30, 2010

Interview, Nancy Singer, Federal Highway Administration spokesperson, Dec. 29, 2010.

Manual on Uniform Traffic Control Devices, 2009 edition, pages,138-139.

ABC News, Read This: Local Governments Told to Buy New Signs, Nov. 29, 2010.

New York Post, $27 million to change NYC signs from all-caps, Sept. 30, 2010

Memo from George Whirley, Virginia Department of Transportation commissioner, Dec. 13, 2010.

Statement from Ray LaHood, U.S. Secretary of Transportation, Nov. 30, 2010
Browse the Truth-O-Meter
More by Warren Fiske
Support independent fact-checking.
Become a member!
In a world of wild talk and fake news, help us stand up for the facts.