Get PolitiFact in your inbox.
Wisconsin's lawsuit rules are so anti-business that the state's system is "one of the most promiscuous" in America.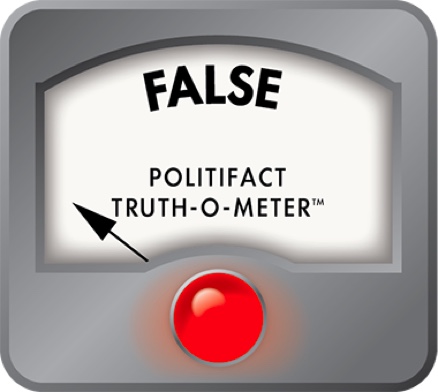 National Federation of Independent Business says Wisconsin's lawsuit rules are among the most anti-business in the nation
The business community's years-long drive for tighter limits on injury-liability lawsuits got a huge boost when Republicans took control of state government in January 2011.

Even though Gov. Scott Walker immediately proposed a list of business-backed legal changes, business leaders began mobilizing to respond to trial lawyers' attempts to cast the initiatives as anti-consumer.

The Wisconsin chapter of the National Federation of Independent Business portrayed mom-and-pop companies as easy prey when people sue over harm from defective products, negligent care, accidents and other injuries.

"Wisconsin has one of the most promiscuous tort systems in the country in which small businesses are easy targets for baseless lawsuits and civil penalties that are entirely disproportionate," said Bill Smith, state director of the group, in a Jan. 4 news release in support of Walker's proposals:

The release added, "The impact of a single lawsuit on small business can be devastating."

The other side -- plaintiff's trial lawyers in a lobbying coalition known as the Wisconsin Association for Justice -- say the reforms will devastate some victims.

In this item, we're not sorting out the policy implications of the proposed changes. We're looking at whether -- as Smith said on behalf of the group claims -- Wisconsin is on the extreme edge in terms of being a pro-plaintiff state in injury cases.

Smith pointed to a 2010 Pacific Research Institute ranking of states that he said puts Wisconsin at 35th -- or 16th-worst in the United States -- for an anti-business lawsuit climate. The institute is a free-market think tank based in California.

He also pointed us to Andrew Cook, a lawyer working with the Wisconsin Civil Justice Council, a business coalition lobbying for tighter lawsuit controls.

The two noted three areas of liability law where they say Wisconsin court rulings have put the state out of the mainstream.

One involves a Wisconsin Supreme Court ruling that allowed a Milwaukee lead-paint lawsuit even though no single specific manufacturer could be tied to the paint. Cook noted that a leading expert, University of Maryland law professor Donald Gifford, said that put Wisconsin alone among states.

A second is product liability, in which Wisconsin is one of just four states that continue to rely on a legal standard that critics say makes it too hard for manufacturers to defend themselves.

The third involves expert testimony in complex cases. Wisconsin is one of 14 states that have rejected tougher requirements for scientific proof of experts' opinions, as set out in a 1993 U.S. Supreme Court case.

Of course, Smith did not quote any of those individually. He made a more sweeping statement.

Let's weigh the evidence.

The Pacific Research Institute study cited by Smith is widely quoted but comes with an agenda: the group is openly in favor of tighter controls on lawsuits.

That doesn't make it a bad study, but there's a much bigger issue with Smith's use of it as a defense: The study actually rates Wisconsin as among the best in the country for its lawsuit climate from a business standpoint -- ninth among states.

The No. 35 ranking -- cited by Smith -- was mentioned in the study.

But that ranking judged the set of laws and rules on each state's books, not the actual outcome in terms of volume of lawsuits, damage awards and settlements. The group's study makes clear that the information on the state of the law can't be used as a precise measure or comparison.

The study bases its state-by-state rankings on results -- and Wisconsin was No. 9 on that score.

Leading the pack was Alaska. In the study's foreword, then-Gov. Sarah Palin says said "we practice the rule of law, not the rule of lawyers as in other states."

The study credited Wisconsin with having very low losses in auto, medical malpractice and commercial cases. It said the risk of litigation here was 10th-lowest in the country.

It said the state has no "judicial hellholes," which it defined as places where the courts are sought out by personal injury lawyers because they are so friendly to plaintiffs.

That's a far cry from how Smith portrayed it on behalf of his group.

So, according to the study: Wisconsin has comparatively anti-business laws and rules on going to court, but it does not produce much for plaintiffs when they get there.

How can that be?

Daniel Rottier, a Wisconsin personal-injury lawyer with national experience, says the answer lies in the conservative nature of Wisconsinites. He says they are less inclined to hit companies with big damages than jurors in many other states.

The only other national study mentioned by either side is done by the U.S. Chamber of Commerce. In that study, Wisconsin's lawsuit system, from the business perspective, ranked 22nd last year and between 10th and 24th in seven previous years, based on a survey of corporate lawyers. A  No. 1 ranking meant most business friendly.

That puts Wisconsin in the middle of the pack.

Beyond the rankings, Smith and Cook cited specific types of cases where the state's highest court has taken a liberal tack on some specific areas of liability law.

The Wisconsin Supreme Court's ruling on lead-paint manufacturer's liability was unprecedented. And we are in the minority of states in how we approach product liability and expert testimony. Whether the proposed changes will have much impact on those areas is a hotly debated point.

"They are out of whack," said Brooklyn Law School Professor Aaron Twerski, an author of product-liability standards adopted in whole or in part by most states but not Wisconsin. "It's makes it too hard for defendants."

Wisconsin Supreme Court justices are divided on adopting the more-popular new standard, a review of relevant rulings found.

But we are not divided on judging NFIB-Wisconsin's statement.

In making the case for the Walker-proposed reforms, the group says the state has one of the "most promiscuous" legal climates in the country. Smith, the group's state director, cites some individual points, including the lead paint ruling, where Wisconsin stands out. But the larger study he cites undercuts his own main point.

It shows that Wisconsin -- based on 42 separate measures -- is actually among the best for business, not the worst when it comes to outcomes. The only other study cited in the debate, by the obviously pro-business U.S. Chamber of Commerce, had Wisconsin squarely in the middle of the pack.

The verdict is in. We rate the group's claim False.
Pacific Research Institute, U.S. Tort Liability Index, June 2010

National Federation of Independent Business, press release, Jan. 4, 2011

U.S. Chamber of Commerce, Lawsuit Climate study, 2010

Atlantic Legal Foundation, A Status of Daubert in State Courts, March 2006

Wisconsin Civil Justice Council, press release, Jan. 4, 2011
JSOnline.com, Walker unveils bills he says will help create jobs, Jan. 4, 2011
Wisconsin Supreme Court, ruling in lead-paint case, July 14, 2009

Milwaukee Journal Sentinel, Justices allow lead-paint suit, July 16, 2005

Interview with Donald Gifford, University of Maryland law professor, Jan. 6, 2011

Interview with Aaron Twerski, professor, Brooklyn Law School, Jan. 5, 2011

Interview with Bill Smith, state director, National Federation of Independent Business, Jan. 5, 2011

Interview with Andrew Cook, The Hamilton Consulting Group, Jan. 5, 2011

Interview with J. Michael End, president, Wisconsin Association for Justice, Jan. 5, 2011

Interview with Daniel Rottier, trial lawyer, Jan. 5, 2011
Browse the Truth-O-Meter
More by Dave Umhoefer
Support independent fact-checking.
Become a member!
In a world of wild talk and fake news, help us stand up for the facts.