Stand up for the facts!
Our only agenda is to publish the truth so you can be an informed participant in democracy.
We need your help.
I would like to contribute
Says government is a barrier to innovation and development.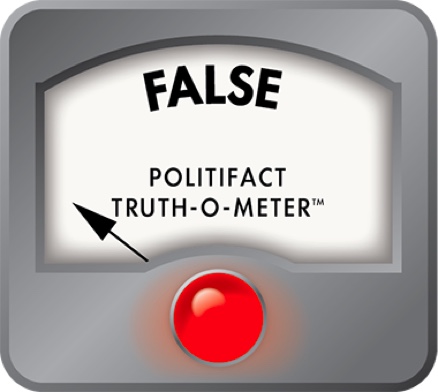 Rep. Paul Broun says innovation would flower if government 'would get out of the way'
Rep. Paul Broun, R-Ga., spent the State of the Union address sending a fusillade of tweets critical of President Barack Obama to his 3,000-odd followers. One of them in particular caught our attention.

"If the govt would get out of the way, we could have innovation and development," Broun tweeted.

(Since civility was a major issue surrounding the address, we should note that Broun didn't tweet from the chamber while Obama was speaking. A spokeswoman told Roll Call that he watched the speech from his Capitol Hill office.)

Broun's office didn't get back to us to elaborate on the substance of his tweet, but it is based on the assumption that government stands in the way of innovation and development.

We've long heard complaints from conservatives like Broun that business is being stifled by over-regulation. Even Obama got into the act during the run-up to his address, issuing an executive order that would, as he described it in an op-ed, help to "root out regulations that conflict, that are not worth the cost or that are just plain dumb."

But even if you concede that some deregulation is desirable, we wondered whether Broun was right that government, as a whole, is an impediment to innovation and development. So we looked at statistics and spoke to experts in the field.

First, the statistics.

According to the National Science Foundation, business did account for 67 percent of research-and-development expenditures in 2008. The federal government spent 25 percent, and universities and other nonprofits spent about 3 percent each. Industry dollars are especially important in applied research and the development of technologies for the market.

However, the federal government shoulders the bulk of the burden in one crucial area of research -- basic research. This is the kind of fundamental scientific and medical research that has no immediate payoff.

According to NSF, the federal government funds 57 percent of basic research, compared to less than 18 percent for business, 15 percent for colleges and universities and 11 percent for nonprofits. And business only funds about 6 percent of university-based scientific research -- one-tenth the share paid for by the federal government -- so a retreat by government could have wide collateral damage to university research.

The government has been a major scientific funder for more than half a century. If you add up all the direct research spending in the U.S. since 1953, the federal government has poured in more than $3 trillion. Business has spent an additional $4.5 trillion over that period. (For a quarter century, government expenditures on research exceeded those by industry, but around 1980, the pattern reversed.)

Government also helps support research in other ways. Since 1981, the federal government has given companies a tax break for research and experimentation, which has saved companies about $5 billion per year in recent years. Federal taxpayers fund the National Institute of Standards and Technology to the tune of almost $1 billion a year; among other things, NIST sets technical standards so that industry can work more efficiently. And the U.S. Patent and Trademark Office provides archived and ongoing patent information that private companies can access.

And none of this counts the larger, but harder to quantify, investments by federal, state and local governments in elementary and higher education and infrastructure, all of which help set the stage for scientific innovation.

When we showed Broun's tweet to several historians, they said his view is, at best, incomplete.

"Yes, the U.S. has the most dynamic and entrepreneurial economy in the world because it has less regulation and less top-down planning and micromanagement than other developed nations," said Margaret O'Mara, a historian at the University of Washington. "But the high-tech revolution since 1950, and the United States' central role in it, was the result of unprecedented government investment in science and engineering. The critical thing that government does -- and that private-sector research can't do -- is to provide the start-up capital for innovations that do not yet have a commercial market."

The funding statistics cited earlier underscore this point. Businesses are much more eager to spend their research dollars on projects that have immediate prospects of earning money. "Private industry by and large doesn't do (basic research) because it's primarily interested in research that has a high likelihood of practical payoff," said Daniel Kevles, a historian of science at Yale Law School.

Yet the experts we spoke to said that the biggest conceptual leaps have occurred at the level of basic research, where government is the primary funder, rather than the later stages of refinement, where businesses shoulder most of the cost. In addition, federal research typically gets made public, where it can be used by industry, whereas industry-funded research is often kept for the private use of its sponsor.

The Internet is a good example of a technological innovation that was birthed by the federal government, specifically the Defense Advanced Research Projects Agency, said O'Mara, author of Cities of Knowledge: Cold War Science and the Search for the Next Silicon Valley. In 1973, DARPA began to research ways to link geographically scattered computers over a network, eventually coming up with widely used, standardized protocols for information sharing. In 1986, NSF established its own network which has become a major backbone of today's Internet.

"If we had left it to Lotus and IBM, we would have a couple of tiny, proprietary and fairly useless systems out there," added Diana Hicks, a science policy expert who chairs the School of Public Policy at the Georgia Institute of Technology.

Other areas that experienced breakthroughs due to federal support include biotechnology, genomics, nanotechnology, nuclear physics, solid-state physics, organic chemistry and mathematics, said Paul A. David, an emeritus professor of economics at Stanford University. Federally funded discoveries "have become the foundation for whole domains of research from which new industries have arisen," David said.

So while "the key to a vibrant entrepreneurial economy is having the government 'get out of the way,'" O'Mara said, "that can only happen after there has been investment on a huge scale and that does not necessarily have an immediate commercial application. That's something that only the national government can provide."

Broun could hardly get into the details of his science policy preferences in a 140-character tweet, and it's possible he didn't mean that he wanted government to get out of scientific research entirely.

But we still feel it's fair to take his comment  to task. For starters, it was not an isolated comment -- the tweet we're looking at here was just one of several he sent during the State of the Union that addressed the same theme, including "Entrepreneurship is great -- let's not kill it with taxes and regulations" and "Obama's policies kill free-enterprise."

More broadly, portraying business as good and government as bad has been a consistent Republican talking point. But to base a tweet on the assumption that the federal government is bad for innovation and development ignores that the federal government -- through its direct research spending, its tax credits and its indirect investments that support technological research -- plays a crucial role in pushing it forward, and one that is unlikely to be ever picked up by the private sector alone. So we rate the claim that the government is a barrier to innovation and development False.
Paul Broun, tweetsduring the State of the Union address, Jan. 25, 2011

National Science Foundation, "U.S. R&D expenditures, by character of work, performing sector, and funding source: 2008," accessed Jan. 31, 2011

National Science Foundation, "U.S. research and development expenditures, by source of funds and performing sector: 1953–2008," accessed Jan. 31, 2011

Congressional Budget Office, "Federal Support for Research and Development," June 2007

R&D Credit Coalition, "The Research & Development Credit: Creating Jobs, Growing America's Economy" (fact sheet), Jan. 20, 2010

Roll Call, "Broun's Response to SOTU: Obama Believes in 'Socialism,'" Jan. 25, 2011

Barack Obama, "Toward a 21st-Century Regulatory System" (Wall Street Journal op-ed), Jan. 18, 2011

White House, "Improving Regulation and Regulatory Review - Executive Order," Jan. 18, 2011

Internet Society, "A Brief History of the Internet and Related Networks," accessed Jan. 31, 2011

E-mail interview with Margaret O'Mara, historian at the University of Washington, Jan. 28, 2011

E-mail interview with Diana Hicks, chair of the School of Public Policy at the Georgia Institute of Technology, Jan. 28, 2011

E-mail interview with Daniel Kevles, a historian of science at Yale Law School, Jan. 28, 2011

E-mail interview with Roger Geiger, professor of higher education at Penn State University, Jan. 28, 2011

E-mail interview with Paul A. David, emeritus professor of economics at Stanford University, Jan. 28, 2011
Browse the Truth-O-Meter
More by Louis Jacobson
Support independent fact-checking.
Become a member!
In a world of wild talk and fake news, help us stand up for the facts.