Get PolitiFact in your inbox.
House Bill 2301 never had a public hearing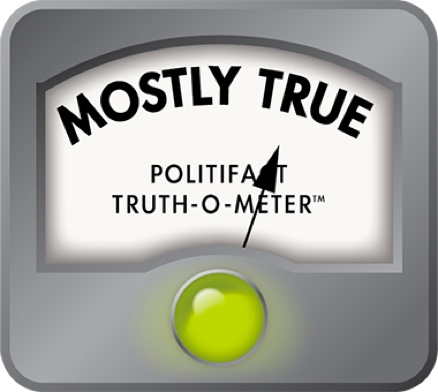 Did controversial online charter school bill really receive zero public input?
In order for Gov. John Kitzhaber to get what he wanted on education reform this session -- a new investment board, for example -- legislators agreed to vote on a package of 14 education-related bills. One of those bills, House Bill 2301, will allow online charter schools to add more students and was vigorously opposed by the public teachers' union, the Oregon Education Association.

Just before the Fourth of July holiday, the group submitted a guest column on Blue Oregon, pleading with the governor to veto House Bill 2301: "What makes this whole debacle even more unpalatable is that the public was completely shut out of the backroom dealing. HB 2301 never had a public hearing. Parents, educators, and school leaders were never given the opportunity to weigh in and talk about how this will impact kids in the classroom."

The sentiment is one that we're bound to hear again. Democrats complained about the lack of process over the education bills, with then-House Democratic Leader Dave Hunt of Gladstone arguing that there were "no public hearings, no vetting of amendments, no real fiscal analysis." Rep. Sara Gelser, D-Corvallis, and co-chairwoman of the House Education Committee echoed his frustration.

But a fed-up Rep. Brian Clem, D-Salem, shot back that there had been hearings on the bill, back in February. (Clem also said, we can't help but add, "You're either going to be a mature adult and be at the big kids' table and figure out how to make things work, or you're going to throw tantrums and write press releases and sit at the little kids' table. And I'm going to be at the big kids' table." Ouch.)

So what gives? Who's right? Did House Bill 2301 get a public hearing?

Well, yes and no. A bill with that number was the subject of two public hearings Feb. 11 and 14, 2011, in the House Education Committee. But that wasn't the bill that lawmakers approved in the final days of the Legislature.

The bill as introduced was 62 pages long, with parts stemming from a comprehensive State Board of Educationreport on virtual learning to the Legislature. Part of the reason why the bill is so long is that the board wanted to separate virtual school law from charter school law. The proposal also contained provisions to increase the enrollment cap and to establish funding per child since in Oregon, state money follows the student.

The final bill is six pages long. It contains two key elements important to virtual schools, not to the broad expanse of online education. One, the legislation states that at least 95 percent of instructional time be delivered by a state licensed teacher.

Two, the legislation also allows online charter schools to enroll as much as 3 percent of a school district's population without getting permission from the district. Currently, students need to get permission from their local school districts to enroll in an online school.

The teacher licensing requirement was not in the original bill. The 3 percent enrollment cap was in the original bill.

What happened is in legislative lingo called a "gut and stuff." Lawmakers take a bill already in process, "gut" the contents and "stuff" in a new bill under the old number. (Even the bill's carrier on the floor, Rep. John Huffman, R-The Dalles, called the amended version "a complete gut and stuff of the original bill.") Audio records of committee hearings show that the amended version cropped up days before the House floor vote and moved through two budget committees without discussion or debate because of the deal struck by Kitzhaber and Republicans.

So if the final bill bore little to no resemblance to the original bill, were there hearings on the issues in it? (Hint: Does a slice of pie look like a whole pie, especially when there's a piece of cake frosting on top of the slice?)

We listened to those two public hearings in February. The public comments were broad, general. Fans of Oregon Connections Academy, a popular for-profit virtual school known as ORCA, testified on the benefits of online schooling and pleaded for more state money. An ORCA instructor said the school would have to drop advanced course offerings if teachers were required to acquire state teaching licenses and live in Oregon. There were some questions by committee legislators, including the issue of licensing.

Rep. Matt Wingard, R-Wilsonville, and the other co-chairman of the House Education Committee, said the issues included in the original legislation were aired in February, and the teachers' union had plenty of time then and in months leading to the floor vote to pipe up. Wingard also says the final version of the bill was negotiated by both Democrats and Republicans.

PolitiFact Oregon doesn't have a problem with legislative dealmaking. It happens. But we don't agree with Wingard that public hearings on the original bill mean hearings on the version that passed.

There was no public discussion -- and there was no discussion among lawmakers in public -- on the details of how taxpayers should govern, encourage, monitor and pay for online education, including online schools. There was no negotiating in public the version put to legislators as part of a final deal. The bill that passed bypassed the comprehensive nature of the original House Bill 2301. Elements of the final bill were discussed, in passing, but the heart of it did not receive a public hearing. The claim that the legislation received no public hearing is Mostly True -- accurate but needing additional clarification.
Interview with Rep. Matt Wingard, July 11, 2011

Interview with Rep. Sara Gelser, July 5, 2011
Interview with and emails from BethAnne Darby, July 5, 2011

Guest column, "For our students, please veto HB 2301," July 1, 2011

House Committee on Education, Feb. 11 and Feb. 14, 2011 meetings

Joint Ways and Means Committee,June 17, 2011 meeting

Joint Committee on Capital Construction, June 17, 2011 meeting (17 minutes after first recess)

House chamber floor session, June 20, 2011 (4 minutes in)

House chamber floor session, June 28, 2011 (20 minutes in)

Oregon Department of Education, "Report to the 75th Legislature, Online Learning (HB 3660 – 2010)" August 2010

The Oregonian, "Oregon House narrowly defeats online school bill," June 20, 2011

The Oregonian, "Wide-ranging education reform bills begin moving in Oregon Legislature," June 17, 2011

The Oregonian, "Rift between Gov. John Kitzhaber and teachers union threatens education bills and money," June 9, 2011

The Oregonian, "Legislation stalls in the Oregon House Education Committee as co-chairs try to find common ground," April 4, 2011
Browse the Truth-O-Meter
More by Janie Har
Support independent fact-checking.
Become a member!
In a world of wild talk and fake news, help us stand up for the facts.