Stand up for the facts!
Our only agenda is to publish the truth so you can be an informed participant in democracy.
We need your help.
I would like to contribute
Says $500 billion in Medicare cuts are coming.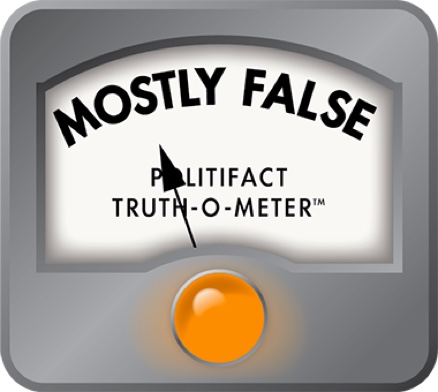 Lois Kolkhorst says $500 billion in Medicare cuts are coming
Defending her own health care measure, state Rep. Lois Kolkhorst answered a colleague's query about preserving insurance for the elderly of Texas by warning that national cuts loom.

The Brenham Republican, who chairs the House Public Health Committee, said during June 15 floor debate: "We know they are reducing the entitlement to Medicare." She added: "We know that we have these cuts coming our way of over half a trillion to Medicare."

We do?

Some background: PolitiFact teams in Washington and other states have pointed out that it's incorrect to deem reductions in the growth of Medicare spending, written into the federal health care overhaul signed into law last year by President Barack Obama, as cuts. These reductions are being counted as projected savings compared to what would have happened without the change in law.
The program's overall costs are projected to increase to $929 billion in 2020, up from $499 billion in 2009, according to the nonpartisan Congressional Budget Office.
Also, the Patient Protection and Affordable Care Act, tagged Obamacare by critics, doesn't eliminate benefits.
Indeed, portions of the law improve benefits and coverage, according to Tricia Neuman, director of the Medicare Policy Project at the Kaiser Family Foundation, a nonpartisan, nonprofit health care research organization. Medicare will cover more preventive health care services, such as wellness visits, and recipients won't face the "doughnut hole" gap in prescription coverage imposed under an existing Medicare program.
Other provisions reduce the growth in Medicare spending by helping the program operate more efficiently and fund other coverage expansions to the uninsured. Other provisions are designed to improve the delivery of care and quality of care, Neuman has said.

To back up Kolkhorst's claim, which was brought to our attention by Democratic activist Phillip Martin, her office passed along a September 2010 Wall Street Journal opinion piece quoting Richard S. Foster, Medicare's chief actuary, outlining intended cuts in payments to medical providers and hospitals as well as reductions in payments for Medicare Advantage, an optional program where the federal government pays private insurance companies a set rate to treat Medicare recipients.
   
It was hoped that competition between private insurers for Medicare Advantage programs would drive down costs and make the system more efficient, ultimately saving the federal government money. But it has not worked out that way. A June 2009 analysis from the Medicare Payment Advisory Commission said the Advantage programs cost taxpayers an average of 14 percent more than traditional Medicare.
   
The 2010 health care law will phase out extra payments for Medicare Advantage programs to bring their costs in line with traditional Medicare. The law also calls for slowing increases in payment rates to hospitals and other service providers each year. Also, the law directs a new national board to identify $15.5 billion in savings, though the board — the Independent Payment Advisory Board — is prohibited from proposing anything that would ration care or reduce or modify benefits.

Kolkhorst's office pointed us to the Medicare actuary's April 2010 analysis, which includes a chart suggesting that through 2019, the new law will net Medicare "savings" of $575.1 billion. It also says that 60.5 million Americans will be covered by Medicare in 2019, the same number that would have been covered without a change in law.

Foster's memo says the Medicare savings are to be achieved largely through reduced payments to medical providers including hospitals, tied to raised productivity expectations. It warns, though, that those gains are unlikely to be sustainable on a permanent basis and would also probably prove unworkable and less than projected in some health-care sectors during the law's roll-out.

Moreover, his memo says, health care providers "for whom Medicare constitutes a substantive portion of their business could find it difficult to remain profitable and, absent legislative intervention, might end their participation in the program (possibly jeopardizing access to care for beneficiaries)." It says its own simulations suggest that about 15 percent of providers in the Medicare program specific to inpatient care in hospitals and skilled nursing facilities as well as hospice care and home health services would become unprofitable by 2019 due to the productivity provisions.

Kolkhorst's chief of staff, Chris Steinbach, suggested the projected reductions in rates are tantamount to cuts in Medicare. He said by email: "If there is an entitlement for everyone eligible to receive a pizza, and we are cutting the rate paid to pizza kitchens by x percent, then there will be less of that entitlement for pizza."

Similarly, Kolkhorst told us the changes built into the 2010 law will reduce access to Medicare. "You're splitting hairs to say those are savings; they're cuts," she said, adding: "Things are going to change ... To say that everything is going to remain as it is today, that's erroneous."

That last point seems reasonable, but it's not exactly what she told her House colleagues.

The referenced $500 billion figure depends on a slowing in the pace of Medicare cost increases. That's not the same as cutting back. Medicare spending will still grow; benefits will expand.

Still, there remains the prospect of some providers quitting Medicare, possibly making it harder for patients to get care. Kolkhorst's statement has an element of truth, making it Barely True.
Editor's note: This statement was rated Barely True when it was published. On July 27, 2011, we changed the name for the rating to Mostly False.
Email (excerpted), Chris Steinbach, chief of staff and legislative director, Office of Rep. Lois Kolkhorst, June 29, 2011

Richard S. Foster, Office of the Actuary, memo, "Estimated Financial Effects of the 'Patient Protection and Affordable Care Act,' as Amended," Centers for Medicare & Medicaid Services, U.S. Department of Health and Human Services, April 22, 2010

PolitiFact, "The new health care law "will cut $500 billion from Medicare. That will hurt the quality of our care," September 20, 2010

PolitiFact Florida, "Mike Haridopolos takes on health care bill in newspaper op-ed," June 10, 2011

PolitiFact Ohio, "NRSC claims Sen. Sherrod Brown voted to cut $500 billion from Medicare," June 23, 2011

PolitiFact Ohio, "Rep. Jim Renacci characterizes Medicare savings in health reform law as cuts," Feb. 2, 2011

PolitiFact Oregon, "Scott Bruun says Kurt Schrader cut $500 billion from Medicare, hurting seniors," Oct. 2, 2010

Telephone interview, Lois Kolkhorst, state representative, Brenham, June 29, 2011

Wall Street Journal, opinion article by Peter Ferrara and Larry Hunter, "How ObamaCare Guts Medicare," Sept. 9, 2010
Browse the Truth-O-Meter
More by W. Gardner Selby
Support independent fact-checking.
Become a member!
In a world of wild talk and fake news, help us stand up for the facts.