Stand up for the facts!
Our only agenda is to publish the truth so you can be an informed participant in democracy.
We need your help.
I would like to contribute
Republican redistricting plans cut Democrat Nancy Nusbaum out of "her state Senate district by a half a block."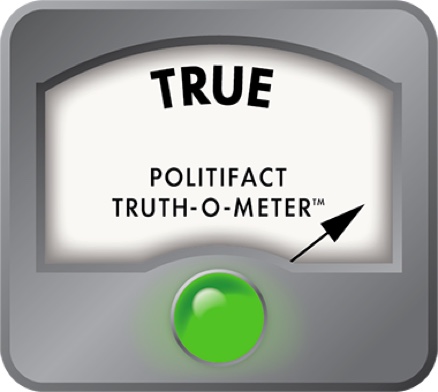 Wisconsin AFL-CIO says Republican redistricting plans cut Democrat Nancy Nusbaum out of "her state Senate district by a half a block."
Redistricting is required by law every 10 years to adjust districts to account for population shifts. In Wisconsin, the past several redistrictings have been done by the courts because legislators couldn't agree on new borders.

This year is different because, for the first time in decades, one party controls both legislative branches and the governor's office -- Republicans.

Democrats and their supporters say the GOP maps are aimed at protecting the party and undermining Democratic chances. What's more, they say the new maps are being rushed through the Legislature in case the Senate flips hands during the August 2011 recall elections.
 
Under the Republican maps, 11 pairs of lawmakers in the two chambers from both parties wind up in the same district and will be forced to run against each other. Several key Democratic state senators -- or candidates in the recalls -- are drawn out of their current districts.

In a blog post, the state AFL-CIO cried foul:

"These maps are so ludicrous that Nancy Nusbaum (D) and Fred Clark (D) won't even be in their districts any more if the changes go through. They cut off Nancy's house from her district by half a block!"

The group adds that the new districts "are rigged so that when the people of Wisconsin reclaim their democracy in the August recall elections, Republicans will be able to sneak back into office in 2012 via GOP-favored districts."  

There have been plenty of instances where elected officials have been forced to choose between their seat or their house. Often it's part of a downsizing of the legislative body -- such as when a state loses a congressional district or a county board slims down.

But what about the Nusbaum part of this claim? A half a block out of the district?

Looking into it provides some insight into the redistricting process.

Nusbaum is the Democrat challenging Sen. Robert Cowles (R-Green Bay) in the Aug. 9, 2011, recall election for the 2nd District seat. If the maps, as proposed, become law, Nusbaum would be a resident of a different senate district -- the 30th. That seat is now held by Sen. Dave Hansen (D-Green Bay), who prevailed in a recall election July 19.

In short, Nusbaum could win the battle with a victory over Cowles.

But she'd lose the war by having to either move or run against Hansen.

Nusbaum lives at 1319 N. Summer Range Rd. in De Pere, a suburb of Green Bay.

The new district's border would be Webster Ave., a thoroughfare that runs just east of Nusbaum's home. Her house is three homes from the intersection.

"I used to be right in the middle of this district," Nusbaum said, who has lived in the home for 26 years.

Nusbaum, a former mayor of De Pere and former Brown County Executive, said she was well aware of the politics of redistricting. She notes that the new map splits her city into two Senate districts, something that hasn't sat well with local leaders.

"I think it's because of me, and I'm sorry," she said. "I think its blatant the way they cut me out of this district."

We tried to reach Republicans involved in the drawing of the new Senate districts. Attorney Jim Troupis, whose office was involved in the work, didn't return a call. Andrew Welhouse, a spokesman for Senate Majority Leader Scott Fitzgerald (R-Juneau), said the staffers involved in the redistricting would not comment on the advice of attorneys involved.

But Wellhouse added this observation: "How can it be her present district?  She doesn't have a district."

Indeed, Nusbaum doesn't hold a Senate seat, as the AFL-CIO claim suggests, or any office. She left the county executive's job in 2003.

By law, districts must be drawn to ensure that they have roughly equal-sized populations and, based on past cases, ensure that minority groups aren't discriminated against.

Also, the complaints about the redistricting are -- at least in Nusbaum's part of the state --  bipartisan. Freshman Assembly Rep. André Jacque (R-Bellevue), asked GOP leaders to reconsider the map because his home was drawn into a new district, held by another freshman, Rep. John Klenke (R-Green Bay).

"The party in power has a lot of leeway," said Rick Esenberg, a conservative blogger, attorney and Marquette University law school professor. Esenberg  testified before a state Senate committee July 13, 2011, that he thought the maps would survive a legal challenge.

"There just is no effectively enforceable legal obligation to avoid pairings or even to do it in a way that equally impacts Democrats and Republicans," Esenberg said in an email, referring to the incumbents who are forced to run against each other.

A 2007 report on the process to the Wisconsin Supreme Court touched on similar points.

"Redistricting is an inherently political process, one which defines the nature of
representative government. All of the stakeholders – political parties, incumbent
legislators, civil rights coalitions, interest groups, watchdog organizations, labor unions, even individual voters – seek to draw districts in a way that helps their allies and puts their opponents at a disadvantage," it said, in part.

The report noted that drawing lines to favor ones own party is a process that's more than 100 years old in Wisconsin.

After the 1890 census, "the Democrats were in power and made the existing apportionment so as to get out of it as many Democratic districts as possible. Previous Republican legislatures had set the example. "

So where does that leave us now?

In criticizing the GOP maps, the state AFL-CIO says Nusbaum's home would be carved out of "her state Senate district by half a block." She does live there and the map would fall the way the union claims. The maps may well face a legal challenge or even ultimately be redrawn by the courts. But that's all in the future and not part of the claim at hand.

We rate the statement True.
Wisconsin AFL-CIO blog, "Stop the redistricting power grab,"July 13, 2011

Legislative redistricting map proposal

Milwaukee Journal Sentinel, "Senate approves new legislative districts," July 19, 2011

Milwaukee Journal Sentinel, "Senate to act on redistricting plan, jobless benefits," July 18, 2011

Milwaukee Journal Sentinel, "Parties joust over Wisconsin redistricting plan,"July 13, 2011

Emails, Andrew Wellhouse, July 18, 2011, spokesman, Senate Majority Leader Scott Fitzgerald (R-Juneau)

Emails, Rick Esenberg, July 18, 19, 2011, attorney, Marquette University Law School professor

Interviews, Nancy Nusbaum, July 15, 2011

Wisconsin Supreme Court report on redistricting, Sept. 24, 2007

Interview, Gillian Morris, spokeswoman, Wisconsin Democratic Party, July 14, 2011
Browse the Truth-O-Meter
More by James B. Nelson
Support independent fact-checking.
Become a member!
In a world of wild talk and fake news, help us stand up for the facts.