Stand up for the facts!
Our only agenda is to publish the truth so you can be an informed participant in democracy.
We need your help.
I would like to contribute
Says "over 50 percent of U.S. job growth in June came" from Wisconsin.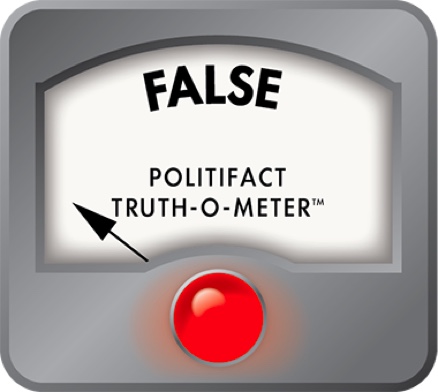 Wisconsin Republican Party says more than half the nation's job growth in June came from Wisconsin
Gov. Scott Walker says he is focused like a laser beam on job creation. He's promised that Wisconsin will create 250,000 private sector jobs during his four year term.

So when a monthly report showed a sharp increase in the number of jobs in June 2011 -- an estimated net increase of 12,900 jobs, or 9,500 if you just consider the private sector -- it got some attention. What's more, a federal Bureau of Labor Statistics report released earlier in July showed there had been only 18,000 jobs created nationwide in June.

(To be sure, the news was not all rosy in the state report: It showed the unemployment rate rose to 7.6 percent in June, from 7.4 percent in May.)

Walker celebrated the Wisconsin jobs numbers on July 21, 2011, with this tweet:  "In June, there were 18,000 net new jobs in America. In WI, there were 9,500 net new jobs!  most since 9/2003."

Walker made a similar comparison in an interview: "To have 9,500 net new jobs in the state at a time when the country saw just 18,000 net new jobs all across the country is incredibly good news, and it's driven by the rebirth of tourism in the state."

Many others echoed the basic message of Walker's tweet, often adding their own spin. And that's where numbers -- or at least the use of them -- started to go bad.

The state Republican Party issued a news release with this statement: "Today, we learned that over 50 percent of U.S. job growth in June came from our state."

Three days later, U.S. Rep. Jim Sensenbrenner (R-Wis.) said: "The labor (department) report that came out last week had 18,000 jobs created in the country. But half of them were in Wisconsin, so we must be doing something right."

Variations of the statement were made by others, including the conservative MacIver Institute, Sen. Alberta Darling (R-River Hills), and state Reps. Michelle Litjens (R-Vinland), Scott Suder (R-Abbotsford) and Joan Ballweg (R-Markesan).

That's a lot of echoes.

But is what's being shouted accurate? That is, is the state-national comparison a valid one?

We started by looking at the other state-by-state reports, released by the federal government at the same time Wisconsin's numbers were issued.

Wisconsin wasn't at the top.

That claim belonged to Texas, with an increase of 32,000 jobs. Numerous other states showed larger job gains than Wisconsin. For instance, California was up 28,800, and our neighbor Minnesota topped Wisconsin with an increase of 13,200 jobs.

Obviously, those add up to more than 18,000 jobs added in the country in June. Indeed, if you were to tally all the state reports -- accounting for those with increases and decreases -- you'd wind up with a net monthly increase of 64,900 jobs -- not the originally discussed 18,000. And half of them would have been created in Texas.

So, could Texas Gov. Rick Perry accurately claim his state accounted for twice the total of all the jobs created in the nation? That's illogical at best.

What's going on here?

In short, Walker, the state GOP and the others touting the national numbers are making a flawed comparison. The Bureau of Labor Statistics does separate national and state-by-state studies, each with different parameters and margins of error. The agency says it's wrong to mix the two estimates -- a warning included as a footnote on the documents themselves.

Here's how they put it:

"State estimation procedures are designed to produce accurate data for each individual state. (The bureau) independently develops the national employment series and does not force state estimates to sum to national totals nor vice versa.

"Because each state series is subject to larger sampling and nonsampling errors than the national series, summing them cumulates individual state levels errors and can cause significant distortions at an aggregate level. Due to these statistical limitations, (the bureau) does not compile a 'sum of states' employment series and cautions users that such a series is subject to a relatively large and volatile error structure."

In short, the bureau says you can't accurately use the individual state jobs reports to make a national comparison. Or even shorter: Don't do it.

Walker addressed the flawed comparisons a few days after the jobs report was released, during a July 26, 2011 appearance in Wausau.

"We made it very clear at our announcement that (our number) was not half of all the jobs out there, though it is an interesting parallel," Walker said.

In looking back at the various statements, some clearly went further than others -- and further than Walker's original tweet. Many of the strongest comparisons seem to take the lead from the state GOP, which claimed "over 50 percent of U.S. job growth in June came from our state."

As the Bureau of Labor Statistics notes, it is wrong to combine the two sets of numbers to reach this conclusion. After all, by that approach Minnesota, California and Texas could all say the same as the state GOP, which would lead to at least four halves and, apparently, two wholes.

This item isn't on whether the jobs news was good -- clearly it was -- but on how it was presented.

We rate the state GOP claim False.
Milwaukee Journal Sentinel, "State reports a gain of 12,900 private sector jobs,"July 21, 2011
WTMJ-TV, "Sensenbrenner, voters take part in contentious town hall meeting over federal debt," July 25, 2011
WISN.COM, "Darling, Pasch face off in interview," July 23, 2011
MacIver Institute press release,July 21, 2011
Rep. Michelle Litjens press release, July 21, 2011
Rep. Scott Suder press release, July 21, 2011
Rep. Joan Ballweg press release, July 21, 2011
Cullen Werwie, spokesman for Gov. Scott Walker, telephone interview, July 21, 2011
Gov. Scott Walker on Twitter
Bureau of Labor Statistics press release on June employment, July 22, 2011
Bureau of Labor Statistics frequently asked questions about employment statistics
BadgerStat jobs report, July 21, 2011
Wisconsin GOP statement on jobs report, July 21, 2011
The Capital Times, "Biz beat: GOP job counters need a math lesson," July 23, 2011
Wausau Daily Herald, "Governor discusses value of new jobs," July 26, 2011
Browse the Truth-O-Meter
More by James B. Nelson
Support independent fact-checking.
Become a member!
In a world of wild talk and fake news, help us stand up for the facts.