Stand up for the facts!
Our only agenda is to publish the truth so you can be an informed participant in democracy.
We need your help.
I would like to contribute
Says that PolitiFact Ohio confirms that Betty Sutton "maxed out federal debt"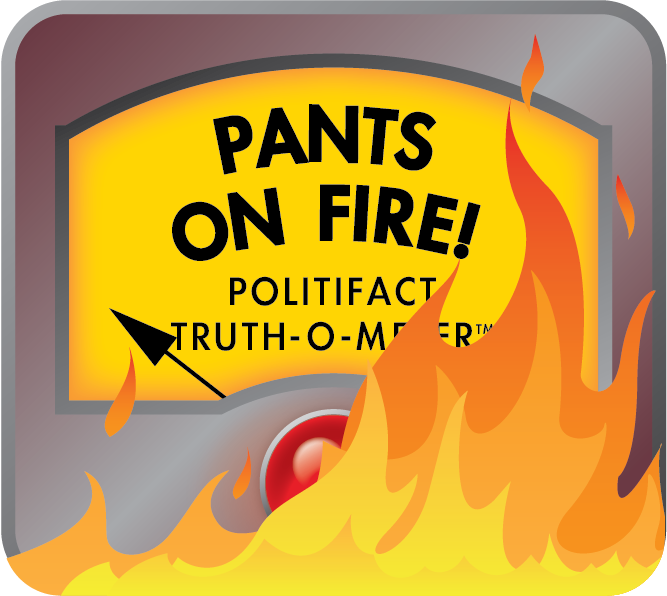 We said what? NRCC claims PolitiFact Ohio confirmed claim that Rep. Betty Sutton "maxed out federal debt"
Is up down? Is red blue? Is rain the same as sunshine?

In Washington, it is, and if it isn't, someone will insist it is anyway.

So PolitiFact Ohio is amused -- and not entirely surprised -- that when we rated a claim "Barely True," a political organization quickly sent out an e-mail to the press crowing that we had confirmed something that we absolutely did not confirm.

On Tuesday, May 31, we ruled that a claim by the National Republican Congressional Committee (NRCC), attacking Democratic congresswoman Betty Sutton, was Barely True. The claim was that Sutton and her Democratic colleagues ran up the nation's credit card with unsustainable and irresponsible spending and "now their credit card is maxed out."

In other words, the nation's federal debt problem was her fault.

While Sutton certainly voted for various spending bills, as we noted, our reporting also found that wars in Iraq and Afghanistan, President George W. Bush's tax cuts (extended under President Barack Obama) and the recession played roles in the debt, too.

The liberal Center on Budget and Policy Priorities said that "Bush-era tax cuts and the Iraq and Afghanistan wars — including their associated interest costs — account for almost half of the projected public debt in 2019 (measured as a share of the economy) if we continue current policies."

But an analyst at the conservative Heritage Foundation said such an analysis "fails basic statistics" because it doesn't look at Social Security, Medicare, Medicaid and discretionary spending.

In other words, you can't just blame the programs and decisions you don't like or find convenient and ignore all others.

That cherry-picking criticism was apt for the claim about Sutton.

As we noted, Congress voted to raise the debt ceiling seven times under Bush, and three times under Obama. So yes, Sutton voted for spending bills, as detailed by NRCC spokesman Tory Mazzola, one of the sources with whom we checked while researching this matter. But you cannot ignore the roles that the wars, tax cuts and the struggling economy also played in the nation's debt. Those were critical facts ignored by the NRCC claim that led to the Truth-O-Meter rating of Barely True.

Fast-forward to 9:51 a.m. today (June 1, 2011).That's when Mazzola sent out this e-mail news release: "PolitiFact Confirms Sutton 'Maxed Out Federal Debt' As She Ducks For Political Cover."

In the text of his message, Mazzola wrote: "POLITIFACT OHIO SAYS TRUE: 'Betty Sutton and Her Fellow Democrats Went On A Spending Spree And Now Their Credit Card Is Maxed Out.'

For backup, Mazzola noted the sections of our fact-checking in which we quoted or paraphrased him.

He ignored everything else.

We sent him an e-mail this morning (June 1) noting our puzzlement, and he replied. "By ruling it 'true,' albeit barely, you determined that the Democrats' responses were not believable, not credible, or false at least a degree more than ours were true," he said.

We could parse, say up is down, left is right, or that it's snowing in Washington (never mind the heat wave), but Mazzola's logic on this just won't fly -- even inside the Beltway.

The Truth-O-Meter defines Barely True this way: The statement contains some element of truth but ignores critical facts that would give a different impression." That description fits the NRCC's criticism of Sutton.

The Truth-O-Meter has other ratings available, of course, including its lowest, Pants on Fire.
The definition? "The statement is not accurate and makes a ridiculous claim."
One other way to put it is: We said what?
Both fit the NRCC's characterization perfectly.
Browse the Truth-O-Meter
More by Stephen Koff
Support independent fact-checking.
Become a member!
In a world of wild talk and fake news, help us stand up for the facts.