Get PolitiFact in your inbox.
Says Brendan Kelly "spent his career" supporting Nancy Pelosi.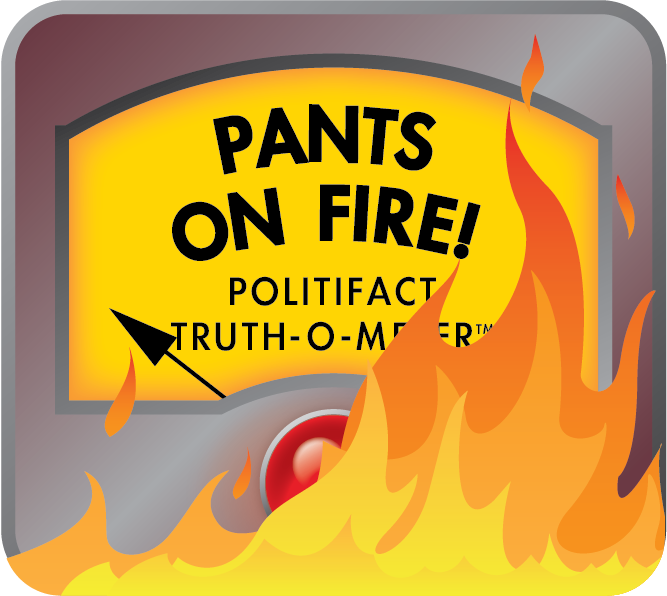 In Illinois race for Congress, Mike Bost makes a head-scratching claim
To hear U.S. Rep. Mike Bost tell it, his 2018 election challenger in Illinois has "spent his career" supporting Nancy Pelosi. Not only that, says Bost, a Republican, in a TV ad, but Democrat Brendan Kelly has spent that career also supporting Mike Madigan, the speaker of the Illinois House.
This seemed puzzling.
Kelly started his post-Navy career as a county employee. Since 2010 he has been state's attorney — the top prosecutor — for St. Clair County, Ill., a county bordering St. Louis, Mo. Prosecutors don't get votes in the state Legislature. They don't vote in Congress.
So how has Kelly "spent his career" supporting the top Democratic legislative leaders? We asked the Bost campaign, and the answer is still puzzling.
The ad
The ad has two parts, first telling voters what Bost wants them to know about his opponent, then saying what he wants them to know about himself. Bost was in the Illinois House for 20 years until winning his congressional seat in 2014. Seated at a table and wearing an open-collar, button-down shirt, he says:
"Folks, they're at it again. I've spent 20 years fighting Pelosi and Madigan; my opponent has spent his career supporting them."
He then says, "I've never stopped fighting for our families. Whether it's creating a stronger economy or bringing our steel jobs back or reforming the VA to ensure better care for our veterans, or fighting for fair trade and a level playing field, I've never wavered."
The "support"
So how has Kelly, a prosecutor, spent his career supporting Pelosi and Madigan?
Bost's campaign sent PolitiFact several articles on Kelly's fundraising. The articles pointed out that even though Kelly says he wants someone other than Pelosi to be the next U.S. House Democratic leader, he has benefitted from Pelosi's fundraising. That was the very headline in a Real Clear Politics article in April: "Non-Supporter of Pelosi Benefits From Her Fundraising."
An article in the St. Louis American in late April said that U.S. Rep. Ben Ray Lujan, chairman of the Democratic Congressional Campaign Committee (DCCC), came to East St. Louis to stump for Kelly. The DCCC tries to get Democrats elected to Congress, and Lujan was Pelosi's pick for the chairmanship, making him part of her team.
Pelosi, Lujan and a number of incumbent Illinois congressional Democrats, including Sens. Dick Durbin and Tammy Duckworth, sponsored a Washington fundraiser on April 25 for four Illinois Democrats -- including Kelly -- hoping to join them in Congress if elected, according to another piece of backup material the Bost campaign sent us.
Finally, there was an article on June 1 in the Illinois Review: "Pelosi to raise funds for Democratic contenders."
What this means
From these and other articles, we know that Kelly wants someone else to head the Democratic caucus in the U.S. House. Pelosi wants him elected anyway and is raising money for him and other Democrats. This has been a theme in 2018 congressional coverage, with Republicans saying these Democrats are hypocrites.
Kelly told Real Clear Politics for its story that he doesn't support Pelosi as his party's leader but that the Washington fundraising invitation came from the Illinois Democratic congressional delegation, not Pelosi.
We asked the Bost campaign again: How does Pelosi's fundraising help show that Kelly, a county officeholder, "spent his career supporting" Pelosi and Madigan?
"We might be arguing over semantics here," Bost campaign spokesman George O'Connor answered in an email. "Brendan Kelly's liberal record and fundraising speaks for itself and shows that he's already in Pelosi's pocket."
Had Bost said as much in the ad, we might find ourselves examining that claim. But that is not what Bost said in an ad to voters in Illinois' 12th Congressional District.
Kelly's campaign, of course, disagrees with Bost. Here is what Kelly campaign spokesman Sam Barrett said: "Brendan has been the state's attorney in St. Clair County for the past eight years. Before that he was the county clerk and before that he was an assistant state's attorney. And before law school he served in the U.S. Navy.
"He has never voted for Nancy Pelosi, has vowed in multiple interviews that he won't and hasn't taken a dime from her campaign account nor her leadership account."
Our ruling
You can make a case that since Kelly is a Democrat, he supports the general ideals of top Democrats, be they in Washington or Springfield. But to single out Pelosi in particular, and even Madigan, and say Kelly has spent his career supporting them is a stretch.
He has never had a vote on legislation, Democrat- or Republican-sponsored. Much of his career has involved prosecution, and occurred about 800 miles from where Pelosi presides over her party. Pelosi has raised money for Kelly, not vice versa. Even if her fundraising assistance was a sign of reciprocal support from Kelly — which is a reach — it occurred in 2018, a single year in Kelly's significantly longer career.
Turn up the flames. It's Pants on Fire.
"At it again," Mike Bost campaign ad
Email correspondence with George O'Connor, spokesman for Bost campaign, Oct. 4, 2018
Email correspondence with Sam Barrett, spokesman for Kelly campaign, Oct. 4, 2018
"Non-Supporter of Pelosi Benefits From Her Fundraising," by James Arkin, Real Clear Politics, April 25, 2018
"National Democratic leader visits ESL to stump for Kelly," by Jessica Karins, The St. Louis American, April 24, 2018
Invitation to fundraiser with Nancy Pelosi, Ben Lujan and others, April 25, 2018
"Pelosi to raise funds for Democratic contenders," the Illinois Review, June 1, 2018
Browse the Truth-O-Meter
More by Stephen Koff
Support independent fact-checking.
Become a member!
In a world of wild talk and fake news, help us stand up for the facts.