Stand up for the facts!
Our only agenda is to publish the truth so you can be an informed participant in democracy.
We need your help.
I would like to contribute
"Ten percent of violent deaths in the U.S. each year are due to strangulation."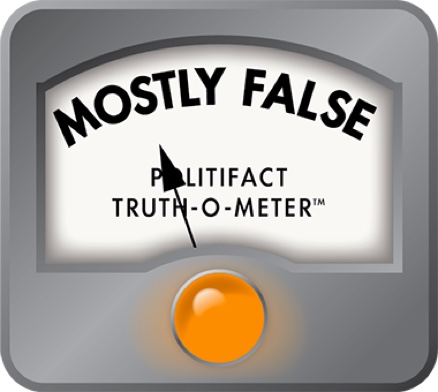 R.I. Rep. DaSilva says 1 in 10 violent deaths in U.S. are caused by strangulation
Last month, the House, on a vote of 59-11, passed legislation that would make it a felony to attempt to strangle or choke someone, even if the attack did not result in any injury to the victim.

The bill, H-5087, is now before the Senate Judiciary Committee.

The proposal is intended, in part, to make it easier to prosecute anyone who applies pressure on a person's throat or neck with the intent to cause harm. The chief advocate, Rep. Roberto DaSilva, a Pawtucket police officer, said he submitted it because he was seeing too many cases in which serious strangulation attempts would be prosecuted as misdemeanor simple assaults because the attack, although potentially fatal, didn't result in obvious signs of serious bodily injury.

"If you take a knife, swing it at someone and not strike them, that's a felony," he said. "Under this law, strangulation itself would be a felony. When you have your hands around their throat, you've taken it to the next level. It's serious enough."

But it was his assertion about the prevalence of the crime that caught our attention.

"Ten percent of violent deaths in the U.S. each year are due to strangulation," he said, adding that there are "six female victims to every male victim."

We wondered if the rate was really that high.

DaSilva sent us a handful of documents. One was a 2001 article from the Journal of Emergency Medicine, which flatly stated that "Ten percent of violent deaths each year in the United States are directly because of strangulation."

Where did that statistic come from? Although the article has 35 footnotes, the "ten percent" statement carries no citation.

Two of the three authors, Dr. George E. McClane and Gael B. Strack, a lawyer, have apparently been using this statistic for a while. DaSilva also directed us to a 1999 article in which McClane and Strack are quoted as making the same claim. Strack has repeated the statistic as recently as a 2007 article written to help prosecutors. In each case, there is no indication where the data come from.

We emailed Strack, who is CEO of the Family Justice Center Alliance in San Diego; she told us it came from a paper written by McClane in 1995, which we found intriguing because no McClane research is cited in their 2001 article. Researchers are typically quick to cite their previous work each time they write a paper.

We couldn't get an interview with McClane. The website of the Medical Board of California of the Department of Consumer Affairs said he surrendered his medical license in March after being found guilty of unprofessional conduct. His lawyer did not respond to an email.

So we took another route. DaSilva had also sent us an article from 2007, also in the Journal of Emergency Medicine, saying that national data from 1993 showed that 11.8 percent of women and 1.9 percent of men who died that year were killed by strangulation. It didn't give an overall rate.

So we went to the source: a 2003 article on firearm deaths by David Wiebe of the University of Pennsylvania in Philadelphia. It says the strangulation rate that year was 3.4 percent. That's 1 in 29, not 1 in 10.

But that 3.4 percent does not include all violence-related deaths, as DaSilva did. Suicides are excluded. If you include them, as the National Center for Injury Prevention and Control does when it catalogues all "violence-related injury deaths," the rate is even lower -- about 1.4 percent, or 1 in 71.

That same difference is echoed in the most recent federal data, where strangulation accounted for only about 1.2 percent of the violence-related deaths in 2007. If you only look at homicides, the rate rises, but only to 3.5 percent, still far shy of 10 percent.

Only when we focused on women who have been murdered did the 10-percent figure apply.

Wiebe directed us to the 1998 version of the database, where 448 of the 4,241 female homicide deaths were logged as being due to strangulation. That's 10.6 percent. We calculated a similar number for 2007.

(The actual numbers show that there were not six female strangulation victims for every male, as DaSilva said. Because 448 women and 213 men died of strangulation in 2008, the actual ratio was 2 to 1. To hit a 6-to-1 ratio, you have to compare the percentages of homicide deaths due to strangulation -- 10.6 percent for women and 1.6 percent for men.)

In short, the "10 percent" statistic cited by DaSilva has been bandied about at least since the 1990s. As presented, it is false. Federal data from 1993, 1998 and 2007 show that the percentage is significantly lower, whether or not you include suicides.

It may be that the federal statistics are being repeatedly misrepresented, taking numbers that were only meant to apply to female homicides and expanding them to include all violent deaths, regardless of gender.

If DaSilva had said that "10 percent of all homicide deaths among women are due to strangulation" and that "women who are murdered are six times more likely to die of strangulation than men who are murdered," he would be on solid ground.

But he didn't.

In his defense, he was quoting sources that should be reliable. The Journal of Emergency Medicine, for one, failed to display adequate rigor by allowing the 10-percent estimate to appear without attribution.

And DaSilva is trying to address what he sees as a serious problem, especially in domestic assaults on women. Deborah DeBare, executive director of the Rhode Island Coalition Against Domestic Violence, said her organization has been concerned for a few years that strangulation assaults are not being aggressively prosecuted, even though they "are one of the most dangerous ways of attacking someone."

And because they are often carried out by a coldly calculating assailant, she said, the hope is that the stronger threat of jail time might be a deterrent for some men.

But we make our rulings based on whether a statement is actually true or false. Motive doesn't enter into it unless we're considering a Pants On Fire.

In this case, we rate DaSilva's claim as Barely True.

(Get updates from PolitiFactRI on Twitter. To comment or offer your ruling, visit us on our PolitiFact Rhode Island Facebook page.)
Editor's note: This statement was rated Barely True when it was published. On July 27, 2011, we changed the name for the rating to Mostly False.
DVD, Rhode Island House of Representatives debate on H-5087 substitute A, May 25, 2011

RILIN.state.ri.us, "2011 -- H 5087 Substitute A, An Act Relating to Criminal Offenses - Assaults," accessed June 1, 2011

Interviews and emails, Rep. Roberto DaSilva, June 2 and 9, 2011

"A Review of 300 Attempted Strangulation Cases Part II: Clinical Evaluation of the Surviving Victim," Journal of Emergency Medicine, 2001, accessed June 2, 2011

CorrectionHistory.org, "Know the Law: Resource Materials on Strangulation," 1999, accessed June 2, 2011

CSUS.edu, "How to Improve Your Investigation and Prosecution of Strangulation Cases," Sept. 2007, accessed June 6, 2011

Emails, Gael B. Strack, chief executive officer, Family Justice Center Alliance, San Diego, June 6 and 7, 2011

CA.gov, "In the Matter of the Accusation Against: George E. McClane, M.D.," Medical Board of California, accessed June 6, 2011

Nnvawi.org; "Non-Fatal Strangulation is an Important Risk Factor for Homicide of Women," Journal of Emergency Medicine, published online Oct. 25, 2007, accessed June 2, 2011

Desarme.org, "Homicide and Suicide Risks Associated With Firearms in the Home: A National Case-Control Study," Annals of Emergency Medicine, June 2003, accessed June 2, 2011.

CDC.gov, "National Center for Injury Prevention and Control: WISQARS Injury Mortaility Reports, 1981-1998," accessed June 6, 2011

CDC.gov, "National Center for Injury Prevention and Control: WISQARS Leading Cause of Death Reports, 1999-2007," accessed June 2, 2011

Interview and emails, Douglas Wiebe, department of biostatistics and epidemiology, University of Pennsylvania, June 6 and 7, 2011

Interview, Deborah DeBare, executive director of the Rhode Island Coalition Against Domestic Violence, June 9, 2011
Browse the Truth-O-Meter
More by C. Eugene Emery Jr.
Support independent fact-checking.
Become a member!
In a world of wild talk and fake news, help us stand up for the facts.