Stand up for the facts!
Our only agenda is to publish the truth so you can be an informed participant in democracy.
We need your help.
I would like to contribute
"We just fought a Republican budget that ends Medicare as we know it."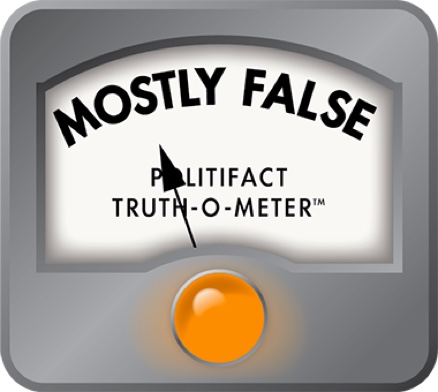 Cicilline says he fought Republican budget that ends "Medicare as we know it."
Nearly six months after being elected to Congress, David Cicilline is running hard for reelection. On WPRI's "Newsmakers" program, which aired April 24, the freshman congressman was asked about a potential opponent.

Cicilline immediately switched to one of his talking points.

"The election is two years away. What voters are going to focus on is who's in Washington fighting and standing up for them. We're in the middle of a big battle about what this country is going to be like in terms of our priorities and our values. We just fought a Republican budget that ends Medicare as we know it."

The claim that Republicans want to end the government-run health insurance program for those 65 and older is being widely used by Democrats as they attack Republican proposals to cut the budget.

Cicilline has raised the theme repeatedly in recent new releases, YouTube videos and speeches on the floor of the House. He's also launched a series of visits to senior citizen to discuss "the effects of the Republican budget on Medicare and Medicaid."

PolitiFact National addressed one element of the controversy April 20 when it gave a Pants On Fire ruling to the assertion by the Democratic Congressional Campaign Committee that "Seniors will have to find $12,500 for health care because Republicans voted to end Medicare." (Details on that ruling can be found at PolitiFact.com.)

A few points are relevant to Cicilline's assertion.

First, there is no Republican budget.

At issue is a budget resolution proposed by Rep. Paul Ryan, a Wisconsin Republican, who proposes eventually replacing Medicare with subsidies that older people would use to "buy" private insurance, although the elderly would never see the money -- it would be paid by the government to insurance companies.

The resolution was approved by 235 of the 240 Republicans in the House. Every Democrat, including Cicilline, voted no.

It has no chance in the Senate, which is controlled by Democrats. Such resolutions are, as PolitiFact National noted, nonbinding documents that state policy preferences and cannot be viewed as the equivalent of legislation that establishes law.

Second, the GOP proposal does not "end Medicare as we know it." It wouldn't even begin to change Medicare as we know it for another 12 years.

Under the Republican plan, developed because the GOP and other critics regard the costs of the current program as unsustainable, Medicare would continue in its present form for people who already receive it. In addition, those 55 or older would be covered by the program once they hit their 65th birthday. So even 12 years from now, part of today's Medicare would remain in place until every recipient covered under the existing rules has died.

The claim would be true for younger people, because the version of Medicare they would see when they retire would be very different. For example, they would have to buy health plans from private insurance companies, with financial assistance and regulation from the government -- akin in some ways to President Obama's health-care plan that so many Republicans object to. In addition, the eligibility age would gradually rise to 67.

In short, Cicilline, has pushed back against the Republican proposal to change Medicare. But he has mischaracterized a nonbinding budget resolution as a budget. More significantly, he exaggerated the impact of a Republican Medicare proposal to imply that everyone would be affected, while the GOP resolution specifically exempts existing beneficiaries and future beneficiaries who are currently 55 and over.

If he had added those qualifiers, his statement would have been closer to accurate. But he didn't.

We rate his statement Barely True.
(To comment or offer your own ruling, visit us on Facebook.)
Editor's note: This statement was rated Barely True when it was published. On July 27, 2011, we changed the name for the rating to Mostly False.
WPRI.com, "Newsmakers 4/22: David Cicilline," April 22, 2011, accessed April 25, 2011

PolitiFact.com, "Democrats say Republicans voted to end Medicare and charge seniors $12,000," April 20, 2011

Thomas.loc.gov, 2012 Budget Resolution, April 15, 2011

ABCnews.com, "Is Paul Ryan's Medicare Proposal Like Obama's Health Care Plan?" April 22, 2011, accessed April 28, 2011
Browse the Truth-O-Meter
More by C. Eugene Emery Jr.
Support independent fact-checking.
Become a member!
In a world of wild talk and fake news, help us stand up for the facts.