Stand up for the facts!
Our only agenda is to publish the truth so you can be an informed participant in democracy.
We need your help.
I would like to contribute
"Very, very, very few people get a pat-down" when they go through airport security.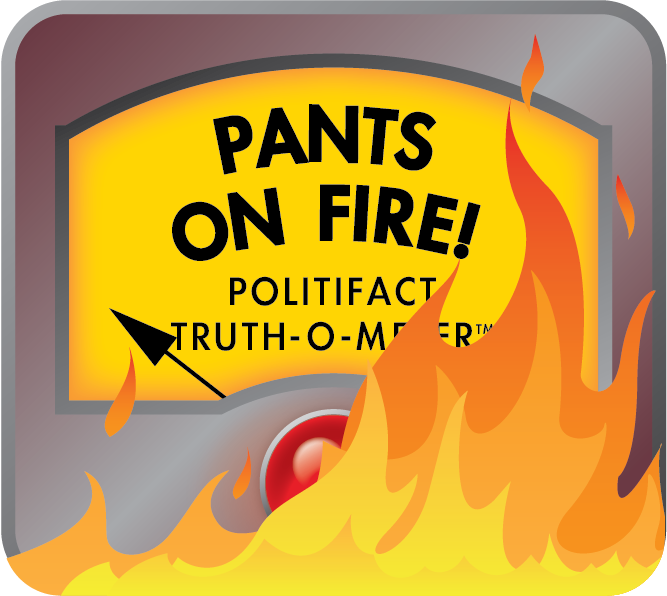 Homeland security chief stresses that "very, very, very few people" get hands-on treatment at U.S. airports
As luck would have it, U.S. Homeland Security Secretary Janet Napolitano had heaps of ornery subjects to tackle during a recent talk before the Atlanta Press Club.  

Attendees at the May 7 luncheon peppered her with questions about Osama bin Laden's death, which took place just five days earlier. They asked about Georgia's new immigration legislation and the Federal Emergency Management Agency's response to recent, historic tornadoes that devastated towns across the Southeast.

One raised the touchiest -- literally -- of all of topics: getting patted down at the airport.

"Will we go past the grope-and-grab phase?" a luncheon attendee asked Napolitano. "The machines that scan the bodies and so forth? Are there better ways of doing it?"

"Well, actually, very, very, very few people get a pat-down," Napolitano replied. "It's only under very limited circumstances. They do, however, get -- those who are patted down -- tend to get on YouTube." she quipped.

"And look, look, no one wants to see a 6-year-old patted down. Even if it's done according to procedural protocol," she said. In April, a video was posted on YouTube.com of a 6-year-old girl being patted down at the New Orleans airport.

Just this week, images of a baby getting frisked at Kansas City International Airport made headlines as well.

"Very, very, very" few people? we wondered. That's a lot of "very"s.

Given the public outcry, Napolitano's estimate sent PolitiFact Georgia scribes scrambling.

We asked the Transportation Security Administration for more details. The TSA is part of the Department of Homeland Security and protects the nation's transportation systems.

Last fall, the TSA began to use special scanners that showed images of passengers including what was underneath their clothing. Critics called it a "virtual strip search" and said it was too invasive.

The TSA offered pat-downs as an alternative, but these also frustrated critics. In October, the agency announced that officers would implement "enhanced" pat-down procedures. Previously, screeners used the backs of their hands to inspect sensitive areas. Now they use the front of their hands and conduct a more thorough search.

Adults can also receive pat-downs on a random basis. Children receive "modified" pat-downs if they require extra screening.

As the busy Thanksgiving travel week approached, passengers complained about having their genitals and breasts touched. A video appeared on YouTube.com of a toddler crying during the pat-down and shouting for a screener to stop. Parents were outraged. Travelers threatened they would stop flying, and some predicted long airport security lines.

The expected chaos never materialized. For the most part, passengers went through the screening process without a fuss.

"All in all, people wanted to get to their destinations," said Christopher Bidwell, a security expert with the industry group Airports Council International.

We asked the TSA how many pat-downs it conducts at the nation's airports.

Atlanta TSA spokesman Jon Allen told us that during March, 3 percent of air passengers were subject to a pat-down. The TSA collects this data by monitoring "data from select airports throughout the year," he wrote in an email. That number is "consistent with that of previous time periods."

PolitiFact Georgia looked for other pat-down data to see whether other groups have verified TSA numbers. Critics such as the American Civil Liberties Union and passenger rights groups did not. Neither did industry groups we contacted.  

We did find a Gallup poll conducted Nov. 19-21 that said 15 percent of adults who have flown two or more times in the past year received a full-body pat-down. The survey's margin of error was 4 percentage points.

The 15 percent figure does not contradict the TSA figures. The more often you pass through a security checkpoint, the more chance you'll receive a pat-down.

PolitiFact Georgia therefore took the TSA figures and did some math. The TSA's Allen told us that "on an average day, about 2 million people are screened at TSA checkpoints." Three percent of 2 million is 60,000 people.

That means that over the course of a month, roughly 1.8 million people receive a pat-down. That's more than four times the population of Atlanta.

That doesn't sound like "very, very, very" few people to us.

If Napolitano said that "a small percentage of passengers" get patted down each month, she would have been correct. But she talked about "people." In addition, she used the superlative "very" three times, even though the TSA's own figures show that the numbers of passengers who receive a pat-down can top 1 million in a single month.

We rate her statement Pants On Fire. 
U.S. Secretary of Homeland Security Janet Napolitano, speech, Atlanta Press Club Newsmaker luncheon, May 7, 2011

Email interview, Jon Allen, spokesman, Transportation Security Administration, May 9, 2011

Congressional Research Service, Changes in Airport Passenger Screening Technologies and Procedures: Frequently Asked Questions, Jan. 26, 2011

The TSA Blog, "TSA Myth or Fact: Leaked Images, Handcuffed Hosts, Religious Garb, and More!" Nov. 18, 2010

Gallup, "Most U.S. Air Travelers OK Sacrificing Privacy for Security," Nov. 23, 2010

The Washington Post, "TSA, Congress to review screening procedures after pat-down of 6-year-old girl," April 13, 2011

Interview, Christopher Bidwell, vice president of security and facilitation, Airports Council International, May 10, 2011

The Atlanta Journal-Constitution, "How 121,000 people vanished in Atlanta," April 24, 2011

Boston.com, "TSA responds to baby-frisk uproar", May 10, 2011

The TSA Blog, "TSA Searching for Poop Bombs?: Headline Not Up to Snuff," May 9, 2011

Browse the Truth-O-Meter
More by Willoughby Mariano
Support independent fact-checking.
Become a member!
In a world of wild talk and fake news, help us stand up for the facts.