Get PolitiFact in your inbox.
The Paul Ryan budget proposal would "privatize Medicare."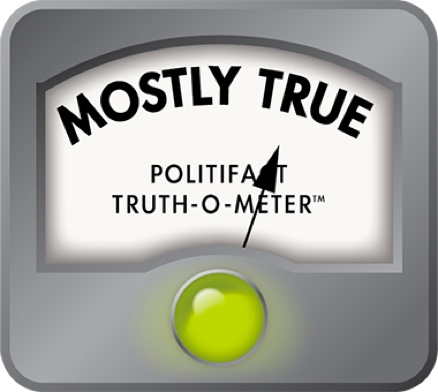 Throw-granny-from-the-cliff ad says Paul Ryan plan would privatize Medicare
Amid discussion of the Medicare overhaul proposed by Rep. Paul Ryan, R-Wis., an ad created by the Agenda Project, a liberal group, cut through the clutter quite dramatically -- though with critics saying it was literally over the top.

The ad, set to "America the Beautiful," shows a man pushing an elderly woman in a wheelchair toward a scenic overlook. At first, the woman is happy, enjoying the sights. But then the man picks up the pace, veers past warning signs and rushes toward a cliff. When he reaches the edge, he tips over the wheelchair, and the woman falls dramatically over the ledge. The man walks calmly away.

The ad contains no dialogue, so its point is made through a series of superimposed statements. "In 1965, Americans made Medicare into Law. Today, Medicare provides the health insurance for 46 million Americans. More than half of Americans on Medicare live on less than $28,000 a year. Now, Republicans want to privatize Medicare. Is America beautiful without Medicare?"

We decided to check two claims in this ad. One, which we'll look at in a different item, is whether the Ryan plan would leave the country "without Medicare." The second, which we'll investigate here, is whether the Ryan budget proposal would "privatize Medicare."

First, we'll provide a summary of the Ryan plan, which was passed by the House in a near-party-line vote and which has more recently prompted some Republicans to oppose it, amid fears that voters will not be comfortable with its approach.

Ryan's plan would dramatically cut federal spending in the name of fiscal discipline. One of its major features is dramatically restructuring Medicare, the government-run health insurance program for those 65 and older. Right now, Medicare pays doctors and hospitals set fees for the care beneficiaries receive. Medicare beneficiaries pay premiums for some types of coverage, and younger workers contribute payroll taxes.
   
Ryan's plan leaves Medicare as is for people 55 and older. In 2022, though, new beneficiaries would be insured by private insurance companies rather than the federal government,  although they would receive "premium support" -- financial assistance from the government for buying insurance. People who need more health care would get a little more money.

The proposal requires private insurers to accept all applicants and to charge the same rate for people the same age. The plans would comply with standards set by the U.S. Office of Personnel Management, which administers the Federal Employees Health Benefits Program. The plan gradually raises the Medicare eligibility age to 67 and provides smaller premium support to high earners.

In analyzing the claim that Ryan's plan privatizes Medicare, we see at least three questions to consider, based on our discussions with a range of policy experts:

How do you define "privatization"?

When we contacted Erica Payne, the founder and president of the Agenda Project, she defended the use of "privatization" by arguing that under the current system, the purchaser is the government and the vendor is the health provider, while under the Ryan plan, the purchaser would be the patient and the vendor would be the insurance company.

"Because the choice of vendor is now in the hands of an individual who will in essence 'shop' for an insurance plan provided by a private company, this change will have the effect of transforming Medicare into a private insurance system," Payne said. "As such, we conclude that this plan seeks to 'privatize' Medicare. Supplanting a government system that pays directly for benefits with a plan that inserts private companies into the exchange of goods and services seems like a fairly standard interpretation of the privatization concept."

Is she right?

There are actually a number of definitions of privatization, but Steven Berry, a Yale University economist, said that at least one common definition does seem to fit what he calls "Ryancare."

In what Berry says is an oft-cited 1988 law journal article, Paul Starr, a liberal professor of sociology and public policy, wrote that one acceptable definition of "privatization" is, "Instead of directly producing some service, the government may finance private services, for example, through contracting-out or vouchers."

While the Congressional Budget Office has followed Ryan's lead in calling the subsidies "premium supports" rather than "vouchers," Berry said the definition still applies.

"The Ryan plan takes some functions the government currently provides and transfers these to private sector insurance companies, providing a government subsidy to pay for the private sector services," he said. "Ryan is clear about this -- he thinks the private sector will do a better job in these activities as opposed to the 'monopoly' government agency. This is a traditional argument in favor of this kind of privatization."

Is Medicare fully public now?

In many important ways, Medicare is a public program today. Payments to doctors are made with government money, collected through mandatory tax assessments. There's a large bureaucracy called the Centers for Medicare and Medicaid Services that sets standards for the program and carries out enforcement.

But Robert Moffitt, a senior fellow at the conservative Heritage Foundation, points out that Medicare -- despite its reputation as an exemplar of single-payer health care -- has some noteworthy aspects that are more accurately considered private.

"The entire Medicare delivery system -- doctors, hospitals, home health care agencies, nursing homes, hospice care facilities -- are almost all private agents or institutions," Moffitt said. "Exceptions would include county or public hospitals that are reimbursed for treating Medicare patients."

In addition, most Medicare enrollees have supplemental insurance to cover costs the program doesn't, and most of this supplemental coverage is either bought on the private market or secured through employers. The Medicare Advantage program, which accounts for roughly a quarter of Medicare enrollees, is run by private insurers using Medicare funds. About 60 percent of seniors are enrolled in private drug plans in the Medicare Part D Program.

Finally, the federal government already administers Medicare through private contractors, usually large private insurance carriers that process Medicare claims.

So while the Ryan plan would shift the needle further toward the private sector than it is today, it's important to remember that Medicare today is not simply a government program without a private-sector role.

How much of a government role would remain under the Ryan plan?

Ryan's spokesman, Conor Sweeney, emphasizes that under the proposal, Medicare will retain significant government aspects.

"The government continues to collect payroll taxes to fund Medicare for future seniors," Sweeney said. "It provides financial support to guarantee that future seniors are covered. And it tightly regulates the plans among which future seniors get to choose, so that they are protected from discriminatory pricing. Under our plan, Medicare remains a government program dedicated to help fulfill the health security for America's seniors. The real question on Medicare is not whether government should be involved, it is how much power should the government have over individual health care decisions?"

Several economists with experience in privatization issues told us there's enough evidence to call the Ryan proposal a privatization plan.

"I would have to say that (privatization) is a correct characterization of the plan's operation," said Ellen Dannin, a Penn State law professor. "It isn't private in the sense that a mom-and-pop store is private but, rather, it would operate more or less as a regulated and heavily subsidized private industry. Because someone reaching the age for enrollment in Medicare after the bill's threshhold date would have no ability to enroll in Medicare (as currently structured), their best and only option seems likely to be taking the plan's payment and enrolling in a private plan provided by an insurance company."

Roger Noll, a Stanford University economist, said that the Ryan plan would clearly shift the duties for paying expenses from a federal agency to a private insurance company. The act of the government providing regulatory oversight, he said, isn't the same as the government providing a service.

Noll added that confusion on this issue may stem from an imprecise understanding of how Medicare actually works. "Health care and insurance are separate services," he said. "Medicare always has relied on privatized health care. What's being privatized in the Ryan plan is health insurance services."

So where does this leave us?

It's true that under the Ryan proposal, the government will retain important duties in running Medicare. But "privatization" does not have to mean that the government has nothing further to do with the enterprise. Under longstanding definitions, privatization could take place without the government giving up its right to regulate a privately provided service, such as an electric utility. That said, we think it's fair to note that Medicare already provides some types of coverage through private insurance now, so the shift toward the private sector prompted by the Ryan plan would be more a question of degree than kind. On balance, we conclude that the idea that the Paul Ryan budget proposal would "privatize Medicare" is Mostly True.
The Agenda Project, "America the Beautiful?" (ad), May 17, 2011

PolitiFact, "Democrats say Republicans voted to end Medicare and charge seniors $12,000," April 20, 2011

Paul Starr, "The Meaning of Privatization," Yale Law and Policy Review 6 (1988): 6-41.

E-mail interview with Roger Noll, economist at Stanford University, May 25, 2011

E-mail interview with Ellen Dannin, professor at the Penn State Dickinson School of Law, May 25, 2011

E-mail interview with Steven Berry, economist at Yale University, May 25, 2011

E-mail interview with Robert Moffitt, senior fellow at the Heritage Foundation, May 25, 2011

E-mail interview with Conor Sweeney, spokesman for Rep. Paul Ryan, May 25, 2011

E-mail interview with Erica Payne, the founder and president of the Agenda Project, May 25, 2011
Browse the Truth-O-Meter
More by Louis Jacobson
Support independent fact-checking.
Become a member!
In a world of wild talk and fake news, help us stand up for the facts.