Stand up for the facts!
Misinformation isn't going away just because it's a new year. Support trusted, factual information with a tax deductible contribution to PolitiFact.
I would like to contribute
"The collective net worth of Americans has taken a $5.5 trillion hit ... mainly due to plummeting home values."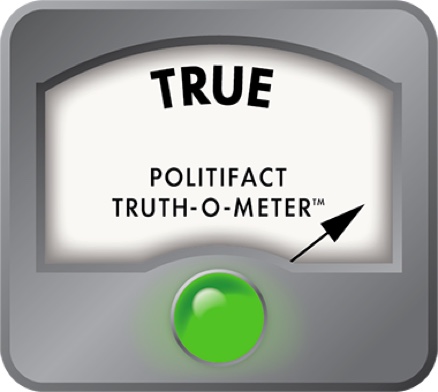 Nina Turner says plummeting home values have hammered Americans' collective wealth
Expect to hear more from Nina Turner in the coming months.

The Democratic state senator from Cleveland is considering a primary challenge next year against incumbent U.S. Rep. Marcia Fudge of Warrensville Heights.

The potential race already has political watchers buzzing. Turner has been seen as a rising star since her days on the Cleveland City Council and is well known for breaking with Fudge and other black leaders two years ago to back a successful Cuyahoga County government reform measure. She also is known for her oratorical gifts, having appeared several times on cable network MSNBC to discuss Statehouse issues that have gained attention nationwide.

But does her substance match her style? As Turner explores a congressional bid, PolitiFact Ohio decided to explore a guest column she recently authored for the Politic365.com website.

The site focuses on minority issues, and Turner's piece, titled "From Frustration to Prosperity," tackled themes that echo far beyond Ohio. In 670 words, she referred to the Tea Party and Occupy Wall Street movements, quoted President Franklin D. Roosevelt and endorsed the notion that government can "breathe life into our otherwise dormant recovery."

The piece also was chock full of economic statistics that tied together Turner's contentions. One statement in particular caught our eye: "The collective net worth of Americans has taken a $5.5 trillion hit, according to the Federal Reserve; mainly due to plummeting home values."

Though Turner cited her source, it is not uncommon for politicians to hear and repeat numbers out of context, so PolitiFact Ohio went searching for the original source material.

We quickly found that the Christian Science Monitor presented the same figure in the same way in a story published Oct. 19, several days before Turner's column appeared.

"Since 2007, Americans' collective net worth has fallen about $5.5 trillion, or more than 8.6 percent, according to the Federal Reserve," the article stated. "The bulk of that decline is in real estate, which has lost $4.7 trillion in value, or 22 percent, since 2007."

Our Internet search showed the story was picked up by other news outlets across the country. Turner, in an interview, acknowledged that the article got the ball rolling for her column.

But once on the Federal Reserve's website, we didn't know where in the haystack of data to find the one particular needle of information we needed. And we didn't receive any help in response to our calls and emails. Luckily, Christian Science Monitor reporter Ron Scherer and Turner's aide came through -- and both pointed us to the same set of Federal Reserve numbers.

In a Sept. 16 statistical release, the Fed provided 120 pages of economic figures. The relevant data comes on a "Balance Sheet of Households and Nonprofit Organizations." The table includes figures between 2005 and the second quarter of 2011. And since 2007, net worth -- assets minus liabilities -- dropped from $64.2 trillion to $58.7 trillion, or about $5.5 trillion.

The table also confirms the significant drop in home values -- as the Christian Science Monitor reported, about $4.7 trillion -- that accounts for the drastic decrease in net worth.

It is important to note that while Turner's column did not bookend the $5.5 trillion figure with exact dates, it generally addressed the effects of the recent recession -- the same post-2007 period covered by Scherer. So her use of the Fed numbers from 2007 and after made sense.

On the Truth-O-Meter, we rate Turner's claim True.
The Plain Dealer, "State Sen. Nina Turner forms group to explore congressional run against Rep. Marcia Fudge," Oct. 26, 2011

Politic365.com, "From Frustration to Prosperity," by State Sen. Nina Turner, Oct. 24, 2011

Christian Science Monitor, "A long, steep drop for Americans' standard of living," Oct. 19, 2011

Board of Governors of the Federal Reserve System, "Flow of Funds Accounts of the United States: Flows and Outstandings Second Quarter 2011," Sept. 16, 2011
Browse the Truth-O-Meter
More by Henry J. Gomez
Support independent fact-checking.
Become a member!
In a world of wild talk and fake news, help us stand up for the facts.