Stand up for the facts!
Our only agenda is to publish the truth so you can be an informed participant in democracy.
We need your help.
I would like to contribute
The largest number of gamblers are "from the poorest segments of the population."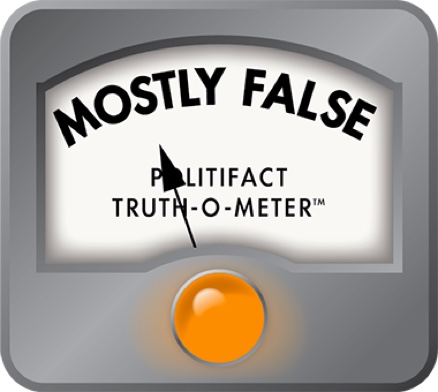 The largest numbers of gamblers come from poorest segment of population, says Florida Family Policy Council
In the ongoing war about gambling in Florida, some critics have turned to the Bible to state their case.

The Florida Family Policy Council, an Orlando-based conservative Christian organization, has sided with gambling opponents. In a post on its blog, the council poses the question Is Gambling Morally Wrong?

The blog post from Oct. 20, 2011, uses partial quotes from Wayne Grudem, a theology professor at Phoenix Seminary in Arizona and author of the book Politics According to the Bible:

"My own judgment is that large commercial gambling outlets such as casinos and state-sponsored lotteries bring much more harm to a society than the benefits they generate (such as tax revenue)… First, it is socially harmful (and fiscally regressive) because the largest numbers of gamblers comes from the poorest segments of the population. Second, (it) leads to an addiction to gambling … and this addiction destroys marriages, families … and increases societal breakdown. Third, studies have shown that where gambling businesses are established, crime rates increase." (Here is the page in the book that contains these quotes.)

There are a few interesting claims in that statement but for this Truth-O-Meter we will explore whether the largest number of gamblers come from the poorest segments of the population.

The council's president, John Stemberger, said the blog was about gambling in general, not just casinos or lotteries in Florida.

Gambling is a hot topic in Florida. Two South Florida Republican state legislators -- Sen. Ellyn Bogdanoff and Rep. Erik Fresen -- have proposed opening the door to full-scale gambling by allowing three mega-resort casinos to bid on licenses for Las Vegas-style games. One company, Genting, has proposed a massive casino for downtown Miami.  

We reviewed six studies that included information about gambling and income as well as several news articles or websites. We also interviewed about a dozen academics who have studied gambling. Some of the sources came from Stemberger and Grudem, while others came from professors, the gambling industry or gambling opponents. 

The research we examined fell into a few general categories.
Research from the casino industry. Not surprisingly, those involved in the casino industry found that the bulk of their visitors are middle or upper-class. American Gaming Association's 2011 State of the States survey of casino entertainment states that compared to the general population, casino visitors are less likely to have a household income of less than $35,000 and more likely to have incomes between $35,000 and $100,000. "The demographic profile of casino visitors is similar to that of the general U.S. population. While men are more likely to have visited a casino than women, and the average casino visitor is slightly older, the breakdown by income and level of education mirrors that of the general population." (For more from the casino industry check out Harrah's 2006 survey.)

Lottery studies. There is a lot of evidence -- some focused on particular cities or states -- that lotteries draw in poor people. 

"A number of studies have investigated the demographic predictors of lottery gambling and have tended to find that, on average, state lottery products are disproportionately consumed by the poor...," states this 2005 Brookings Institution paper. "Average annual lottery spending in dollar amounts is roughly equal across the lowest, middle and highest income groups. This implies that on average, low-income households spend a larger percentage of their wealth on lottery tickets than other households." 

One of the best examples we found was this 1998 investigation by the Washington Post, which found that the lotteries in Maryland, Virginia and the District of Columbia rely on "a hard core of heavy players, who, on average, have less education and lower incomes than the population as a whole, according to lottery documents and data." For example, among heavy players in Virginia, "one in six had household incomes of less than $15,000, according to the lottery data." In Washington, data showed that "the city's most anemic lottery market lies west of Rock Creek Park in an area with the highest education and income levels and the thinnest concentration of minorities." (To find more articles or studies about gambling in particular cities or states, check out this bibliography at the end of this article or from this anti-casino group.)

Researchers at Duke University published a 1999 report, "State Lotteries at the Turn of the Century." It found that lottery participation increased as people made more income but only up to the $100,000-per-year level. Still, among those who do play, "players with incomes less than $50,000 spend more than others, and the lower income categories have the highest per capita spending," it said.
One of the report's co-authors, Philip Cook, told PolitiFact in an e-mail that his research shows "poorer households spend a higher percentage of their income on state lotteries (which are the most common form of gambling). The percentage who participate in lottery play is not higher for low income households. But those who do play, play a lot." 

National gambling research. The most extensive research we reviewed stemmed from The National Gambling Impact Study Commission, a 1999 report done for the federal government. For that study, The National Opinion Research Center at the University of Chicago published a 768-page report compiling surveys of nearly 3,000 gamblers and non-gamblers. 

The report included detailed statistics on gambling, by income and by type of game.
| | | | | | | | | | | |
| --- | --- | --- | --- | --- | --- | --- | --- | --- | --- | --- |
| Income | Monthly gaming | Few times/year gaming | One day a year gaming | Lifetime Gaming | No lifetime gaming | Weekly lottery | Monthly lottery | Yearly lottery | Lifetime lottery | No lifetime lottery |
| Less than 24k | 10.6 | 11.7 | 9.8 | 32.5 | 35.4 | 11.4 | 11.3 | 19.5 | 23.8 | 34.0 |
| 24k-49,999 | 13.0 | 20.8 | 9.3 | 36.9 | 19.9 | 14.5 | 15.6 | 25.8 | 18.5 | 25.5 |
| 50k-99,999 | 11.8 | 24.3 | 13.3 | 33.7 | 16.8 | 13.2 | 15.8 | 32.1 | 14.8 | 24.2 |
| 100k or more | 16.7 | 22.0 | 13.8 | 33.5 | 14.0 | 11.5 | 14.3 | 23.6 | 27.4 | 23.2 |
To summarize the report's key findings, we turned to Dean Gerstein, the report's principal investigator who now works as a vice provost and professor at Claremont Graduate University.

"If you define gambling fairly broadly — placing a bet on a game of chance at least once in a lifetime, or once in the past year, or even once in the past month — then members of the poorest segment of the population are, in general, less likely to gamble than members of the middle segments. By any reasonable definition, the largest numbers of gamblers are clearly not poor," he wrote in an e-mail to PolitiFact. "The richest Americans, the 10 percent or so with incomes greater than $100,000/year, are actually the most likely to spend money gambling -- as they are to spend money on everything else, since they have far more money to spend. But since this group of well-off people is relatively small, only 10 percent of the population, the number of gamblers from the middle income segments ($25,000 - $100,000) is much larger."

But when poor people gamble, a larger proportion have serious problems related to their gambling than wealthier people, Gerstein said. "In general, gambling very heavily doesn't do nearly as much damage to rich people as it does to poor people — rich people can afford to throw away a lot more money on gambling without getting into hot water." 

What the experts and Stemberger said

Many of our experts said the council's claim was too vague -- research about gambling and income typically specifies the type of gambling, the frequency, and sometimes the location. The regular purchaser of lottery tickets at a store in inner-city Baltimore probably isn't the same as the occasional high roller at the Bellagio in Las Vegas. 

"In my opinion this is a poorly worded and misleading statement," said David Just, an economics professor at Cornell, who has studied poverty and lotteries. "By no means does this group constitute the majority of those playing the lottery. Those in poverty are just 16 percent of the U.S. population. They do not outspend the other 84 percent of the country. There is some evidence that a larger proportion of them play, but this is weak evidence and heavily disputed. It is widely believed they spend a higher portion of their income than wealthier individuals. While I can sympathize with the motive behind the FFPC (Florida Family Policy Council) statement, it seems they should have been more careful in making their argument. Lottery tickets and casino visitors are really different crowds for the most part." 
John Welte, a senior research scientist at the Research Institute on Addictions at Buffalo State University of New York who wrote about geographic factors and gambling in this article, told us that the council's claim was wrong.

"That statement is not correct," Welte said in an e-mail. "Gamblers are generally not more common in the poorest segments, although poorer gamblers tend to gamble more often. What is true, and perhaps more relevant, is that problem gamblers are more prevalent in the poorest segments of society."

But research shows that lotteries can hurt the poor.
"The bottom line is a lot of this gambling is directed toward the poorer segments of society who are spending proportionally more," said John Kindt, a business administration professor at the University of Illinois who studies gambling. Kindt said he was speaking primarily about lotteries but that lotteries are like a gateway drug to creating new addictive gamblers. "We are making poor people poorer."

We sent our findings to Stemberger, and he asked us to consider two additional reports. One was a 1997 article from the Minneapolis Star Tribune about a study of state treatment programs for problem gamblers that found that poor problem gamblers had debts proportionally higher than more affluent gamblers. But the article stated, "state officials said they couldn't conclude that compulsive gamblers are disproportionately poor. That's because state-funded programs may attract the poor more than affluent people who have insurance or other options for treatment."

Stemberger also pointed to studies about gambling in Wisconsin. This 1995 study of Native American casinos found gamers have an average household income of between $20,000 and $30,000 a year. Fewer than 15 percent enjoy household incomes in excess of $60,000, while almost 30 percent have household incomes less than $20,000. But the study didn't state that the gamblers were disproportionately poor compared to the population near the casinos. 

Our ruling
The council's blog stated "the largest numbers of gamblers comes from the poorest segments of the population." The council's president said he was speaking in general about gambling -- not specific to lotteries or casinos or to any specific location. The data about the income demographics of gamblers must be explained in the context of the type, frequency and sometimes location of gambling. There is a lot of data to suggest that lottery sales outlets are concentrated in poor neighborhoods and that poor lottery ticket buyers end up spending a higher portion of their income. But that isn't what the council claimed. And the research about lotteries would not necessarily apply to the Las Vegas-style casinos that the Florida legislature is now considering. We rate this claim Mostly False. 
Florida Family Policy Council, "Is Gambling Morally Wrong?" blog, Oct. 20, 2011

Politics According to the Bible, Page 550 about gambling, 2010

Wisconsin Policy Research Institute, "The economic impact of Native American gaming in Wisconsin," April 1995

Wisconsin Policy Research Institute, "The social costs of gambling in Wisconsin," 1996

The Brookings Institution, "The Economic Winners and Losers of Legalized Gambling," June 2005

Lehigh Valley Research Consortium, "Gambling behaviors and perceptions of the effects of gambling in the Lehigh Valley 2009 survey of residents," February 2010

National Gambling Impact Study Commission, Final report, 1999

National Opinion Research Center at the University of Chicago, "Gambling impact and behavior study," April 1, 1999

Duke University, "State Lotteries at the Turn of the Century: Report to the National Gambling Impact Study Commission," April 23, 1999

Duke University, Professor Charles Clotfelter's testimony to state house committee "Do Lotteries the Hurt the Poor? Well, Yes and No," April 2000

Partnership for the Public Good, "Poverty and Casino Gambling in Buffalo," January 19, 2011

Hotel Online, "The Effects of Casino Gambling on At-Risk Groups in the city of Detroit," press release May 18, 1998

WFTV, "9 Investigates: Strip mall casinos' location data," Aug. 30. 2011

Casino-Free Philadelphia, "Gambling and the poor," Accessed Nov. 16, 2011

PBS online, An excerpt from "The Business-Economic Impacts of Licensed Casino Gambling in West Virginia: Short-Term Gain but Long-Term Pain,"Updated from a 1994 publication

The Tax Foundation, "Lotteries and Gambling," Accessed Nov. 16, 2011

Journal of Gambling Studies, "The Relationship of Ecological and Geographic Factors to Gambling Behavior and Pathology,"Winter 2004

Sooner Alcohol Narcotics Education, Facts about State Operated Lotteries, Accessed Nov. 11, 2011

Washington Post, "Heavy players support lottery cash cow," May 3, 1998

Star Tribune, "Compulsive gambling hitting poor hardest, new state study says," July 25, 1997 (subscription required to view this copy)

Miami Herald, "Genting's spectacular promises raise legislative doubts," Nov. 17, 2011

Interview, John Stemberger, president of the Florida Family Policy Council, Nov. 10-17, 2011
Interview, Earl L. Grinols, economics professor Hankamer School of Business Baylor University, Nov. 10, 2011

Interview, David R. Just, associate professor of economics, Cornell University, Nov. 11, 2011

Interview, Doug Walker, associate professor of economics, College of Charleston, Nov. 11, 2011

Interview, John W. Welte, Senior Research Scientist Research Institute on Addictions University at Buffalo, Nov. 14, 2011
Interview, Philip J. Cook, Senior Associate Dean for Faculty and Research; Sanford School of Public Policy Duke University, Nov. 10, 2011

Interview, Charles T. Clotfelter, professor of public policy and professor of economics and law, Duke University, November, 2011

Interview, Bill Eadington, economics professor and director of the Institute for the Study of Gambling and Commercial Gaming University of Nevada, Nov. 10, 2011

Interview, John Kindt, professor of business and legal policy University of Illinois, Nov. 16, 2011

Interview, Michael Wenz, Assistant Professor and Coordinator, Economics, Northeastern Illinois University, Nov. 14, 2011

Interview, Dan Rickman, professor of economics, Oklahoma State University, Nov. 14, 2011

Interview, Dean Gerstein, principal investigator for 1999 Gambling Impact and Behavior Study who now works as a vice provost and professor at Claremont Graduate University, Nov. 14, 2011

Interview, Rachel Volberg, president of Gemini Research and consultant for the Gambling Impact and Behavior study, Nov. 14, 2011

Interview, Holly Wetzel, spokeswoman for the American Gaming Association, Nov. 11, 2011


Browse the Truth-O-Meter
More by Amy Sherman
Support independent fact-checking.
Become a member!
In a world of wild talk and fake news, help us stand up for the facts.