Stand up for facts and support PolitiFact.
Now is your chance to go on the record as supporting trusted, factual information by joining PolitiFact's Truth Squad. Contributions or gifts to PolitiFact, which is part of the 501(c)(3) nonprofit Poynter Institute, are tax deductible.
I would like to contribute
"I have sent over $400 million to the border of Mexico in the form of Texas Ranger recon teams."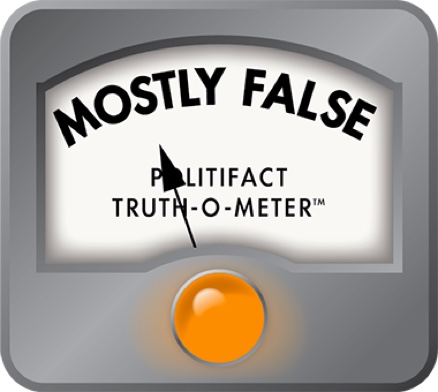 Rick Perry says he's sent more than $400 million to the border for Ranger recon teams
As he campaigns for president, Texas Gov. Rick Perry speaks often of his experience in directing security dollars and operations along the Texas/Mexico border. Repeatedly in the first three months of his bid for the White House, Perry has mentioned sending $400 million to the border.

Sometimes he states it broadly; e.g., "a total of $400 million of state security operations." But often, he pegs the amount to a force he helped create in 2009: Texas Ranger Reconnaissance Teams.

At an Oct. 1, 2011, event in Hampton, N.H., Perry said, "I have sent over $400 million to the border of Mexico in the form of Texas Ranger recon teams." He's used such a formulation at least three times since he entered the race in September -- including onstage at the Sept. 12 GOP debate -- so we decided to dig in.

Rewind: On Sept. 10, 2009, Perry announced the recent creation of Ranger Reconnaissance Teams that he said would operate in high-traffic, high-crime areas along the Texas-Mexico border -- a move he described as the state's latest effort to fill gaps left by the federal government's "failure to adequately secure" the border. Perry said the recon teams would be "individuals that can stay on the move. We can stay one jump ahead of the cartels and beat them at their own game."

According to a subsequent Department of Public Safety report, the teams were being used for "emergencies and other situations that require a specialized law enforcement response ...  to locations throughout the state to" head off or deal with "criminal or terrorist incidents that could impact public safety." The report also says the teams are trained in tracking, night-vision equipment, air operations and surveillance; can operate for extended periods in remote, rugged areas; and can include National Guard counter-drug and other personnel.

More details proved hard to come by. An Aug. 26, 2010, Associated Press news story says the DPS declined to share mission reports, citing operational security.

And what about Perry's proclaimed $400 million for those boots on the ground?

Perry's campaign and his state office provided budget figures indicating that he signed into law nearly $415 million in spending on border security covering September 2005 through August 2013, meaning fiscal years 2006 through 2013. Lucy Nashed in Perry's state office directed us to the agencies that received the appropriations for details.

Most of the money flows through DPS, and agency spokesman Tom Vinger gave us figures indicating that Texas allocated border security funds for 2006-13 (with the 2011-13 amounts being estimated) totaling $475.6 million, and spent $462.1 million.

That amount is spread over a wide range of border operations, not just Ranger recon.

Legislative Budget Board spokesman John Barton found us figures for the totals spent on Ranger border security operations in 2009 ($0.4 million) and 2010-11 ($2.6 million). Of that, Barton said, $1.8 million was spent in 2010-11 to create 10 Ranger recon team positions.

According to state budgets, there were no dollars appropriated specifically for border operations by Rangers in 2006-07; such appropriations in subsequent years were:
2008-09: $982,595 for five officers' salaries and costs.
2010-11: $2.8 million -- $1.8 million for 10 new Ranger positions; $1 million for five officers' salaries and costs.
2012-13: From $38.9 million in border security funds and $48.9 million in local border security, an unspecified amount for Ranger positions.

The State Auditor's Office said in a 2009 report that as of Nov. 30, 2008, Texas had spent just over half the dollars set aside for border security in 2006-09 -- that is, $79 million of the $142.3 million appropriated in those two budgets. However, the audit says, between $7.6 million and  $10 million was spent outside the border on officers, new vehicles, radio security devices and a helicopter.

So although more than $140 million was targeted for border security in 2006-2009 budgets, not all made it to the border. Spokesman Michael Stiernberg told us the auditor's office has not examined more recent spending.

Let's tote up what we have. Texas has spent more than $1.8 million on Ranger recon teams, but well below $400 million. So when Perry uses a formulation like "$400 million … in the form of Ranger recon teams," he's way off.

As we closed out this research, Nashed said Perry consistently says the $400 million was spent on border security overall, but at the Hampton stop, he left out some of what that spending has covered.

We agree. And while we could not pin precisely how much has been spent on the border reconnaissance teams, we're comfortable concluding it's nowhere near the $400 million aired by the governor. This statement rates Mostly False.
Texas Tribune news story, "In New Hampshire, Perry Pivots on Immigration Answer," Oct. 3, 2011

Email interview, Texas Tribune writer Ben Philpott, Nov. 17, 2011

C-SPAN video, "Rick Perry Remarks at Values Voters Summit," Oct. 7, 2011

Associated Press news story, "Perry's border recon team's work remains secret," Aug. 26, 2010

Texas Department of Public Safety "Annual Report - Texas Rangers Division, FY 2009-2010"

Fort Worth Star-Telegram news story by Dave Montgomery, "Texas Rangers' deployment to Mexico border a military-style effort," Sept. 15, 2009

CNN, CNN/Tea Party Express Republican Debate, transcript, Sept. 12, 2011

YouTube video, "Gov. Perry Announces Highly Skilled Ranger Recon Teams as Texas Efforts to Enhance Border Security," Sept. 10, 2009

Email interview with Catherine Frazier, deputy press secretary with Rick Perry campaign, Oct. 11, 2011

Email interviews with Lucy Nashed, deputy press secretary with Office of the Governor, Nov. 14-18, 2011

Texas Legislature, House Bill 1, May 25, 2007

Texas Legislature, Senate Bill 1, May 26, 2009

Texas Legislature, House Bill 1, May 26, 2011

Email and phone interviews with Tom Vinger, assistant chief of public affairs with Texas Department of Public Safety, Nov. 16-21, 2011

Email and phone interviews with John Barton, spokesman with Legislative Budget Board, Nov. 18-21, 2011

State Auditor's Office report, "An Audit Report on Border Security Funds," March 2009

Email and phone interviews with Michael Stiernberg, spokesman with State Auditor's Office, Nov. 17-18, 2011
Browse the Truth-O-Meter
More by Sue Owen
Support independent fact-checking.
Become a member!
In a world of wild talk and fake news, help us stand up for the facts.