Facts are under assault in 2020.
We can't fight back misinformation about the election and COVID-19 without you. Support trusted, factual information with a tax deductible contribution to PolitiFact
I would like to contribute
"Ralph Hall has never voted to raise the debt ceiling."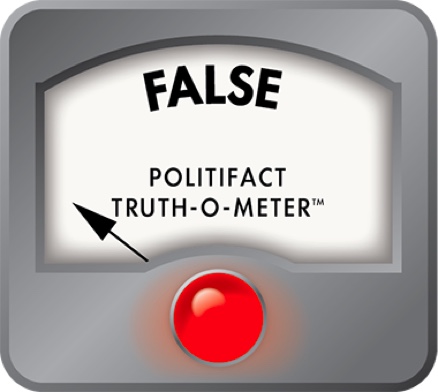 U.S. Rep. Ralph Hall of Texas voted to increase debt limit several times
You have to go a long way back to trace U.S. Rep. Ralph Hall's voting record.
A conservative political action committee claimed the Northeast Texas Republican "has never voted to raise the debt ceiling" in a mail flier forwarded March 10, 2014, to PolitiFact Texas by Matt Mackowiak, an adviser to his challenger in the May 27, 2014, primary runoff for the GOP nomination.
Hall, who faces former U.S. Attorney John Ratcliffe, was elected to Congress in 1980 and has served 17 terms; he's the oldest serving House member in history, as PolitiFact wrote March 20, 2014, in a fact-check rating False a charge that Hall was "the oldest member in Congress ever."
Since 1980, there have been more than 50 votes to raise the debt ceiling, which caps how much the U.S. government can borrow to carry out everything budgeted by Congress. And during Hall's tenure, the limit has never been reduced.
But did Hall, who promises in a campaign ad that he "won't raise the debt ceiling, ever," never vote before to increase the cap?
Debt ceiling votes tend to split on party lines. Typically, the party that controls the White House has had to push through the politically ticklish vote to raise the limit, while the other party gets a free run at criticizing the hike and voting against it. Memorably, Sen. Barack Obama, D-Ill., voted against raising the ceiling in 2006 when the Republican president, George W. Bush, sought an increase.
Hall has been on both sides of that partisan divide, serving as a Democrat (albeit a conservative one) until Jan. 5, 2004, when he switched to the GOP.
Click here to visit the Washington Post's interactive graphic on increases in the debt ceiling, updated Feb. 11, 2013 and spanning most of U.S. Rep. Ralph Hall's time in Congress.
We called and emailed the Conservatives Acting Together PAC for information on its claim and didn't hear back. Hall campaign spokesman Ed Valentine told us by phone that the campaign wasn't involved with the mailer.
Mackowiak told us by email that contrary to the PAC's claim, Hall voted seven times to raise the ceiling from December 1985 through April 2005 -- twice under President Ronald Reagan, twice under President BIll Clinton and three times under Bush.
Mackowiak's breakdown almost entirely holds up, though we found that some of Hall's votes for raising the ceiling were wrapped into other House decisions.
According to the House clerk's office and the Congressional Record, Hall voted five times in favor of raising the ceiling, though most of these instances were not pure votes on elevating the ceiling. Such increases were, for example, wrapped into the Contract with America Advancement Act of 1996 and the Balanced Budget Act of 1997.
In the other two cases Mackowiak cited, one each in 1985 and 2005, the ceiling-hike resolutions were passed by the House as a whole, rather than by individual representatives voting. This came about under the Gephardt rule, named after former Rep. Richard Gephardt, D-Mo., which operated on the premise that if representatives had voted for the budget, they had intended to fund everything in the budget, and it was thus not necessary to force them to take the potentially unpopular step of voting to raise the debt limit separately.
In 2005, Hall voted for the House budget measure that triggered the debt limit hike. But in 1985, he voted against the original House version of the budget that was wrapped into the resolution the Senate approved -- so under the logic of the Gephardt rule, Hall presumably did not approve the debt limit increase that came with that budget.
Hall votes:
Our ruling
The PAC said, "Ralph Hall has never voted to raise the debt ceiling."
We didn't have to look further than the votes cited by his opponent's campaign to find six instances from 1986 through 2005 in which Hall backed debt-limit increases. We rate this claim as False.
---
FALSE – The statement is not accurate.
Click here for more on the six PolitiFact ratings and how we select facts to check.
Conservatives Acting Together mail flier, received by PolitiFact Texas March 10, 2014
Telephone interviews with Ed Valentine, spokesman, Ralph Hall campaign, March 25-27, 2014
Email interviews, excerpted, with Matt Mackowiak, president, Potomac Strategy Group, March 11-27
House Joint Resolution 47, "Increasing the statutory limit on the public debt," deemed passed, April 28, 2005
Senate Bill 2986, "To amend title 31 of the United States Code to increase the public debt limit," vote, Nov. 18, 2004
Senate Bill 2578, "To amend title 31 of the United States Code to increase the public debt limit," vote, June 27, 2002
House Resolution 2015, "Balanced Budget Act of 1997," vote, July 30, 1997
House Resolution 3136, "Debt limit extension," vote, March 28, 1996
House Resolution 5395, "To increase the statutory limit on the public debt," vote, Aug. 14, 1986
House Joint Resolution 372, "Increasing the statutory limit on the public debt," deemed passed, Dec. 11, 1985
Browse the Truth-O-Meter
More by Sue Owen
Support independent fact-checking.
Become a member!
In a world of wild talk and fake news, help us stand up for the facts.