Stand up for the facts!
Our only agenda is to publish the truth so you can be an informed participant in democracy.
We need your help.
I would like to contribute
"Legally, it doesn't make any difference" which state district you live in when running for Congress.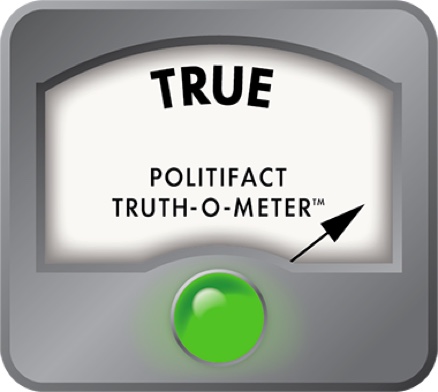 House Minority Leader Brian Newberry says congressional candidates don't have to live in the district where they're running
Want to run for Congress? Are you facing a bruising election battle in the district where you vote? Here's a solution: run in another district. And don't worry, you don't even need to move to the new district.

Brian Newberry, a Republican and the minority leader in Rhode Island's House, raised the concept during an interview on WPRI-TV's "Newsmakers" broadcast Oct. 2, 2011.

He was talking about the campaign for the Congressional District 1 seat now held by Democrat David Cicilline. In 2010, Republican John J. Loughlin II, a former Tiverton state representative, almost beat Cicilline, getting 44.6 percent of the vote. Loughlin is itching for a rematch.

But former state police Supt. Brendan Doherty also is running for the seat as a Republican. Newberry is afraid a GOP primary between Loughlin and Doherty would be divisive and help Cicilline win reelection in 2012.

So Newberry has suggested that, instead, Doherty run in Rhode Island's 2nd Congressional District against incumbent Democrat James Langevin.

But Doherty, whose residence is in Cumberland, doesn't live in that district.

"Legally it doesn't make any difference," Newberry said.

That may come as a shock to some people. Voting outside your district is a felony, and people are periodically arrested for the crime. Even if you own a business in a community, which gives you a big stake in local politics, you can't vote there unless your actual residence is there.

And it's illegal to run for any state or local office unless your primary residence is in the district.

But it's OK to run for Congress outside your district?

It is, as long as the district is in your state.

"The U.S. Constitution does not require candidates for the U.S. House of Representatives to live in the district they wish to represent," said Chris Barnett, spokesman for Secretary of State A. Ralph Mollis. It sets three requirements. "You must be at least 25 years old, must have been a U.S. citizen for at least the past seven years, and must live in the state you want to represent."

Article I Section 2 of the founding document says nothing about being an "inhabitant" (to use the original wording) of the specific district where you are running. In addition, you don't even have to move into the state until the day before election day.

And because states cannot pass laws that supersede the U.S. Constitution, no further restrictions would be permitted without a constitutional amendment.

(The last time this issue came up in Rhode Island was in 1995 when then-Lt. Gov. Robert Weygand decided to run for Congress in the 2nd District while he was living in East Providence, in the 1st District. While there was no legal requirement that he move to the 2nd District, he ultimately did so, closing a deal on a home in North Kingstown on the same day he officially declared his candidacy.)

State and local elections are different. Because the U.S. Constitution is silent on such matters, the states are free to require that people running for office actually live among the people they are seeking to represent.

So running for either of Rhode Island's two House seats can be done by any Rhode Island resident. Where you live in the state doesn't make a difference, as Newberry said.

We rate his statement True.
(Get updates from PolitiFactRI on Twitter. To comment or offer your ruling, visit us on our PolitiFact Rhode Island Facebook page.)
WPRI.com, "Newsmakers 9/30: Brian Newberry," accessed Oct. 3, 2011

Archives.gov, "The Constitution of the United States: A Transcription," accessed Oct. 4, 2011

Emails, Chris Barnett, spokesman, Secretary of State A. Ralph Mollis, Oct. 4, 2011.

Providence Journal, "Weygand gets $237,000 loan from builder," May 22, 1996.
Browse the Truth-O-Meter
More by C. Eugene Emery Jr.
Support independent fact-checking.
Become a member!
In a world of wild talk and fake news, help us stand up for the facts.