Stand up for the facts!
Our only agenda is to publish the truth so you can be an informed participant in democracy.
We need your help.
I would like to contribute
Says Rick Perry "supported a guest worker program to help people who would otherwise be illegal aliens."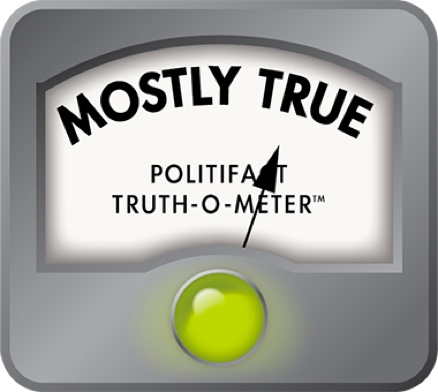 Libertarian leader says Texas Gov. Rick Perry backed a guest worker program
The Libertarian Party has a message for Rick Perry: The country needs a president who will defend liberty, and it's not you.
In a video posted on the party's website, Wes Benedict, executive director of the Libertarian National Committee, gives five examples of why he won't be voting for Perry, including the Texas governor's 2007 executive order, later blocked by the Legislature, that girls be vaccinated against a virus that can cause cervical cancer.
Yet Benedict, who suggested we take a look at the video, also notes one area on which to compliment Perry: immigration. "Libertarians like me embrace immigration and welcome people from Mexico and the rest of the world who seek a better life and the blessings of liberty," said Benedict, who used to live in Texas. "Compared to most Republicans, you have been pretty open to immigration. I credit you for being friendly to our southern neighbors. Rick Perry, I support amnesty, and I think you do too. You supported a guest worker program to help people who would otherwise be illegal aliens."
Immigration has been a tough subject for Perry since he entered the Republican presidential contest in August. Fellow candidate Mitt Romney, a former governor of Massachusetts, has criticized Perry's continued support for a Texas law allowing some illegal immigrants to pay in-state tuition at public colleges and universities. As has presidential hopeful Rick Santorum, who has publicly disagreed with Perry's position that building a fence along the entire U.S.-Mexico border doesn't make sense.
In response, Perry has cited Texas policies that he says show he is tough on immigration, including the spending of millions of dollars on border security while he has been governor.
Given that Benedict opined that Perry supports amnesty, we're not treating that characterization as a factual claim. Broadly, "amnesty" for undocumented workers is a politically charged term that PolitiFact Georgia has analyzed.
In this fact-check, we're focusing on whether Perry has supported a guest worker program.
Bluntly, it looks like Benedict got this right, though we found no sign that Perry has spoken in favor of such a program since 2007.
Asked for backup information, Benedict pointed us to a Dec. 7, 2006, Associated Press news article about a speech that Perry gave the day before to the Texas Border Coalition, which consists of border region mayors, county judges and economic development advocates.
In the speech, according to the text of Perry's remarks, he touched on several border-related topics — and criticized Washington's security efforts, including the border fence Congress approved earlier that year. "Strategic fencing in certain urban areas to direct the flow of traffic makes sense, but building a wall across the entire border is a preposterous idea," Perry said.
Next, he turned to the subject of migrant workers. "Washington needs to seek real solutions that protect our economy, that take migrant workers out of the shadows by giving then an ID and allowing them to cross freely, and that at the same time recognizes the rule of law and the importance of not rewarding those who break our laws," Perry said.
He then called for the creation of a guest worker program "that takes those workers off the black market and that legitimizes their economic contributions without doing the same for their citizenship."
"I would rather know who it is that crosses our border legally to work than not know who it is that crosses our border illegally to work," Perry said.
According to the AP story, Perry later told reporters that workers already in the country illegally should be given "an expanded period of time in which to come to register" for a guest worker program.
In a review of Perry's speeches and public statements, we found seven other times from 2003 through 2007 that Perry touted the idea of a new federal guest worker program. In nearly every one, Perry also called for stepped-up border security. In some cases, he said a guest worker program could not "succeed" unless the security efforts happened first.
In November 2003 remarks at a luncheon for Vicente Fox, then the president of Mexico, Perry said: "Let me say something about the migrant workers who cross our border to work. They provide a real value to our economy, and Texas benefits from the contributions they make. I will support reforms to our guest worker laws that allow migrant workers to contribute to our economy so long as the security of our border is in no way compromised."
The following year, Perry's office issued a news release the same day that then-President George W. Bush gave a speech calling for an overhaul of the nation's immigration laws and the creation of a temporary-worker program that would "match willing foreign workers with willing American employers when no Americans can be found to fill the jobs." Perry's Jan. 7, 2004, statement recapped his comments on guest worker programs at the Fox luncheon and said Bush's proposal "reflects" Perry's desire for a program that "balances" the economic realities of Mexico and the United States with the need for homeland security.
If Bush's proposal had become law, foreign workers applying from their home countries and people already working here illegally would have been eligible for the temporary-worker program, which would have offered legal status for three years and the possibility of extensions.
The latest instance we found of Perry expressing support for a new guest worker program was in his 2007 State of the State address to Texas lawmakers, in which he said "the best way to crack down on illegal hiring practices is for Congress to finally pass a guest worker program." Such a program, Perry said, would recognize the contributions of foreign workers and capture "their income in our tax system, ensuring they contribute to the public services we provide them."
We asked Perry's office whether he still thinks a new guest worker program is a good idea. A spokeswoman replied by email: "The governor believes that our nation cannot have effective immigration reform without first securing the border. This must be our nation's priority. Once the borders are secure, then a discussion can be had about fixing our broken immigration system. Until then, it's a moot point."
Our ruling
Perry has voiced support for giving temporary legal status to laborers who aren't authorized to enter the United States, including some immigrants already working here illegally. Still, Perry apparently hasn't spoken in favor of a guest worker program for years. Benedict's statement ignores that fact. So we rate it Mostly True.
To comment on this ruling, "like" us on Facebook.
Libertarian Party, press release and video, "Rick Perry slammed by Libertarian director: video," Aug. 10, 2011
PolitiFact Texas, "Perry says the HPV vaccine he mandated would have been optional," Feb. 6, 2010
Associated Press, "Perry urges guest worker program in immigration reform plan," Dec. 7, 2006
Gov. Rick Perry's state website, "Gov. Perry's remarks at the Texas Border Coalition Conference," Dec. 6, 2006
Gov. Rick Perry's state website, "Texas of Gov. Rick Perry's remarks at Texas luncheon honoring President Vicente Fox," Nov. 6, 2003
Gov. Rick Perry's state website, "Statement of Gov. Rick Perry regarding President Bush's immigration proposal," Jan. 7, 2004
Government Printing Office, public papers of President George W. Bush, "Remarks on immigration reform," Jan. 7, 2004
Gov. Rick Perry's state website, speech to San Antonio Rotary Club, June 6, 2006
Gov. Rick Perry's state website, "Gov. Rick Perry's remarks to the 2006 Border Governor's Conference," Aug. 24, 2006
Gov. Rick Perry's state website, "A better way to secure the border," Dec. 14, 2006
Gov. Rick Perry's state website, "Gov. Rick Perry's 2007 inaugural address," Jan. 16, 2007
Gov. Rick Perry's state website, "Gov. Rick Perry's State-of-the-State address," Feb. 7, 2007
Email (excerpt) from Catherine Frazier, spokeswoman, Gov. Rick Perry, Sept. 2, 2011
Browse the Truth-O-Meter
More by Meghan Ashford-Grooms
Support independent fact-checking.
Become a member!
In a world of wild talk and fake news, help us stand up for the facts.