Stand up for the facts!
Our only agenda is to publish the truth so you can be an informed participant in democracy.
We need your help.
I would like to contribute
"Nearly 14,000 Wisconsinites have lost their job since Governor Walker and the Republicans took over in January."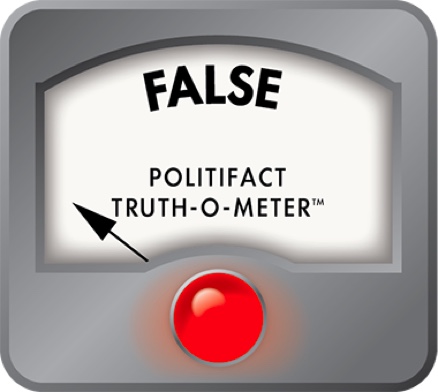 Miller says nearly 14,000 Wisconsinites have lost their job since Governor Walker and the Republicans took over in January
In September 2011, Gov. Scott Walker responded to disappointing employment numbers by calling lawmakers back to Madison for the second special session on jobs in the nine months since he took office.

The Sept. 28, 2011 announcement  came after the Department of Workforce Development reported Sept. 15, 2011 that the state lost 800 jobs in August. That was on top of a loss of 10,800 jobs reported for the month before.

Promising a bipartisan effort, Walker urged lawmakers to pass some 30 bills by November.

But opponents said the session on jobs was little more than political posturing.

State Senate Minority Leader Mark Miller (D-Monona) joined the criticism, issuing a Sept. 28, 2011 news release that said: "Nearly 14,000 Wisconsinites have lost their job since Governor Walker and the Republicans took over in January. In that time we've seen precious little action from Republicans to put people back to work."

We've been tracking progress toward Walker's promise of 250,000 new jobs in his four-year term, and remembered lots of upbeat numbers early on. (You can find the latest update on the Walk-O-Meter here).

Have 14,000 people really lost their jobs?

When asked for backup, Miller aide Michael Browne referred us to the Bureau of Labor Statistics reports on employment. Browne said Miller was not available for an interview on the subject. The bureau's data shows that 239,916 Wisconsin residents were without a job in August, 2011, compared with 225,983 in January, when Walker took office.

The difference: 13,933.

Browne said that was the number of people who have lost work since Walker took office.

But is that what the number means?

We asked Andrew Feldman, director of BadgerStat, a nonpartisan nonprofit that provides online performance measures of Wisconsin to citizens and policy makers, for his take.

"Sen. Miller is right that the number of unemployed people in Wisconsin has increased by about 14,000 people since Governor Walker took office," he said. "What we can't say for sure is what portion of those roughly 14,000 people became unemployed because they lost their jobs."

Confused? Welcome to the world of counting jobs and the unemployed.

The bureau defines "unemployed" as people who are out of work but looking for a job.  (They're counted). But some people are out of work and have given up looking. (They're not counted.) And then there are folks who are out of work, gave up looking, but have now decided that they want to look for work again. (They are counted.)

"Both factors are likely at play here in Wisconsin," Feldman said. "Some people have lost jobs during 2011 while others re-entered the labor market and started looking for work again."

So, Miller would be off by ascribing the entire increase to folks losing jobs.

We asked the feds what their numbers mean.

They also said Miller is off in his interpretation

"BLS unemployment data are not gathered from the number of unemployment claims," said agency spokeswoman Stacey Standish."BLS uses a monthly household survey to calculate labor force data. The unemployed are those that respond that they do not have a job, would like a job, are actively looking for a job, and are available to work."

Standish said the figure means there were 13,933 more people unemployed -- by their measure -- in August compared to beginning of the year.

Let's return to that jobs promise by Walker.

It covers the other side of the coin from unemployment, and offers some perspective on how the numbers can be used -- or misused.

The most recent state report said that in August the state lost 800 jobs. However, there has been an overall  increase of 29,600 jobs since Walker took office. That leaves 220,400 jobs remaining for Walker to reach his goal.

That is, the net number is what gets measured, not individual increases or decreases.

For instance, the August report says total private sector employment was down 800 jobs. The construction industry was down 3,000 jobs and the information sector was down 1,100 jobs for that month. Yet there were 800 jobs added in educational and health services and 2,000 in leisure and hospitality. For that month, the number of lost jobs outnumbered the number of jobs gained by 800.

In other words: it wasn't 800 people who lost their job. It might have been more or less than that.

Consider what would happen if you applied the same approach Miller is using on the unemployment side of the ledger to the jobs side of it. State reports say there has been an increase in state employment for six separate months. If you added those months together, the total is 41,200 jobs. No one is claiming that many people found jobs.

The difference -- the net -- is a better reflection of where the state is at. That sum, right now,  is plus-29,600.

Experts and others who analyze the monthly data emphasize the numbers are estimates based on surveys, and useful as yardsticks of employment conditions. But they are simply estimates, not a measure of what happened to individual employees.

Our conclusion

Miller says 14,000 state residents lost their job since Walker took office, citing federal numbers as evidence. But those who gather the numbers say they can't be used in the manner Miller is using them.

(It's similar to an earlier fact-check, where Republicans were comparing the state job-growth numbers to the national ones.)

Miller has the right number for the increase of unemployed people. But it's impossible to know how many lost their jobs this year vs. those who lost their jobs earlier and are now starting to look again.

We rate the statement False.
Press release, Sen. Mark Miller (D-Monona) Sept. 28, 2011
Center on Wisconsin Strategy monthly jobs report, August 2011
PolitiFact Wisconsin Walk-o-Meter jobs update
Milwaukee Journal Sentinel, "Walker calls special session on jobs bills," Sept. 28, 2011
PolitiFact Wisconsin, "Wisconsin Republican Party says more than half of the nation's job growth in June came from Wisconsin,"July 28, 2011
Wisconsin Department of Workforce Development monthly employment report, Sept. 15, 2011
Bureau of Labor Statistics employment database
Email, telephone interview, Michael Browne, spokesman, Sen. Mark Miller, Oct. 11, 2011
Emails, Andrew Feldman, director of BadgerStat, Oct. 12, 2011
Email, Stacey Standish, Press Office, Bureau of Labor Statistics, Oct. 13, 2011
Browse the Truth-O-Meter
More by James B. Nelson
Support independent fact-checking.
Become a member!
In a world of wild talk and fake news, help us stand up for the facts.