Stand up for facts and support PolitiFact.
Now is your chance to go on the record as supporting trusted, factual information by joining PolitiFact's Truth Squad. Contributions or gifts to PolitiFact, which is part of the 501(c)(3) nonprofit Poynter Institute, are tax deductible.
I would like to contribute
Says the national heath care reform is "a government takeover of health care."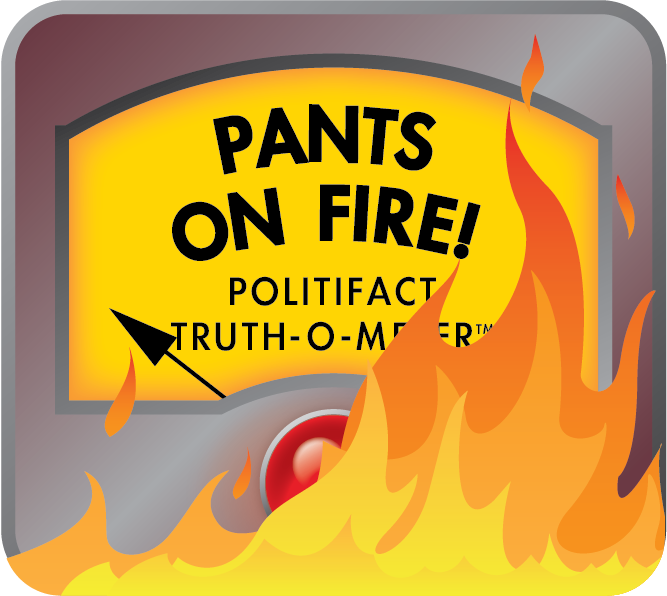 Chris Christie slams health care reform as "a government takeover of health care"
As Gov. Chris Christie proved last week, some lies never die.

Having endorsed Republican presidential candidate Mitt Romney, Christie has been addressing what he considers illegitimate comparisons between Romney's health care reform in Massachusetts and the national health care reform led by President Barack Obama.

The governor discussed the differences between the two reforms Wednesday on The Dom Giordano Show on Talk Radio 1210 WPHT.

"Secondly, what I'd say to the President is, in Massachusetts, we didn't propose to raise taxes, as you proposed to raise taxes a trillion dollars to pay for a government takeover of health care," Christie told Giordano.

"Third thing is that ninety-three percent of the people in Massachusetts had private insurance then and have private insurance now. That's not what's gonna happen under Obamacare. It's gonna be a government takeover of health care."

By referring to the national reform as "a government takeover of health care," Christie was repeating a claim that's been debunked numerous times by various news organizations. In fact, our PolitiFact colleagues recognized that claim as the 2010 Lie of the Year.

PolitiFact New Jersey contacted seven health care experts from across the country and reached the same conclusion: the national reform greatly expands federal involvement, but the law is largely built upon the existing private health insurance industry. By no means is it a government takeover.

"I respect Gov. Christie a lot and like his style, but in this case he seems to speak off a talking point coming out of Washington more so than from a conviction forged by his own cerebrum," Princeton University professor Uwe Reinhardt said in an email.
The governor's office did not respond last week to requests for comment.

Now, let's explain how the private market remains intact under the health care reform.

It's true that the national reform imposes more government regulations for individuals, employers and private insurance companies. The reform also expands the Medicaid program.

Insurers must adhere to various new provisions, such as providing coverage for dependent children up to 26 years old and not restricting coverage based on pre-existing conditions. Insurers also can sell coverage through new insurance exchanges, but they must follow certain benefit standards set by federal officials.

But despite those and other additional regulations, the private health insurance industry remains intact under the reform, according to various experts.

"People will have choices of all these different private insurance companies," said Sabrina Corlette, a research professor at the Health Policy Institute at Georgetown University.

Richard Bonnie, a professor at the University of Virginia School of Law and an expert on public health law, said the reform allows for a larger federal presence in health insurance regulation, but not a takeover of the market.

"It left the existing structure in place and tried to bring more people under the tent," Bonnie said.

Based on projections from the Congressional Budget Office, the reform will allow more people to become enrolled in private insurance plans. Under the reform, the federal government will provide subsidies to individuals at certain income levels to purchase coverage through the exchanges.

By 2021, an additional roughly 24 million non-elderly Americans are expected to purchase insurance through the exchanges, according to the budget office. About an additional 17 million will be enrolled in Medicaid and the Children's Health Insurance Program, the budget office stated.

Still, according to the budget office, most of the non-elderly population with health insurance will continue to be covered under private plans through their employers.

Timothy Jost, a professor at Washington and Lee University School of Law in Virginia, said the reform seeks to improve upon the private market, in part by making coverage more affordable through federal subsidies and by making insurance more competitive through the exchanges.

"It's not a government takeover," Jost said.

Our ruling

On a radio show last week, Christie claimed the national health care reform was "a government takeover of health care."

While the reform gives the federal government a larger role in the health insurance industry, it doesn't eliminate the private market. In fact, the reform is projected to increase the number of citizens with private health insurance.

We know Christie doesn't like the national health care reform, but he should know better than to call it a "government takeover." That's been proven wrong over and over again, making his claim simply ridiculous.

Pants on Fire!
To comment on this ruling, go to NJ.com.
https://www.sharethefacts.co/share/3ceec3e9-8140-408a-9e30-de59b9e03d82
Chris Christie interview on The Dom Giordano Show, Oct. 19, 2011

PolitiFact, PolitiFact's Lie of the Year: 'A government takeover of health care,'Dec. 16, 2010

Interview with Timothy Jost, Washington and Lee University School of Law, Oct. 20, 2011

The New England Journal of Medicine, Getting the Facts Straight on Health Care Reform, Dec. 24, 2009

Email interview with Jon Gruber, Massachusetts Institute of Technology Department of Economics, Oct. 20, 2011

Interview with Sabrina Corlette,Georgetown University Health Policy Institute, Oct. 20, 2011

Congressional Budget Office, CBO's Analysis of the Major Health Care Legislation Enacted in March 2010, March 30, 2011

Interview with Richard Bonnie, University of Virginia School of Law, Oct. 20, 2011

PolitiFact New Jersey, Chris Christie calls comparisons between health care reforms "completely, intellectually dishonest,"Oct. 13, 2011

Interview with Robert Greenwald, Legal Services Center of Harvard Law School, Oct. 20, 2011

Email interview with Uwe Reinhardt, Woodrow Wilson School of Public and International Affairs at Princeton University, Oct. 20, 2011

The Henry J. Kaiser Family Foundation,Focus on Health Reform: Summary of New Health Reform Law, April 15, 2011

George Washington University's Hirsh Health Law and Policy Program and the Robert Wood Johnson Foundation,
HealthReformGPS, accessed Oct. 21, 2011

HealthCare.Gov, Affordable Insurance Exchanges: Questions and Answers, accessed Oct. 21, 2011

Interview with Christine Eibner, RAND Corporation, Oct. 21, 2011

RAND Corporation, Analysis of the Patient Protection and Affordable Care Act (H.R. 3590), accessed Oct. 21, 2011
Browse the Truth-O-Meter
More by Bill Wichert
Support independent fact-checking.
Become a member!
In a world of wild talk and fake news, help us stand up for the facts.