Stand up for the facts!
Our only agenda is to publish the truth so you can be an informed participant in democracy.
We need your help.
I would like to contribute
Says Wisconsin Gov. Scott Walker's "actions are directly responsible for killing at least 15,000 jobs."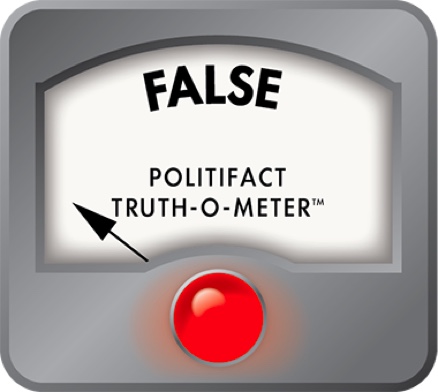 GOP Wisconsin Gov. Scott Walker killed 15,000 jobs, Democratic state lawmaker says
On the day Republican Wisconsin Gov. Scott Walker held a forum n creating jobs, state Rep. Brett Hulsey, D-Madison, tried to steal some of his thunder.

Hulsey sent a tweet, made himself available to reporters and issued a news release on Oct. 18, 2011, all to highlight his view of Walker's record on jobs.

In the news release, Hulsey declared:

"Governor Walker's actions are directly responsible for killing at least 15,000 jobs."

That's an ear-catching claim.

It would mean that Walker -- who promised to create 250,000 private-sector jobs in his first term -- not only presided over a period of staggering job losses, but in effect took out 15,000 of them himself.
Hulsey cited five sources to back up his claim -- three are estimates and two use hard numbers.

We'll start with the estimates.

1. Think tank estimate: 9,900 jobs

Hulsey's news release cited a February 2011 report on Walker's 2009-2011 budget-repair bill by the Institute for Wisconsin's Future, a liberal research and advocacy group based in suburban Milwaukee. The bill, which led to unprecedented public protests in Madison because it curbed collective bargaining rights, made public employees pay more for their pensions and health insurance.

The institute said the higher benefit payments would reduce the public workers' take-home pay and thus, their spending power, eventually leading to the elimination of 9,900 private-sector jobs.

So, these are not jobs already lost, but potential losses that would have begun since Walker signed the bill into law in March 2011.

Jack Norman, the institute's research director, provided this example: If a typical state worker now takes home $70 per week less in pay because of higher payments toward pensions and health care, the worker might decide not to buy a ladder from the hardware store one week, not to buy a child's coat from the department store the next and to postpone a dentist appointment the following week. Over time, he said, that worker's reduced purchasing power means less income for those businesses, which eventually will reduce their work forces.

Norman said the institute has been revising its projections, and now estimates 16,000 jobs will be lost over the course of one year because of the budget-repair bill and because of spending cuts Walker made in his 2011-2013 state budget.

We should note that while both budget measures were proposed by Walker, they needed to be adopted by the Republican-controlled Legislature to become law.

Norman said the job-loss estimates were made using "economic modeling software" called IMPLAN. We found that IMPLAN is used by consultants, university researchers and government agencies to make various economic projections.

When we asked Hulsey if he had other evidence to back the 9,900 lost jobs part of his claim, he cited a March 2011 news article on a similar estimate made by University of Wisconsin-Madison economist Steven Deller. According to the article, Deller said 21,843 jobs would be lost within two years because of the budget-repair bill and Walker's budget proposal. Like Norman, Deller cited reduced spending from public workers and public agencies that he said would result from Walker's two budget measures.  

But that's a narrow view of the economy.

We asked Thomas Miller, resident fellow at the conservative American Enterprise Institute in Washington, D.C., about estimating job losses in this way.

"You can't wall off one limited portion of the population and decide that whatever is done to them is good or bad," he said.

Miller said the economy is affected by many factors, including the finances of state government. Walker essentially reallocated some of the state government's resources by having employees pay a larger share of their benefits. In the big picture, he said, such a move, among other factors, could help employment.

So, Hulsey relies on predictive estimates in claiming that those moves will eventually kill 9,900 jobs. But there simply isn't evidence that Walker's actions, as Hulsey claims, are "directly responsible" for that many jobs being eliminated.

2. Train construction estimate: 2,300 jobs

Hulsey cited a November 2010 memo from the Wisconsin Legislature Fiscal Bureau that estimated the number of jobs that would have been created in connection with construction of a high-speed rail project between Milwaukee and Madison.

The next month, the federal government pulled funding for the project after Walker, who had not yet been inaugurated, expressed his opposition to it.

The memo, however, does not use the 2,300 figure and did not estimate jobs, per se.

Rather, as we reported in a December 2010 PolitiFact item, the memo estimated that over six years, the rail line construction itself plus economic activity generated by it would create a certain number of jobs' worth of work each year. That figure ranged from 250 to 5,535 per year.

It should be noted that -- like the study of the potential jobs lost due to pension and health changes -- this looked at only one side of the picture. As we noted in another PolitiFact item, the estimates don't take into account jobs that might have been lost due to more people riding trains and fewer using cars or other modes of transportation. So the advertised increase, on a net basis, may have been less.

But there is some ground for Hulsey saying that Walker prevented roughly 2,300 jobs from being created by blocking the train project. It's certainly true that a certain number of jobs would have been created to build the line itself, and Hulsey's figure is within the range of credible estimates.

3. Wind-energy estimate: 950 jobs

Hulsey cited comments by Denise Bode, chief executive officer of the American Wind Energy Association lobbying organization, in a January 2011 news article. Speaking about a bill proposed by Walker that would limit where wind turbines could be located, she said the measure would shut down 12 planned wind farm projects that could produce about 950 full-time jobs for one year.

Since Walker introduced the bill, some of the 12 projects have been canceled while others remain on hold as Walker attempts to work out a compromise measure.

So, there is evidence that Walker's action prevented at least some jobs from being created. But Hulsey assumes that all 950 jobs -- which were projected, not certain -- will never be created and that is still an open question.

Now, let's go to the sources that used hard numbers:

1. State government positions: 1,030 jobs

Hulsey cited a July 2011 fiscal bureau memo that said Walker's 2011-2013 budget reduced the number of full-time-equivalent positions in state government by 1,032.

That's a firm figure. But it's not what it might appear to be.

Bob Lang, director of the Legislative Fiscal Bureau, told us: "I would not portray these 1,000 (positions) as people who got laid off." Rather, he said, the budget eliminated authorized positions that theoretically could have been filled -- but many had been vacant for a year or more and the budget ordered that they be taken off the books.

So, it's not clear that anyone lost a job because of this Walker maneuver -- and in any case, certainly nowhere near 1,000 jobs were killed.

2. School layoffs: 1,000 jobs

Hulsey cited news reports of the layoffs of teachers and other educational staff in Milwaukee, Racine, Kenosha and Germantown, all in southeastern Wisconsin, and in Wisconsin Heights, northwest of Madison. The articles reported a total of roughly 1,000 layoffs in those school districts.

Hulsey said he attributes all the layoffs to nearly $800 million in reduced state aid to schools in Walker-proposed and the Legislature-adopted budget. But again, it's not that simple.

In the article Hulsey cited about 519 layoffs -- including 354 teachers -- at Milwaukee Public Schools, the MPS superintendent said the layoffs were the result of a number of budgetary factors, not just the reduction of state aid. Moreover, MPS had laid off 482 educators in June 2010, five months before Walker was elected, which indicates that other factors trigger layoffs.

Similarly, the article Hulsey cited that reported the Kenosha layoffs said the layoffs were the result of federal and state budget cuts as well as a previously-negotiated increase in staff pay.

So, while Walker's budget was a factor in some teachers losing their jobs, Hulsey cannot back his claim that 1,000 school layoffs all were caused by Walker.

OK, what's the final assessment?

Hulsey said Walker's "actions are directly responsible for killing at least 15,000 jobs." Two-thirds of his claim is based on estimates of the effect of reduced spending by government employees and government agencies as a result of budget actions taken by Walker. The estimates, however, don't tie the spending reductions to actual job losses and take a very narrow -- some would say wrongheaded -- view of how the economy works.

Hulsey's claims of perhaps a few thousand jobs not being created because of actions taken by Walker regarding high-speed rail and wind energy have some merit.  But his claim that the state budget killed 1,000 jobs appears to be off altogether.

In sum, Hulsey isn't close to demonstrating that actions taken by Walker are directly responsible for killing at least 15,000 jobs.

We rate his statement False.
Interview and email interview, Rep. Brett Hulsey, Oct. 18 and 19, 2011

Email interview, Gov. Scott Walker spokesman Cullen Werwie, Oct. 19, 2011

Rep. Brett Hulsey, news release, Oct. 17, 2011

Twitter, Rep. Brett Hulsey tweet, Oct. 17, 2011

Rep. Brett Hulsey, media availability, Oct. 17, 2011

Associated Press, "Walker asks job creators for input," Oct. 17, 2011

Institute for Wisconsin's Future, "Job-killing budget bad for Wisconsin's economy"

Interview, Institute for Wisconsin's Future research director Jack Norman, Oct. 19, 2011

Institute for Wisconsin's Future, "Unintended consequences: The economic impact of cutting public-sector wages and benefits," February 2011

Business Wire, "241 completion project to create 17,000+ jobs in California," Sept. 14, 2011

States News Service, "Nearly $1 billion in economic activity in California generated by Sandia National Laboratories in 2010, according to new report," Sept. 14, 2011

U.S. House Financial Services Subcommittee, testimony, Sept. 12, 2011

Wisconsin State Journal, "Reform bill poses threat to wind farms in state," Jan. 15, 2011

Wisconsin State Journal, "Study: Budget could hurt state's economy," March 20, 2011

Wisconsin Legislative Fiscal Bureau, Milwaukee to Madison High Speed Rail project memo, Nov. 22, 2010

Wisconsin Legislative Fiscal Bureau, "2011-13 budget summary information," July 5, 2011

Milwaukee Journal Sentinel, "Walker, GOP reversing green initiatives," May 7, 2011

Milwaukee Journal Sentinel, "Senate OK'd budget goes to Walker," June 16, 2011

Milwaukee Journal Sentinel, "High-speed rail funds scatter to other states," Dec. 9, 2010

Milwaukee Journal Sentinel, "MPS to lay off 354 teachers," June 29, 2011

Milwaukee Journal Sentinel, "Wisconsin to get $365 million in aid for teachers, health programs," Aug. 10, 2010

PolitiFact Wisconsin, "Democratic Party says Scott Walker killed 13,000 jobs in Wisconsin by opposing high-speed rail," Dec. 14, 2010

PolitiFact Wisconsin, "Sierra Club says killing high-speed rail project will cost almost 10,000 permanent jobs in Wisconsin," Nov. 15, 2011

Caledonia Patch, "Annual budget spells trouble for Racine students," Aug. 16, 2011

Associated Press, "Kenosha school district issues 350 teacher layoff notices," April 21, 2011

Capital Times, "Uncharted waters: Public school superintendents may be facing 'perfect storm,'" Aug. 24, 2011

Interview, Wisconsin Fiscal Bureau director Bob Lang, Oct. 20, 2011

Interview, Thomas Miller, American Enterprise Institute resident fellow, Oct. 20, 2011

Email interview, University of Wisconsin-Madison economist Steven Deller, Oct. 21, 2011

University of Wisconsin-Madison economist Steven Deller, Walker budget memo, March 14, 2011
Browse the Truth-O-Meter
More by Tom Kertscher
Support independent fact-checking.
Become a member!
In a world of wild talk and fake news, help us stand up for the facts.