Get PolitiFact in your inbox.
Says that in 2009 ExxonMobil "paid no federal income taxes, received a $156 million rebate."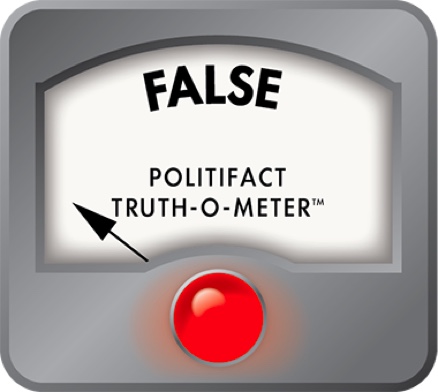 Rep. Dennis Kucinich says ExxonMobil paid no taxes in 2009 and got $156 million rebate
For the past year or so, Exxon Mobil's tax payments, or lack thereof, have provided political fodder to politicians like Rep. Dennis Kucinich, a Cleveland Democrat  who maintain that U.S.corporations don't pay their fair share of taxes.

"Let's go into some facts here and talk about shared responsibility," Kucinich told FoxNews host Neil Cavuto in an interview on Aug. 6, 2011 that he conducted from Seattle, with the city's iconic Space Needle in the background. "Listen to this: Exxon Mobil, $19 billion in profits in 2009, paid no federal income taxes, received a $156 million rebate."

The statement had a familiar ring to it, so PolitiFact Ohio checked it out.

Kucinich's claim is similar to one made last year by Vermont independent Sen. Bernie Sanders, who asserted that Exxon Mobil booked $19 billion in profit for 2009, paid no taxes and got a $156 million refund from the Internal Revenue Service.

PolitiFact ruled that claim False because Exxon paid many other types of tax that year, and also because it relied on statistics from the company's 2009 "10-K" form that may not reflect the company's actual tax payments. Officials from Exxon Mobil, as well as a University of North Carolina business school tax professor, said the figure on the form doesn't  refer to the actual income taxes that Exxon paid to the government, which is confidential. Exxon Mobil spokesmen told PolitiFact the company's "U.S. income tax expense" for 2009 was approximately $500 million. The company declined to provide documentation for that number.

Exxon Mobil's updated 2010 "10-K/A" form also lists "- $156 million" as the company'
U.S. income tax figure for 2009, as did the earlier form consulted by Sanders. But Exxon spokesmen Cynthia Bergman White and Ken Cohen reiterated it's not correct to interpret the negative figure as a $156 million refund. They said it merely reflects a tax credit Exxon obtained because of overpayments in previous years.

In a blog statement that Exxon Mobil released after filing its 2010 forms, Cohen said the company paid more than $9.8 billion in total taxes and duties to the U.S. government and its subdivisions that year, including more than $1.6 billion in income tax expenses. He said the 2009 numbers were taken out of context by the media and politicians.

The numbers "reflected more than ExxonMobil's tax expense for 2009 activities," said Cohen. "They included the effect of adjustments to our taxes for earlier years, which exceeded the amounts related to 2009. In fact, ExxonMobil's income tax expense related to 2009 activities was approximately $500 million."

That statement matches ExxonMobil's response to PolitiFact last December.

Kucinich spokesman Nathan White insisted his boss' claim is "completely true" and wasn't as sweeping as the previous Sanders claim that PolitiFact examined. Kucinich stipulated that Exxon paid no federal income taxes in 2009, while Sanders had said it paid no taxes at all that year.

White pointed to a 2010 report from CNN Money, which also listed Exxon's 2009 federal tax bill as "-$156 million" even as it pointed out that the company paid heavy taxes in other countries, as well as sales taxes in the United States.

"You are comparing apples to oranges," White said in an email. "The Politifact critique of Senator Sanders is irrelevant because the two statements are not the same."

Kucinich's words weren't identical to Sanders', but were they different  enough to warrant a different rating on the Truth-O-Meter?  

As University of North Carolina tax professor Douglas A. Shackleford told PolitiFact last year, the "-156 million" figure that Sanders interpreted as a rebate doesn't actually refer to the cash taxes that Exxon paid to the U.S. government. The $156 million number refers "to the U.S portion of the current and deferred income tax expense."

"It is a (Generally Accepted Accounting Principles) number, not a figure from their U.S. corporate tax return," Shackleford said. "The actual income taxes paid by Exxon to the U.S. government is confidential information. It is not reported in their financial statements."

We contacted Shackleford again, who confirmed that the same rationale would apply to Kucinich's claim.

The amount of income tax that Exxon Mobil paid to the U.S. government in 2009 is confidential information that did not appear on the forms that Kucinich and Sanders relied upon to make their claims that the company paid no income taxes and got a rebate.

ExxonMobil says the "- $156 million" figure reflects holdover tax issues from previous years that showed up in paperwork for 2009, and that it's U.S. income tax expense for 2009 was approximately $500 million.

A tax professor confirmed that interpreting that $-156 million as the ExxonMoblil's tax figure would be a misreading of the 10-K form.

Based on that, we rate Kucinich's statement, as we did Sanders', as False.
Video of FoxNews interview with Dennis Kucinich, August 6, 2011

Securities and Exchange Commission, 2009 Form 10-K for Exxon Mobil Corporation, Feb. 26, 2010

Securities and Exchange Commission, 2010 Form 10-K/A for Exxon Mobil Corporation, February 28, 2011

PolitiFact, Bernie Sanders says ExxonMobile paid no taxes in 2009, but that's inaccurate, December 10, 2010

Email interview with Kucinich spokesman Nathan White, August 10, 2011

CNN Money, Tax bills for 5 corporate giants, April 16, 2010

Oral and email interview with Exxon Mobil spokeswoman Cynthia Bergman White, August 12, 2011

ExxonMobil Perspectives blog, Taking a look at our 10-K, February 25, 2011
Browse the Truth-O-Meter
More by Sabrina Eaton
Support independent fact-checking.
Become a member!
In a world of wild talk and fake news, help us stand up for the facts.