Stand up for the facts!
Our only agenda is to publish the truth so you can be an informed participant in democracy.
We need your help.
I would like to contribute
Says she balanced a $10 billion budget shortfall without raising taxes.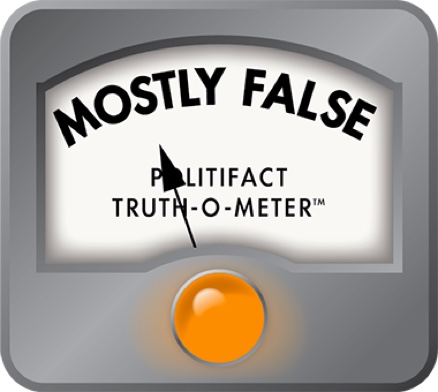 Elizabeth Ames Jones says she balanced $10 billion shortfall without raising taxes
In an online video, Texas Senate hopeful Elizabeth Ames Jones says voters can count on her to oppose higher taxes.

Jones, a former Texas railroad commissioner and legislator who's among challengers to Sen. Jeff Wentworth of San Antonio in the May 2012 Republican primary, opens her video: "Texans need a new state senator -- one who's 100 percent committed to tackling our budget problems without raising your taxes -- and that's what I've done."

The ad's narrator later says: "She was a leader, balancing a $10 billion budget shortfall in the Texas House -- $10 billion -- and she did it without raising your taxes."

Wait: The House has 150 members -- and can't pass a budget into law without the Senate and governor also signing off.

That in mind, we inquired into how Jones balanced the budget referenced in her ad.
Jones campaign spokesman Patrick Isenberg told us in a telephone interview that the claim ties to Jones voting in 2003 to balance the 2004-05 state budget in the face of a $10 billion revenue shortfall -- without raising taxes. At the time, too, Jones was a member of the budget-drafting House Appropriations Committee.

Isenberg also passed along newspaper stories including an excerpt of a Jan. 12, 2003, San Antonio Express-News news article quoting Jones saying that legislators should balance the budget without new taxes. "When an economy is slow, it's not really the time to initiate new taxes," the story quotes her as saying.

As we noted in a May 2010 check of a shortfall-related claim by Gov. Rick Perry, the $10 billion figure reflects then-State Comptroller Carole Keeton Strayhorn's grim forecast as the 2003 Legislature convened that state revenues for the 2004-2005 budget period would fall short of estimated expenditures by $7.4 billion. Add looming expenses — a health plan for local school district employees plus projected health and human services needs — and the state was facing a $9.9 billion state revenue shortfall, Strayhorn said.

To cover the projected shortfall in the months remaining in the 2003 fiscal year, the Legislature trimmed $1.4 billion in budgeted state spending, while spending $450 million from the rainy day fund. But lawmakers also passed a 2004-2005 budget that appropriated $1.8 billion less in state funds than had been spent during 2002-03, according to the Fiscal Size-up published by the advisory Legislative Budget Board. They added $811 million from the rainy day fund. And they used $1.3 billion in federal aid, part of fiscal relief made available to states in response to economic difficulties in the wake of Sept. 11, 2001.
   
Other steps: Members voted to extend a tax on telephone customers originally levied to pay for technology in schools and hospitals, raise fees for certain state services and use creative accounting to defer state payments to the next budget period..

So, the Legislature closed the $10 billion shortfall in 2003 via various mechanisms, none of them a tax increase.

And Jones voted for the version of the budget advanced by the appropriations committee on April 7, 2003, according to an April 8, 2003 Express-News article poined out by Isenberg. That story quoted her as noting that the committee salvaged a slimmed-down Children's Health Insurance Program after a subcommittee recommended its abolition. Jones, describing the budget as frugal "belt tightening," was also quoted saying: "This is not a tea party."

On April 17, 2003, Jones was among House members to vote for its version of the budget, House Bill 1, which went to the Senate by a 100-45 margin, the House Journal says. On June 1, 2003, she voted for the ultimate House-Senate compromise version, which went to Gov. Rick Perry by 105-41, according to the journal entry for that day,
We asked an Austin consultant to Jones, Todd Olsen, to elaborate on how Jones led the state to the balanced budget without a tax increase. Olsen underscored her membership on the appropriations committee, where he said she heard hours of testimony. As to budget-related roles played by other lawmakers, the Senate and governor, Olsen said: "I think voters know there are 150 members in the House, and that there's a governor and that there are three branches of government." He said too that Jones was the first woman elected to a leadership post in the House Republican Caucus. According to a Feb. 6, 2003, Austin American-Statesman news article, Jones was elected vice chair of the House Republican Caucus in the 2003 session.
Finally, Isenberg forwarded the script of what he described as a radio ad on the theme of the web video, which he said was also airing as a TV ad. In the radio ad, according to the script, Jones says she was a House member when she was a leader in balancing the budget without a tax increase.

Our ruling

Jones was among a select group of House members to draft the first version of the budget that she touts and ultimately voted, like most House colleagues, to send to the governor.

Her video could easily have specified that Jones fought in the House for no new taxes and worked to make up a $10 billion shortfall. In contrast, it leaves the misimpression that "she did it," all of it, as if by herself. All told, her claim has a clear-cut element of truth, but ignores critical facts putting her role in perspective.
We rate her statement Mostly False.
Elizabeth Ames Jones campaign, backup for web video, "Jones "Budget" Television Ad" (received April 9, 2012)

PolitiFact Texas, Truth-O-Meter article, "Gov. Rick Perry says in 2003, Texas cut $10 billion from the budget yet increased spending for public education and health and human services," May 5, 2010

San Antonio Express-News, news articles, "Budget will be lawmakers' Job One," Jan. 12, 2003; "House panel OKs budget ; Bill doesn't include new taxes; Democrats decry health cuts," April 8, 2003 (Nexis search)

Texas House Journal, entries, House Bill 1 (Third Reading vote), April 17, 2003; Approval of Conference Committee report, June 1, 2003
Browse the Truth-O-Meter
More by W. Gardner Selby
Support independent fact-checking.
Become a member!
In a world of wild talk and fake news, help us stand up for the facts.