Stand up for facts and support PolitiFact.
Now is your chance to go on the record as supporting trusted, factual information by joining PolitiFact's Truth Squad. Contributions or gifts to PolitiFact, which is part of the 501(c)(3) nonprofit Poynter Institute, are tax deductible.
I would like to contribute
"About 230,000 people that were on unemployment when I took office are not on unemployment now."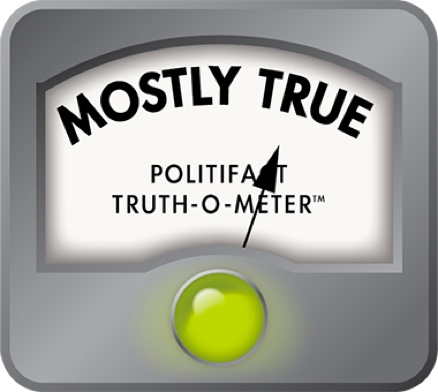 Gov. Scott says 230,000 fewer people receive unemployment compensation since he took office
A radio host recently asked Gov. Rick Scott for an update on his trademark 7-7-7 plan -- creating 700,000 jobs in seven years in seven steps. (We're tracking that promise on the Scott-O-Meter.)

Scott said Florida's economy is getting better in a lot of ways.

"We're doing well. We're at a three-year low on our unemployment in this state... We generated around 100,000 net jobs so far, if you look at the federal numbers," he said in the April 18, 2012, interview with Orlando-based station WDBO. "But if you look at the state numbers, about 230,000 people that were on unemployment when I took office are not on unemployment now.

"When you look around the state, tourism is up, the home market's up, home sales are up, home prices are up. … So good things are happening, but we still have 900,000 people out of work," he said.

What stuck out to us is his claim that 230,000 fewer people receive unemployment benefits than when he took office 15 months ago. That sounds like a drastic decrease, which Scott is taking credit for and in turn using as evidence that the state's economy is improving.

A spokeswoman with the state's Department of Economic Opportunity, the agency that manages the unemployment compensation program, responded to our request about Scott's claim. Spokeswoman Nancy Blum said the number of people receiving unemployment compensation dropped from 561,736 on Jan. 31, 2011, to 345,052 on March 31, 2012. That's a total decline of 216,684.

That's pretty close to "about 230,000," which is the number Scott offered.

Whether Scott is right to take credit for the decline -- and whether that is translating to a better Florida economy -- is more complicated.

In 2011 and 2012, Scott and Florida lawmakers made a series of changes to the state's unemployment compensation program that generally make it harder for people to receive benefits.

Among them:
Claims must be filed online.
Applicants must complete a 45-question initial workplace skills review before receiving the first check (the 2012 law requires a numeric score).
Recipients must either prove they contacted five prospective employers each week or meet with a career representative at a one-stop employment center.
The department tied the maximum number of weeks to the unemployment rate, so that the number of weeks decreases with the rate and vice versa. The maximum number of weeks fell from 26 to 23.
The state is no longer required to resolve doubtful cases in favor of claimants, and the use of hearsay in appeals cases is expanded.
It's easier to be disqualified based on a broadened definition of an employee's misconduct that resulted in a lost job, and applies to certain misconduct outside of work.
Meanwhile, businesses got tax breaks. A 2012 bill reduces unemployment compensation taxes for businesses by at least $50 per employee, with savings of $276 million the first year.

The Miami Workers Center asked the U.S. Department of Labor's civil rights division to investigate Florida's unemployment compensation system over allegations that these changes act as barriers to people who deserve checks but can't get them for lack of computer access or reading skills. A Labor department spokesman told us the investigation is ongoing.

"The governor's number in and of itself does not demonstrate any kind of economic recovery in Florida," said Valory Greenfield, staff attorney for Florida Legal Services, which represents the workers center. "What it tells me based on our experience working with claimants is that fewer people who are potentially eligible are getting into the program."

In fact, since August 2011 the department has denied 131,115 applicants for failing to comply with the new law, mostly for failing to fulfill the work search or the initial skills assessment.

Those denials resulted in a $30.3 million savings.
Economists said Scott's number, while accurate, isn't necessarily a great economic measure on its own. They also said it's too soon to tell if Florida's more stringent eligibility requirements play a big role in the declining number of recipients. Part of the drop-off could be attributed to people whose benefits have expired. Since December 2011, 30,600 people have exhausted all state and federal unemployment benefits, according to the department.

"So far I haven't been able to see any hard data or evidence to quantify (either) effect," said Mekael Teshome, PNC Financial Services Group economist.

What's more relevant, Teshome said, is that jobless claims have been coming down since their peak in mid 2009, well before Scott took office. That somewhat undermines the idea that the drop is thanks to Scott.
In fact, if you started counting in 2010 instead of 2011 when Scott took office, even fewer people -- 300,770 -- are receiving unemployment benefits.
Some experts also pointed to the contracting size of the labor force, which helps to lower the unemployment rate but also indicates some people are no longer looking for work. About 15,000 people left the labor force from February, according to the state's March 2012 labor report.
The 15,000-person drop in the labor force was part of the reason why the unemployment rate fall from 9.4 percent in February to 9 percent in March.

"Some of those are people whose benefits ran out and are now not looking for work," said Chris McCarty, director of the University of Florida's Bureau of Economic and Business Research. "Some of those are retirees who have left the labor force permanently."

Our ruling

Scott's claim that 230,000 fewer people are receiving unemployment benefits than when he entered office is pretty close to the actual drop (216,684).
A couple of caveats here. The figure is not completely an indicator that the economy is improving, as Scott suggests, and is somewhat the result of a strict new state law. Also, the trend of jobless claims started falling in mid 2009, more than a year before Scott took office. That undercuts, to a point, the suggestion Scott should get the credit.
Scott's statement is accurate but can use some additional information. That's our definition of Mostly True.
Audio recording of Gov. Rick Scott's interview with WDBO's Jim Turner, April 18, 2012

South Florida Sun Sentinel, "Florida law results in more denials of unemployment benefits," Dec. 10, 2011

Interview with Valory Greenfield, Florida Legal Services staff attorney, April 18, 2012

Interview with Sean Snaith, director of the University of Central Florida's Institute for Economic Competitiveness, April 18, 2012

Email interview with Nancy Blum, Department of Economic Opportunity spokeswoman, April 18, 2012

Email interview with Lane Wright, Gov. Rick Scott spokesman, April 18, 2012

Interview with George Wentworth, National Employment Law Project senior staff attorney, April 18, 2012

Email interview with Chris McCarty, University of Florida Bureau of Economic and Business Research director, April 24, 2012

Interview with Mark Vitner, Wells Fargo senior economist, April 24, 2012

Interview with Scott Brown, chief economist with Raymond James Financial in St. Petersburg, April 24, 2012

Tampa Bay Times, "Unemployment falls sharply to 9 percent," April 21, 2012

Interview with Mekael Teshome, PNC Financial Services Group economist, April 25, 2012

Department of Labor statistics data, accessed April 25, 2012

Agency for Workforce Innovation, HB 7005 overview, accessed April 25, 2012
Browse the Truth-O-Meter
More by Katie Sanders
Support independent fact-checking.
Become a member!
In a world of wild talk and fake news, help us stand up for the facts.