Stand up for the facts!
Our only agenda is to publish the truth so you can be an informed participant in democracy.
We need your help.
I would like to contribute
Says U.S. Senate candidate Eric Hovde has 'no problem with raising taxes.'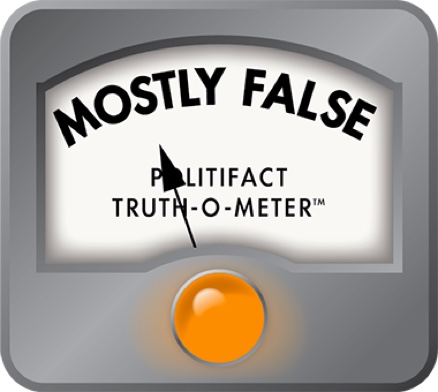 Club for Growth says Hovde has 'no problem with raising taxes'
Trying to boost Republican Mark Neumann's bid for U.S. Senate, a national conservative group is blasting away at Neumann rivals Tommy Thompson and Eric Hovde.

The message: Both are big taxers.

The national Club for Growth, which has endorsed Neumann, uses a widely aired TV ad to highlight nine instances of tax increases during Tommy Thompson's 14 years as Wisconsin governor -- years marked, as we found in rating a Thompson claim Mostly True, by a decline in the overall tax burden.

The group had a much smaller record to comb through on Hovde, a banker and investment-fund manager and first-time candidate.

"In a national TV interview, Hovde said he had no problem with raising taxes," the ad says. "And Hovde supported tax-raising Gov. Jim Doyle. On taxes, Hovde's like Thompson, only worse."

The ad shows a smiling Hovde at the start of a 2009 TV appearance as a financial pundit on CNBC's "Squawk Box" beneath the words: "No Problem Raising Taxes."

Hovde fired back with his own TV spot that calls the Neumann (actually Club for Growth's) tax accusation "false." (The campaign acknowledges  Hovde gave $500 to Democrat Doyle's re-election campaign in 2005. It has not explained why, but notes that Hovde has given almost exclusively to Republicans, and in much larger amounts.)

So, did Hovde's remarks suggest he has no problem with raising taxes?

We watched the nearly 11-minute discussion between Hovde and the cable show's hosts and found a brief exchange on taxes that closely -- but not exactly -- mirrors the language in the group's ad.

The background

Hovde's March 3, 2009 appearance on CNBC focused on the ongoing financial crisis and his criticisms of actions under both Republican President George W. Bush and newly elected President Barack Obama.  

Hovde said the country was in a "depression," Obama's stimulus bill was unfocused and out of control federal spending was taking the country into "quasi-Socialist" territory.

At the 7:25 mark of the segment, as the Journal Sentinel's Dan Bice reported in April 2012, Hovde abruptly turned the talk to taxes, tax breaks and the Obama administration.

Unprompted, he began: "Look, I have no problem with me getting charged higher taxes. I've been blessed in my life and I've been very fortunate. But some of the things that they've done are just insane."

Then he referred to an Obama 2009 proposal to reduce the mortgage-interest tax deduction for households earning more than $250,000.

"Taking away deductions on home mortgage payments -- I don't need it, but a lot of other people do." Hovde said. "We're in a housing recession -- are you kidding me?"

So, the Club for Growth claims Hovde said he had "no problem with raising taxes." He actually said: "I have no problem with me getting charged higher taxes."

That's a significant difference, especially since he immediately noted that eliminating housing deductions, for instance, would be unwise in a recession.

The timing is also important.

In 2009, Hovde was a private citizen, not a candidate running on a platform of what he would do if elected.

An candidate can have a personal opinion on an issue but may decide to vote another way for a variety of reasons. For instance, a lawmaker personally would not seek an abortion but votes pro-choice to leave the decision up to the mother.

It's also unclear from the 2009 CNBC interview exactly what Hovde was talking about. Did he mean paying more through a higher top tax rate? Through a repeal of the Bush tax cuts?

When asked about the claim, the Club for Growth noted it would take a tax increase of some kind for Hovde's personal tax bill to rise.

As a candidate in 2012, Hovde told Bice he was not referring to Obama's so-called Buffett Rule legislation to make sure high earners pay at least 30 percent in federal income tax (a bill sponsored by U.S. Rep. Tammy Baldwin, the Democratic candidate in the race).

Hovde has said he was thinking of the tax break on "carried interest" -- the portion of a fund's investment gains taken by fund managers (like Hovde) as compensation. It also applies to venture capitalists and private equity specialists.

In an interview, Hovde agreed that it would be a tax increase for that narrow group. Some government estimates put the total at more than $1 billion a year.

But let's look at his tax positions as a candidate in 2012.

Hovde has pledged to reduce individual income tax rates across the board, drop the corporate income tax rate from 35 percent to 25 percent and eliminate the estate tax.

So Hovde has made it clear he is against raising tax rates. In fact, he wants dramatic cuts in people's tax bills.

That leaves his support for eliminating tax deductions -- a move that would bring the government more revenue.

Hovde says he would vote to eliminate "nearly all" of the deductions in the current tax code, which he sees as riddled with favors to big corporations at the expense of small businesses. He also thinks the individual tax code is too complicated.

And he told us he still favors eliminating the "carried interest" tax provision, which he sees as eliminating a loophole.

Hovde, who has made debt and deficit reduction a major theme, has told voters he would accept a budget-balancing deal that gets $10 in spending cuts for every $1 in new revenue through the elimination of loopholes or deductions.

He told us his strong preference would be that such a deal include cuts in the tax rates.

He said he would consider supporting a 10-to-1 deal that holds rates steady instead of lowering them, depending on which loopholes or deductions are removed.

But does that constitute a tax increase?

Even conservative Republicans disagree on this. Americans for Tax Reform's widely publicized "taxpayer protection pledge" frowns on deduction eliminations unless the new revenue is completely offset by lower rates. Thompson and Neumann have signed that pledge, but Hovde has not.  A leading conservative in the Senate, Republican Tom Coburn of Oklahoma, has criticized the group's pledge as too narrow to allow for smart reform of the tax code.

PolitiFact National consulted a range of experts in January 2012 in evaluating a Mitt Romney claim that Obama "has raised taxes 19 times."

Views differed on some issues, but the consensus was that eliminating or limiting such deductions as those for prescription or other medical expenses clearly deserved the label of tax increases.

Donald Marron, director of the Tax Policy Center, told us it's case by case -- some of these "tax preferences" are best seen as taxes, but others as spending programs in disguise.

Given Hovde's pledge to wipe out nearly all deductions, it seems clear that some of those moves could be labeled as tax increases. Even Hovde acknowledged eliminating the "carried interest" provision would be a tax increase for a narrow group.

Our conclusion

The national Club for Growth used Hovde's own words from a cable TV interview in 2009 to frame him as in favor of raising taxes.

Hovde said what he said -- he would pay more, which put him on record as open to some kind of tax increase. There's no other way to read it.

But the ad takes the 2009 comment and alters it in a subtle but significant way, changing the context. By also changing the timing, leaving viewers thinking Hovde is campaigning in 2012 on a plan to raise taxes, the issue is further distorted.

In the current campaign, Hovde has made it clear he wants dramatically lower taxes and would not raise rates, while staying open to a net revenue increase from loophole elimination as part of a massive spending-and-tax-cut deal. That doesn't square with the breezy portrayal of Hovde as having "no problem raising taxes."

The Truth-O-Meter says Mostly False claims have an element of truth but ignore critical facts that would give a different impression.

We think that fits the Club for Growth ad claim. Mostly False.

 
Club for Growth, TV ad, "Only Worse," July 13, 2012

CNBC "Squawk Box,"video of interview with Eric Hovde, March 3, 2009

Eric Hovde, comments to Journal Sentinel Editorial Board, July 18, 2012

Phone interview with Eric Hovde, July 31, 2012

Phone and email interviews, Sean Lansing, press secretary, Hovde for Senate, Inc.

Phone interview with Barney Keller, Club for Growth communications director, July 20, 2012

Email interview with John Kartch, director of communications, Americans for Tax Reform, July 31, 2012

Phone interview with Donald Marron, director, Tax Policy Center, July 31, 2012

Milwaukee Journal Sentinel, "Hovde explains 2009 statement favoring higher taxes," April 25, 2012

Hovde campaign ad, "Eric Hovde response to negative attack from Mark Neumann," July 13, 2012

Wall Street Journal, Big Issues: Personal Finance, "Should Carried Interest Be Taxed as Ordinary Income, Not as Capital Gains?", May 14, 2012





Browse the Truth-O-Meter
More by Dave Umhoefer
Support independent fact-checking.
Become a member!
In a world of wild talk and fake news, help us stand up for the facts.