Stand up for the facts!
Misinformation isn't going away just because it's a new year. Support trusted, factual information with a tax deductible contribution to PolitiFact.
I would like to contribute
Medicare insurance premiums will be rising to "$120.20 per month in 2013 and $247.00 per month in 2014."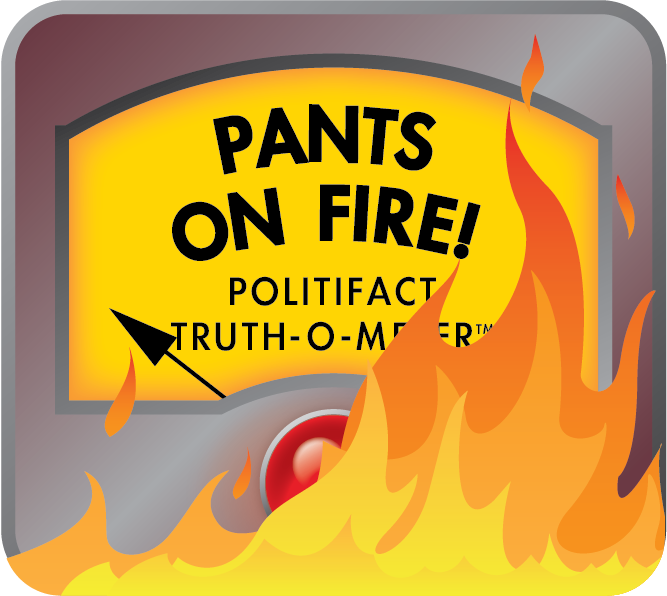 Blue Cross logo gives new fuel to bogus e-mail claiming huge after-election premium increase for Medicare recipients.
If you're a Medicare recipient, are you facing a massive increase in your monthly premium if you pay for Part B coverage?

That's what a chain e-mail that's making the rounds says. We received a copy and we heard a caller cite it recently on WPRO's "The Buddy Cianci Show," so we decided to check it out.

The e-mail claims the increase was "purposely delayed so as not to confuse the 2012 Re-Election Campaigns." It says the $104.20 monthly fee for 2012 will be "$120.20 per month in 2013 and $247.00 per month in 2014." That's more than double in one year.

Some other versions blame Obamacare for the sharp increase.

"You probably haven't heard about it in the Mainstream News," the e-mail says.

Well, there's a reason for that.

The claim is as bogus as a $3 bill.

Fact-checkers everywhere have debunked it, including PolitiFact National and our friends at FactCheck.org and Snopes.com.

But the version that's making the rounds has a new twist: it comes from Blue Cross and Blue Shield of Alabama.

More about that in a moment.

First, we should update some numbers.

The e-mail says the "current" monthly fee is $96.40. That was actually the premium in 2009. It gives a 2012 rate as $104.20; it's actually $99.90.

The premium for 2013 will be set in the fall. But according to Page 229 of the 2012 report from the board of trustees on Medicare, the estimated standard monthly premium will be about $109.10 a month, not $120.20. In 2014 it will be about $3 more, not $127 more as the e-mail claims.

After that, the report projects, annual increases through 2021 will likely range from 4.3 to 6.1 percent.

It should be noted that higher-income seniors are charged more, a provision that was in place years before Obamacare was passed.

Now back to Blue Cross.

We suspect that the e-mail is getting additional credence because it carries the logo of Blue Cross and Blue Shield of Alabama and contact information for a worker there.

When we called Alabama, Koko Mackin, a Blue Cross vice president, said the worker had simply received the e-mail and forwarded it without assessing whether it was true.

"This e-mail was not created or approved for distribution by Blue Cross and Blue Shield of Alabama and is not reflective of the Company's position. It contains incorrect information received by an employee who redistributed it to six others," she said in a statement.

Our ruling

A chain e-mail says Medicare insurance premiums will be rising to "$120.20 per month in 2013 and $247.00 per month in 2014."

The claim has been repeatedly debunked and although the truth can easily be found with a quick Google search, it continues to spread.

Even newer estimates from the Centers for Medicare & Medicaid Services show that the increases projected through 2021 will bring the premium to $161.20 -- not even close to the $247 premium that the e-mail says will take effect in 2014.

So if you're feeling hot and bothered after reading and passing along this bit of e-mail twaddle, it's not because seniors will be facing a 105 percent premium increase from 2013 to 2014.

It's because you've got Pants on Fire!

(Get updates from PolitiFact Rhode Island on Twitter: @politifactri. To comment or offer your ruling, visit us on our PolitiFact Rhode Island Facebook page.)
PolitiFact.com, "Medicare premiums going up due to 'Obamacare'? Chain e-mail gets it wrong," Oct. 27, 2011, accessed Aug. 3, 2012

FactCheck.org, "Premium Nonsense on Medicare," April 1, 2011, accessed Aug. 3, 2012

Snopes.com, "Medicare Premium Increases," Jan. 11, 2012, accessed Aug. 3, 2012

CMS.gov, "2012 Annual Report of the Boards of Trustees of the Federal Hospital Insurance and Federal Supplementary Medical Insurance Trust Funds," April 23, 2012, accessed Aug. 3, 2012

Interview and e-mail, Koko Mackin, vice president, corporate communications and community relations, Blue Cross and Blue Shield of Alabama, July 13, 2012
Browse the Truth-O-Meter
More by C. Eugene Emery Jr.
Support independent fact-checking.
Become a member!
In a world of wild talk and fake news, help us stand up for the facts.