Get PolitiFact in your inbox.
Says U.S. Senate rival Eric Hovde "refused to pay his property taxes until he was taken to court."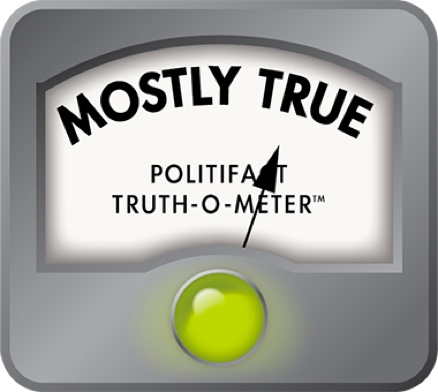 GOP Senate candidate Eric Hovde didn't pay property taxes until he was sued, rival Tommy Thompson says
Tommy Thompson and Eric Hovde continue bashing each other ahead of the Aug. 14, 2012 Republican primary for a Wisconsin U.S. Senate seat.

In a TV ad released Aug. 3, 2012, the former governor says Hovde is "nothing like us." Then he makes several attacks on the political newcomer, including this one:

"Hovde refused to pay his property taxes until he was taken to court."

Let's take a look.

The Milwaukee Journal Sentinel reported on the matter a few weeks before the ad began airing. In 2002, the City of Madison sued a Hovde family firm and other property owners over property taxes. After a judge ruled against Hovde's firm, the firm settled the case in 2006 by paying the city $22,500 of the $35,900 the city had sought in court.

Thompson's evidence

Asked for evidence to support the claim in the TV ad, Thompson campaign spokesman Brian Nemoir provided documents related to the lawsuit.

That included a May 2002 letter from the city to Hovde's firm that notes the basis for its action against the firm regarding one of its land parcels:

"In 1996, the Wisconsin Legislature provided for the assessment of agricultural land based on its 'use' rather than its 'market' value. The goal was to keep land in agricultural use by reducing the property tax burden.  A property tax penalty was created for converting agricultural land to another use."

In other words, land that was being farmed would be assessed for property tax purposes based on its value as farmland, not on its value as property that could be developed. The difference, City of Madison treasurer Dave Gawenda told us, was key for farmland that borders developing areas. The property tax bill for land classified as farmland would easily be less than half of what it would be if the land were assessed based on its potential for development, he said.

The letter to Hovde's firm went on to order the firm to pay a $431 penalty for that particular parcel, given that the parcel was "changed from agricultural usage because the land was left fallow."

So, for all the parcels involved in the lawsuit, Hovde's firm had been paying lower property taxes based on the properties being classified for farming rather than some other type of usage, and the city was seeking penalties because the land wasn't being used for farming.

In December 2004, after the case against Hovde was consolidated with similar cases, Dane County Circuit Judge Michael Nowakowski issued the ruling that led to the settlement paid by Hovde's firm. Siding with the city, the judge said the state law was intended to give farmers tax relief in order to preserve farmland, not as a "handout or windfall to the owners of agricultural land."

Rather than going to trial, Hovde settled the case by paying a portion of the penalties the city sought.

Hovde's response

When the Journal Sentinel article was published in July 2012, Hovde said he was unaware of the case until reporters told him about it, while his campaign spokesman, Sean Lansing, said Hovde "fought city hall over a tax structure that multiple businesses thought was unfair."

When we asked Lansing to respond to Thompson's claim, he reiterated the point about fighting city hall. He also said Hovde hadn't refused to pay property taxes, but paid the settlement over the penalties after losing the court ruling.

Hovde himself addressed the matter in two radio interviews.

On Aug. 7, 2012, Hovde told conservative talk show host Charlie Sykes on WTMJ-AM in Milwaukee that the city, "even though we owned farmland, they wanted to assess the value at a fully developed property level." He equated the dispute to a homeowner contesting the assessed value of a home.

The next day, Hovde told the morning show on WIBA-AM in Madison that "we ended up reaching a settlement. Every tax dollar was paid. I've paid every tax my whole life."

Our rating

Thompson stated: "Hovde refused to pay his property taxes until he was taken to court."

Hovde's firm didn't refuse to pay property taxes, per se. But it did refuse to pay -- until losing a ruling in court -- penalties that were assessed for having the benefit of paying lower taxes without actually farming land, as required.

We rate Thompson's claim Mostly True.
Tommy Thompson campaign, TV ad, Aug. 3, 2012

WIBA-AM, Eric Hovde interview at 2:20), Aug. 8, 2012

WTMJ-AM, Charlies Sykes interview of Eric Hovde (at 4:00), Aug. 7, 2012

Milwaukee Journal Sentinel, "Hovde says he will drop tobacco subsidy payments to his real-estate firm," July 19, 2012

Email interview, Eric Hovde campaign spokesman Sean Lansing, Aug. 8 and 9, 2012

Email interview, Tommy Thompson campaign spokesman Brian Nemoir, Aug. 8, 2012

City of Madison, letter to Hovde realty firm, May 24, 2002

Dane County Circuit Court, ruling, Dec. 16, 2004

Interview, City of Madison treasurer Dave Gawenda, Aug. 9, 2012
Browse the Truth-O-Meter
More by Tom Kertscher
Support independent fact-checking.
Become a member!
In a world of wild talk and fake news, help us stand up for the facts.