Get PolitiFact in your inbox.
Says Republicans supported legislation on early voting and in-person voting in 2005.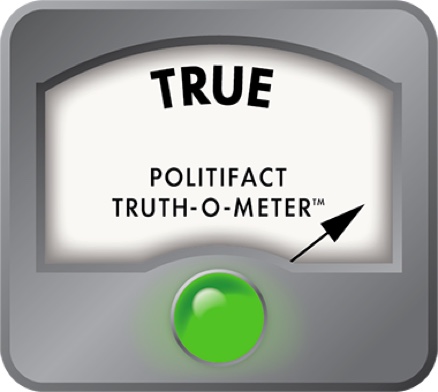 Teresa Fedor says Republicans supported Ohio's early voting process when it was enacted
With the presidential election hanging on a handful of states including Ohio, Democrats and Republicans have been fighting over the election rules and regulations governing November's election.

Ohio Democrats aren't happy with Republican efforts to limit early voting, and one of the main points of contention is a GOP-backed law that eliminated in-person early voting over the final weekend before Election Day.

Democrats sued in federal court to stop the law from taking effect, and held a news conference Aug. 15, 2012, outside the courthouse following an initial hearing.

A key argument Democrats raised is that Republicans are attempting to trim the early voting period because they are upset that President Barack Obama used early voting to help win a key victory in Ohio in 2008.

They offer as proof the fact that GOP lawmakers supported the early voting period when it was approved by state lawmakers before Obama's victory.

State Rep. Teresa Fedor, a Toledo Democrat, made that very point: "Republicans voted for early voting and in-person voting back in 2005, signed 2006," Fedor told reporters. "It seems as though they are clawing back now that we've had 95,000 or more vote in 2008."

Did Republicans support the early voting and in-person voting when it was passed into law before the 2008 election?  

PolitiFact Ohio took a look at the record.

For the record, Republicans have said they merely are trying to rein in the costs of early voting and in-person voting for local boards of elections. They also point out that for the first time ever all Ohio voters will get an absentee ballot request form sent to them in the mail so having early voting just prior to Election Day isn't as needed as it used to be.

But for purposes of this fact check, the question is who supported the initial law changes that enacted the early voting provisions.
 
We turned to the office of Secretary of State Jon Husted, Ohio's chief elections official, and asked for information about when the early voting and in-person voting provisions became Ohio law.

Matt McClellan, a Husted spokesman, told PolitiFact Ohio that the General Assembly passed in-person voting and early voting as part of House Bill 234. The bill establishes "no-fault" absentee voting -- meaning that those requesting absentee ballots no longer needed to give for the request -- but "also provides the option of voting in person at a Board of Elections or other site designated by the Board of Elections prior to Election Day," McClellan said in an email.

The actual language for this is found in Ohio Revised Code Sec. 3509.03. It states that "when absent voter's ballots are delivered to an elector at the office of the board, the elective may retire to a voting compartment provided by the board and there mark the ballots."

The bill initially passed the Ohio House on June 21, 2005. The Senate approved legislation on Oct. 18, 2005. However, the Senate substantially altered the bill in its session -- including adding the in-person early voting. The House voted to accept those changes on Oct. 19, 2005. Gov. Bob Taft signed the bill and it became law on Jan. 27, 2006.

Official accounts of each chamber's vote are kept in the Ohio House and Senate Journals and they show that the Senate vote was a party-line vote of 22-10 with all 22 Senate Republicans voting for the bill and all 10 Democrats present voting against it.

The second House vote -- after the early voting language had been added to the bill -- was 60 to 36. All Republicans were in support. All Democrats were opposed.

News accounts of the debate show that while Democrats agreed with the legislation, they were upset that the no-fault absentee provision was being passed by GOP lawmakers just weeks before Ohioans were going to the polls to vote on a proposal to expand absentee voting opportunities.

It appears as though there was no debate at the time over the provision which swung open the doors to early in-person voting.

So where does this leave us?

Fedor's claim was that early voting and that Republicans have sought to limit was originally supported by Republicans.

That contention is backed by records from the secretary of state's office and legislative voting records. Votes in the House and Senate were cast along party lines with Republicans supporting the measure. Democrats were in opposition, citing what they said were concerns over the timing of the measure.

On the Truth-O-Meter, her claim rates True.
Ohio Capital Blog, "Ohio Democrats on Early Voting," Aug. 15, 2012. Remarks from State Rep. Teresa Fedor begin about 4:20

Phone interview and e-mail correspondence with Matt McClellan, spokesman for the Ohio Secretary of State's office, Aug. 23, 2012

Ohio House and Ohio Senate journals from Oct. 18 and Oct. 19, 2005

Ohio Revised Code, section governing in-person voting and early voting. Laws on absentee voting and in-person voting are found in Section 3509

Coalition for the Advancement of Medical Researcher, copy of article from The Plain Dealer that includes mention of House vote on early voting law, "Embryonic stem cell research stuck for now," Oct. 20, 2005
Browse the Truth-O-Meter
More by Aaron Marshall
Support independent fact-checking.
Become a member!
In a world of wild talk and fake news, help us stand up for the facts.