Get PolitiFact in your inbox.
Says "Bruce Starr voted to throw 6,000 Oregonians off unemployment."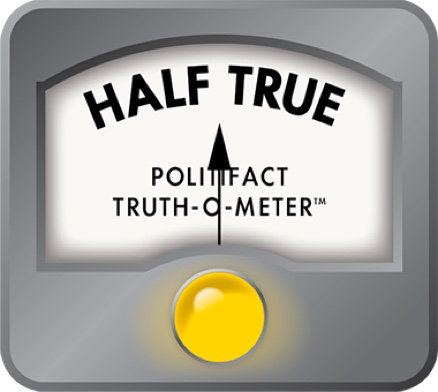 Did Bruce Starr vote to throw 6,000 people off unemployment?
Oregon Labor Commissioner might be a nonpartisan office -- but that hasn't stopped the Democratic and Republican parties from taking sides in the campaign fight between Bruce Starr (a Republican state senator) and Brad Avakian (a former Democratic state senator and the current commissioner).

In a recent press release, the Democratic Party of Oregon accused Starr of coming down hard on unemployed workers at the height of the recession.

Starr, the release said, revealed "his hostility to the basic mission of the Bureau of Labor and Industries" with one vote in particular.

Back in 2009, the Oregon Legislature passed House Bill 3483. The bill did a few things. First up, it offered a 13-week extension in unemployment benefits. Second, it allowed those who were receiving unemployment benefits to turn down work, so long as they were enrolled in a worker training program and the job paid less than 110 percent of minimum wage.

The measure passed pretty overwhelmingly in the House with 47 members voting in favor. It was the same story in the Senate where 25 voted "yes." Starr, however, was one of four who voted "no."

"At the time, Bruce Starr's vote would have thrown 6,000 Oregonians off unemployment," the press release alleges.

PolitiFact Oregon decided to do a little digging.

First, we pulled up the legislative fiscal analysis of the bill. It mentioned that 2,400 additional claimants would be added to the program each year if the bill passed, but it didn't say anything about 6,000 people losing their benefits.

We asked folks at the Democratic Party of Oregon where they got the number and they pointed us to a story that appeared in The Oregonian, which attributed the figure to "the state."Still, we needed the actual source.

After a few more phone calls, we were pointed toward Craig Spivey, a spokesman with the Oregon Employment Department. He confirmed the number. Back when the bill was passed, folks could stay on unemployment for about 100 weeks, thanks to a series of federal and state extensions passed for the recession. That time frame has since been reduced to the more standard 26 weeks.

We called Sen. Starr to see why he voted the way he did on the legislation. He said he was more concerned about the change in policy that allowed (albeit temporarily) those on unemployment to turn down work.

"That's a significant departure," he said. "The goal is, we need people to get back to work, we need to create an environment where people have jobs."

Without the bill, it's clear, based on numbers from the Unemployment Department, that 6,000 people would have been cycled off unemployment. (In fact, that number is closer to 12,000 if you consider the full life of the extension.) That said, we think there's a difference between voting against an extension and actively voting to kick people off of something -- as the Democrats allege. Moreover, the bill wasn't a matter of a simple extension; it also temporarily allowed certain beneficiaries to turn down work.

In the end, we think the claim is partially accurate but leaves out some important context. We rate this claim Half True.


CORRECTION: Democratic Reps. Mary Nolan and Brad Witt sponsored House Bill 3483, legislation passed in 2009 that extended the number of weeks an individual living in Oregon could collect unemployment benefits. Rep. Bill Garrard, a Republican from Klamath Falls, had initially sponsored a different bill under the same number, but dropped his support after the content was changed. An earlier version of this PolitiFact Oregon item was incorrect on the bill's sponsorship.
Interview with Craig Spivey, spokesman for Employment Department, August 30, 2012

Interview with Rep. Bill Garrard, August 30, 2012

Interview with Sen. Bruce Starr, August 30, 2012

E-mail from Trent Lutz, executive director of the Democratic Party of Oregon, August 29, 2012

The Oregonian, "Oregon's extension of unemployment benefits starts Sunday," October 1, 2009

Text of House Bill 3483, 2009 Regular Legislative Session
Browse the Truth-O-Meter
More by Ian K. Kullgren
Support independent fact-checking.
Become a member!
In a world of wild talk and fake news, help us stand up for the facts.